Beginner's Guide to Inflatable Dildos
Inflatable dildos are versatile sex toys that enable you to pump and pump until you're filled right up! So, if you love the sensation of fullness, an inflatable dildo may just be the perfect toy for you.
Inflatable sex toys are great for more advanced play and safely testing your limits. But before you dive right in, here's everything you need to know about inflatable dildos to help you get started, including what they are, how to use them and the different types you can buy.
Editor's note: This article was updated on 11 August 2021.
What is an inflatable dildo?
An inflatable dildo is a sex toy that has the ability to inflate in size once inserted by using an attached pump to increase the size of the dildo and achieve a feeling of complete 'fullness'.
Since vaginas differ in size and shape when aroused, inflatable dildos take advantage of the fact that arousal causes the upper two-thirds of a vagina to expand, even to the point where it can double in size, this is known as vaginal tenting.
Inflatable dildos are further useful for anal use and anal practice. Simply because they are easier to insert than a larger dildo, yet can reach the same or a larger size.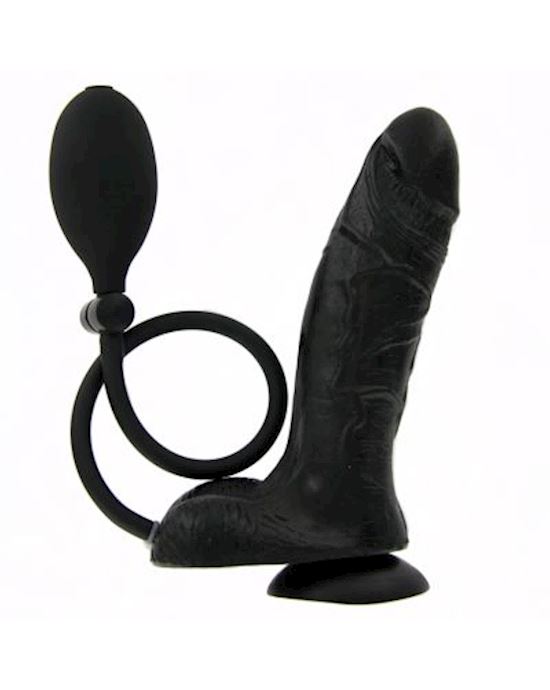 Inflatable Suction Cup Dildo$62.95Shop Now
How do you use an inflatable dildo?
Before use it's recommended to practice blowing up the dildo to gauge how much it inflates with each squeeze of the bulb so you know your limits before you get started.
To use an inflatable dildo, apply a generous amount of lubricant to the uninflated dildo to ease stretching of delicate inner tissue. Insert it until you reach your desired insertion length, then begin inflating. For beginners, inflate slowly to lower the risk of the dildo reaching an uncomfortable size too quickly.
Tips for using an inflatable dildo vaginally
When using an inflatable dildo in the vagina, apply a small amount of lubricant and insert the dildo, at this point you can inflate the dildo a bit if this helps with insertion. Once inside the vagina, inflate the dildo until you feel full, some people will even inflate the dildo until it is slightly uncomfortable. Whenever it's too uncomfortable simply release some air until reaching a preferred volume.
Tips for using an inflatable dildo anally
Before insertion into the anus, it's recommended to massage the sphincter muscle, as well as a conscious mental effort to relax your muscles down there. If experiencing any discomfort upon insertion, stop for a while, let the muscles relax and push on when your ready. If it's not going in, don't force it! Again, once inside, inflate the dildo to a desirable length/width and deflate when it's too uncomfortable.
If you're not an experienced anal player we recommend using an anal training kit and working your way up to larger sized anal toys. Otherwise, check out our guide on what to be aware of before using a dildo anally.
What are the best inflatable dildos for beginners?
There are a few different types of inflatable dildos available to buy, which each have slightly different features and ways of using them. Here are three types of inflatable dildos sectioned by their differing features.
Handheld inflatable dildos
Sex is in the air! So, get you or your partner to pump some of that air into this dildo for an irresistible inflatable experience. This Trinity Inflatable Dildo or Blow Me Up Latex Dildo is your go to for a handheld full of hot air!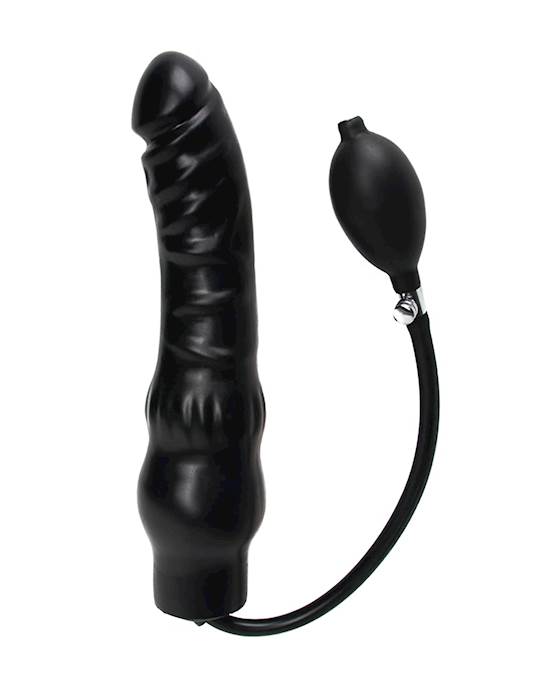 Inflatable Dildo$46.95Shop Now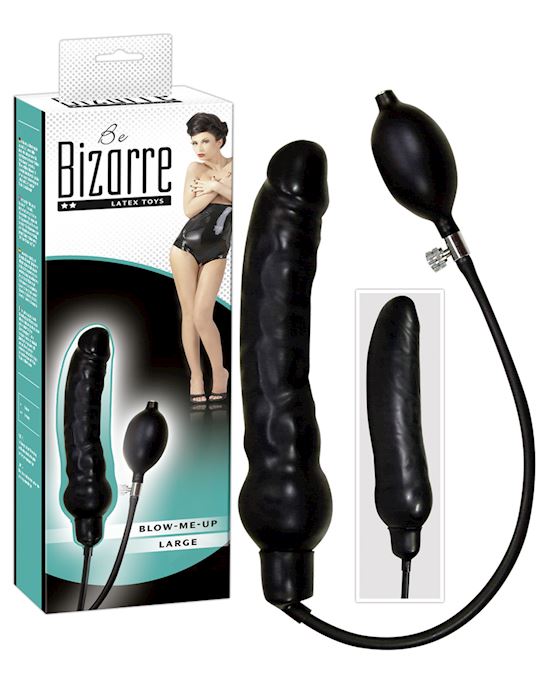 Blow Me Up Latex Dildo$102.95Shop Now
Suction cup inflatable dildos
Inflatable suction cup dildos are especially good for solo play. The hands-free experience makes it super easy to inflate or deflate at your leisure. Further, with suction cups being stuck to the ground or wall you're able to make the most of certain angles when fulfilling your potential for pleasure. Either of these Inflatable Suction Cup Dildos are a great solution when life has your back to the wall.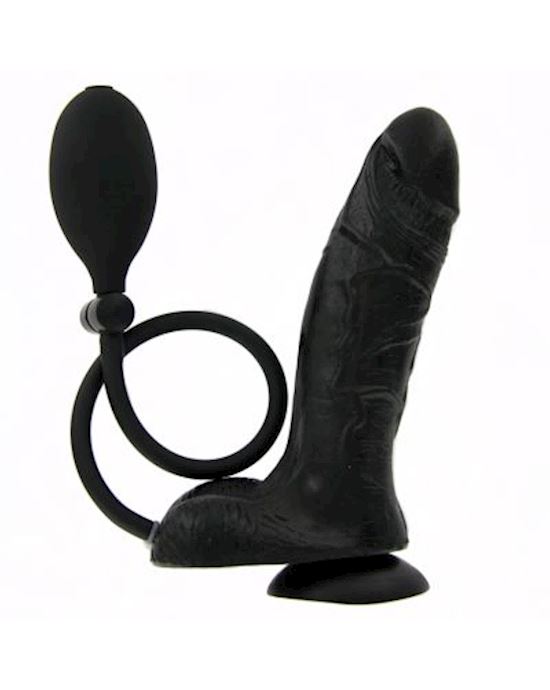 Inflatable Suction Cup Dildo$62.95Shop Now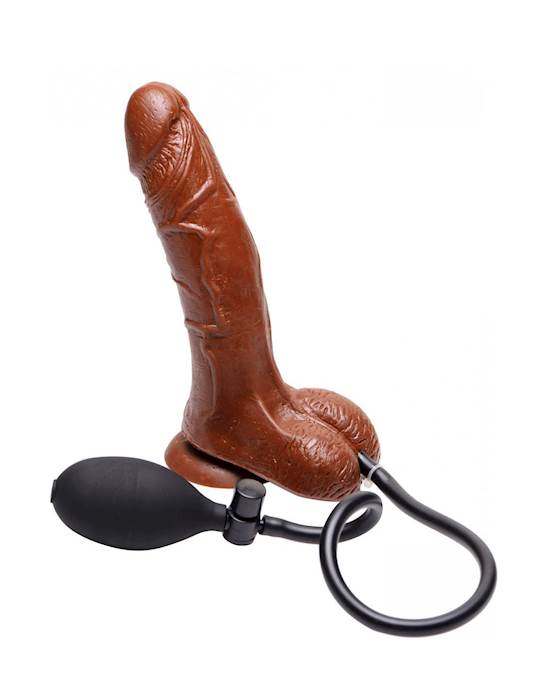 Inflatable Suction Cup Dildo$69.95Shop Now
Vibrating inflatable dildos
When your full to the brim with elation, additional vibration will cause an erogenous earthquake! These Vibrating Inflatable Wonder Dildos are the ultimate in jam-packed joy. Beginning with 6 insertable inches, they're great for well lubricated learners and masters alike.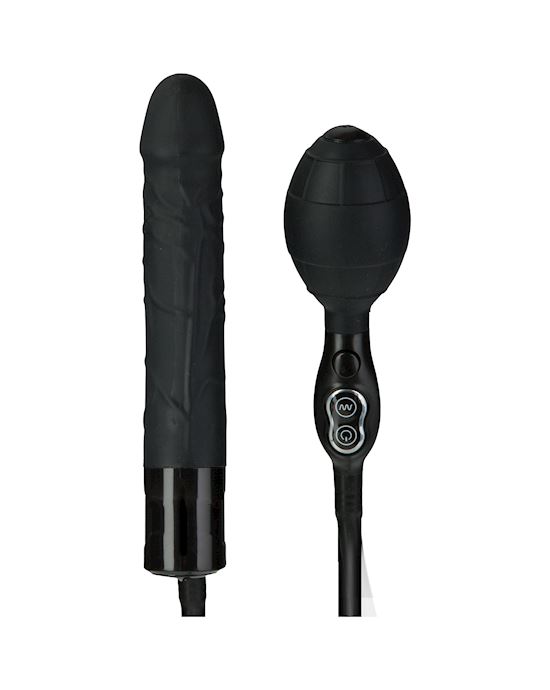 Titanmen Vibrating Inflatable Wonder$95.95Shop Now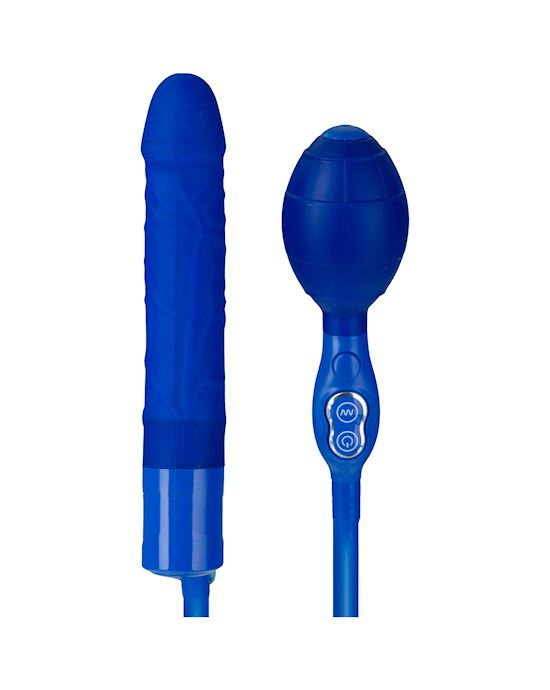 Titanmen Vibrating Inflatable Wonder$95.95Shop Now
Important things to note when using an inflatable dildo
Be thorough with the lubricant. Even more so then your average dildo, inflatable dildos are going to reach your limits. Extra lube is necessary to aid those muscles that may never have got so much action before! Read our guide to everything you need to know about lubricant.
Be sure to check what material an inflatable dildo is. If it is made out of silicone, a water-based lubricant is needed to avoid material degradation. Check out our sex toy material guide for more information.
Take it slow when using an inflatable dildo for anal play. If it doesn't want to go, or is too uncomfortable once inflated, put the toy away and try again another day. One great advantage to do with inflatable dildos is that they can start off small and get bigger making them perfect for anal practice. Read how to prepare your body for anal play to learn how to play safe.
Ready to try an inflatable dildo for yourself?
Shop Adulttoymegastore's range of inflatable dildos here!
Adulttoymegastore is puffed up to satisfy all your dildo desires. Check out our realistic, huge or strap-on dildos and take something new home today.
Read next:
Learn more about dildos with these great articles written by our sex educators and sex toy experts:
Editor's note:
This article was originally published on 13 July 2018 and was updated on 11 August 2021 for relevance and comprehensiveness. The information in this article has been fact checked and reviewed for accuracy by Adulttoymegastore's team of content specialists and sexual wellness experts, including Sex Educator Emma Hewitt.
Content disclaimer:
Adulttoymegastore does not provide medical advice, diagnosis, or treatment for illness. Any information published on this website, either by Adulttoymegastore or its authors, is not intended to be a substitute for medical advice, and you should not take any action before consulting with a medical professional.