Everything You Need to Know About Penis Extensions
Penis extensions are a must-have for those looking to increase their trouser snake potential without any invasive surgery or magic potions. But, if you're like me, you will have only recently heard about these sexy extenders. Is a penis extension right for you? Do you just want to know more? Either way, read on and join me on this journey into the world of penis extensions!
What is a Penis Extension?
So … what is a penis extension? Well, in a world full of pills, potions, creams and offers of surgery, a penis extension is the only tangible and guaranteed way of increasing the length and/or girth of your member. Penis extensions (also known as penis sleeves) are nifty bits of equipment that sit on your … erm … nifty piece of equipment. Penis extensions are most often made with a material like rubber or a soft plastic. Since they have to be able to slip over a penis, and sometimes into someone else, it seems the best course of action is to have a penis sleeve that allows the wearer to breathe and be comfortable without interfering in sexual activities.
There are two main types of penis extension: open-ended and close-ended. Open-ended penis extensions (more commonly referred to as penis sleeves) are cylindrical in shape and fit around the shaft of the penis. These cover the shaft and leave the head of the penis out in the open. Close-ended penis extensions are kind of like a … chunky condom? These toys fit over the penis similarly to how a condom does in that it covers the penis from shaft to tip. Obviously, this means the head of the penis is covered. Therefore, if the wearer of the penis sleeve is engaging in some fun with someone else, there is potential for some sensation to be lost. This is remedied by the addition of small nubs, ridges, and other stimulating infrastructure being added to the inside of the head of the sleeve. So, if you're thinking of donning an extension, don't worry about missing out on sensation!
Here are some examples of both open and closed penis sleeves!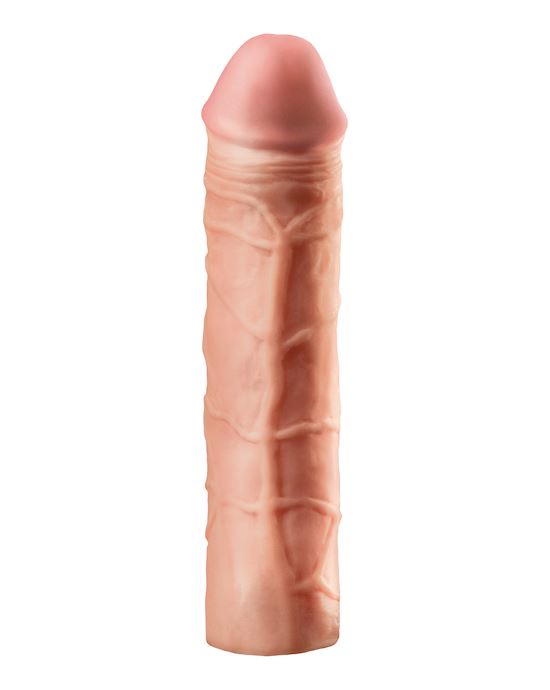 Fantasy X-tensions Mega 3 Extension$47.95Shop Now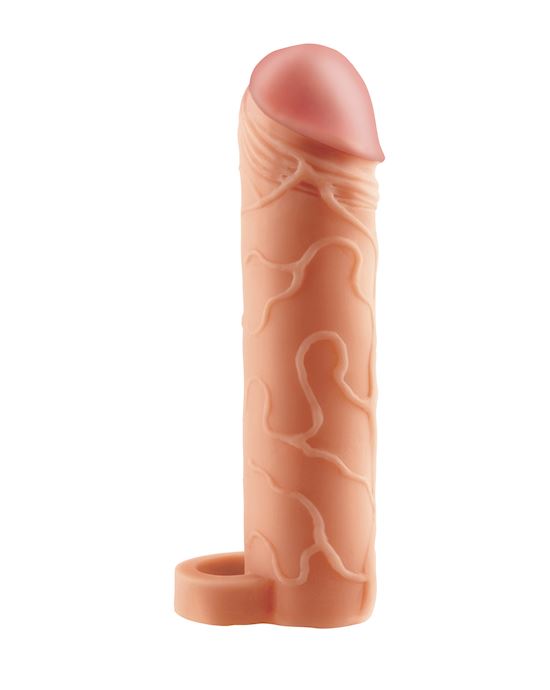 Fantasy X-tensions Perfect 2 Extension With Ball Strap$25.95Shop Now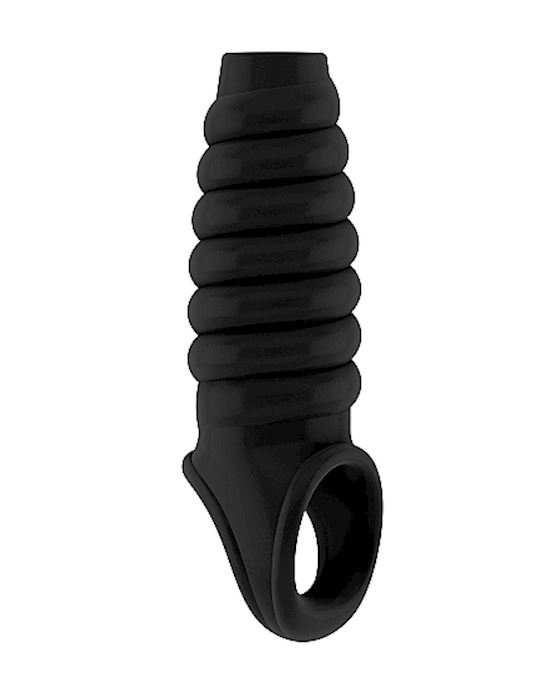 No21 Dong Extension$28.95Shop Now
The Mega 3 Extension is a classic 'realistic' penis extension that is made from Fantasy X-Tensions patented Fanta Flesh. This soft extension can be trimmed at the base to make sure you get the perfect fit and stretches to accommodate all lengths and girths!
The Perfect 2 Extension, made by the same people as the Mega 3, is another close-end extension that is easily accessible to anyone wanting to try out how a penis extension might feel! This is a great extension for beginners who feel more comfortable with the security of a ball strap. The ball strap will make sure your sleeve doesn't fall off, as well as prolonging your ejaculation!
The No. 21 Dong Extension is a more traditional penis sleeve that has an open-end design to allow for the most stimulation possible! This sleeve also comes with a ball strap to keep the sleeve in place for the most amorous of activities!
Do Penis Extensions Really Work?
The million-dollar question – do penis extensions really work? Well, it depends what you're looking for, and as always, it will vary from person to person! These extenders and sleeves give an instant result when it comes to length and girth. Many people may choose to try out a penis extender to have the experience of bangin' the night away with a longer, or wider, schlong!
Other people might try to use a penis extender to combat their struggles with erectile dysfunction. Many people who suffer from ED report a loss of erection when engaging in sex. A penis sleeve or extender can maintain the effect of an erection during sex, even if the wearer loses theirs. This means that the fun doesn't have to stop!
There are also some penis extenders out there that verge on the wild and wacky! These toys are mostly for some added stimulation for the receiving partner. Some people like the extra tingly sensation of a few lumps and bumps when having a bit of fun.
Different Kinds of Penis Extensions
As previously mentioned, there are two different kinds of penis extensions: open and close-ended. However, that isn't the end of the delightful variety you can enjoy when it comes to these sex enhancers! We've already seen the more 'traditional' style of extensions on the market, so let's take a look at the more … adventurous styles!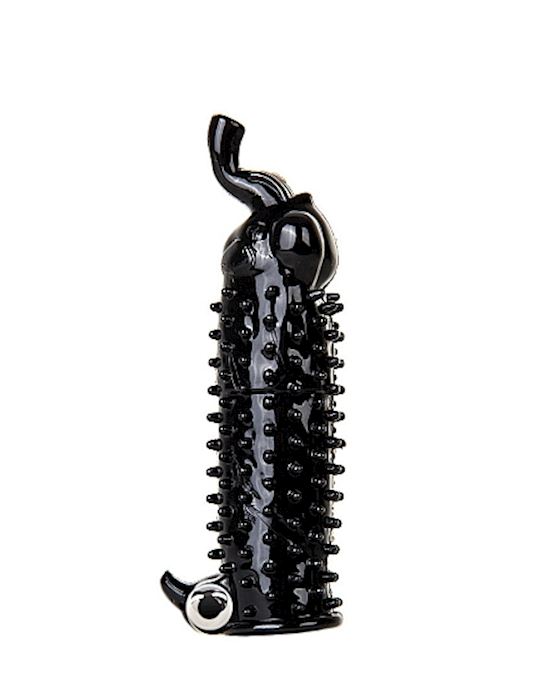 Elephant Vibrating Penis Extension$47.95Shop Now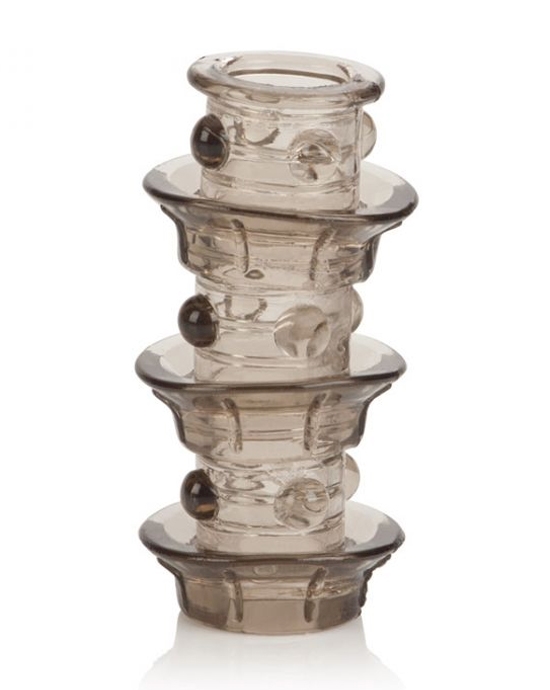 Dr Joel Kaplan Beaded Girth Ring Triple Stacker$7.95Shop Now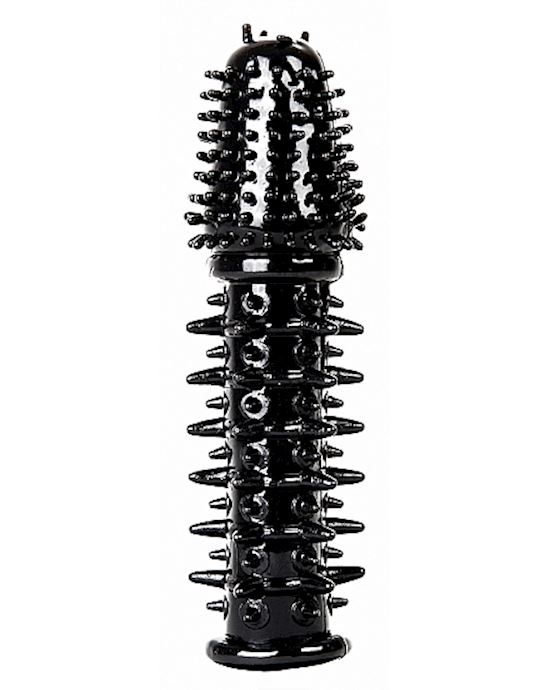 Thrilling Silicone Penis Extension$11.95Shop Now
The Elephant Vibrating Penis Extension is bound to give both partners a bit of extra pleasure in the bedroom. The vibrating bullet that accompanies your elephant friend will provide you two with some delightful vibrations, while the small nubs with tickle deliciously. Dr Joel Kaplan's Beaded Girth Ring Triple Stacker walk on the side of extreme when it comes to penis extensions. Three tiers of thick rubber rings and accompanying beads will bring the utmost pleasure and stimulation to your partner when worn. This penis sleeve is open-ended so you can still enjoy all the sensations that come along with sex, and the stiff design of the sleeve will help you last longer and increase your stamina in the bedroom!
If you're a fan of the extra nubs on our elephant friend (mentioned previously) you're sure to love the Thrilling Silicone Penis Extension. Aptly named, this extension will definitely give you a few thrills! This close-ended penis sleeve is delightfully ridged and adorned with a series of soft silicone spikes and nubs of varying lengths. Each nub will bring both you and your partner to dizzying ecstasy with the added sensations this sleeve provides!
How to Use a Penis Extension
It's understandable that you might be a bit intimidated when it comes to using an extender for the first time, but there's nothing to be afraid of! When it comes to popping your extender or sleeve on, the first step is to make sure you're erect, and I'm sure I don't need to give you advice on how to do that! Then, when it comes to actually donning your apparel, apply a small amount of water-based lube to the inside of your extender and to yourself. Your penis, mainly. But I'm not going to stop you from putting it anywhere else. Slip the extender/sleeve over your erect penis, and if there is one, slip the strap around your balls too. Et voila! You're wearing a penis sleeve! If your sleeve doesn't have a strap around the base, you might have to give your sleeve a bit of a trim for the most comfortable fit!
When it comes to the end of things, make sure you give your sleeve a wash with one of the great sex toy cleaners we sell here at Adulttoymegastore.
We have a huge range of adult products and sex toys for men, women, and everyone in-between! Our products ship to the US, New Zealand and Australia-wide in discreet, plain packaging. Our parcels are so subtle you can get them delivered to work and no one will know!
Check out Adulttoymegastore's entire range of sex toys online, including vibrating masturbators, cock rings, vibrators, dildos and anal toys at a price guarantee.
Visit Adulttoymegastore and have a chat to our customer service team to find the right toy to spice up your sex life today!