What is a Female Condom and How Does it Work?
We're all familiar with the traditional 'party hat' that can be rolled down over a penis, but did you know there's a version you can use internally? Female condoms, aka internal condoms, are a barrier method of contraception that is inserted into the vagina.
Female condoms look quite similar to male condoms in that they are open at one end and closed at the other. There is a strong but flexible ring at each end of the condom that functions to hold the condom inside the vagina. The ring at the closed end rests inside the vagina, while the other sits outside the vaginal canal. It works upon the same principle as a male condom - the 'pouch' collects precum and semen during sex.
A lot of women prefer to use a female condom as it gives them more agency and control over their sexual health. Some also report them allowing for more sensation and stimulation that a traditional condom! They can also be inserted up to eight hours before sex … just in case you like to plan ahead!
Inserting the female condom does require some practice and some women find it comforting to practice inserting and removing the condom before engaging in any sexual activity.
Femidom is the most popular brand of female condom! It is hypoallergenic and odourless. Female condoms are also made from a nitrile polymer, making them latex free and suitable for those with latex allergies.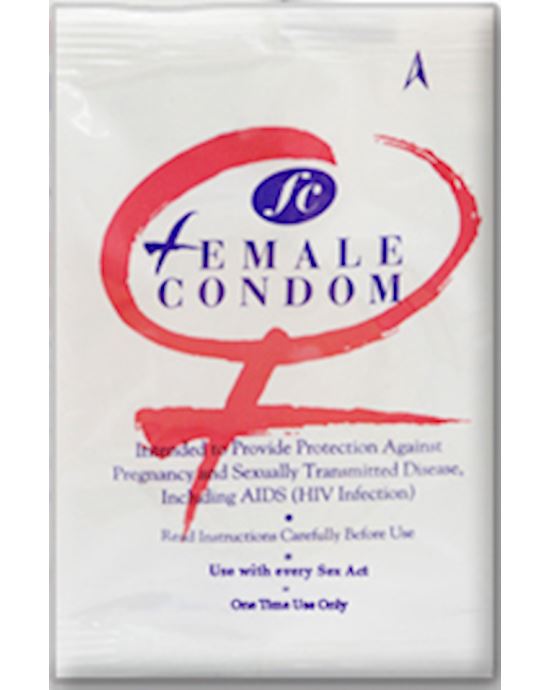 Femidom- Female Condom Single$6.95Shop Now
Sex while wearing a female condom isn't too different from sex with a male one! Simply guide the penis into the vaginal canal and get down to it!
A female condom is a form of birth control that can prevent pregnancy and sexually transmitted infections (STIs). Though they reduce the risk of pregnancy and prevent STIs you still need to consult your GP for regular check-ups and emergency contraceptive if needed. Remember - safe sex is great sex!