Satisfyer Endless Joy - A Toy That Lives Up To It's Namesake
Have you ever wanted to buy a sex toy that looks intriguing, but been put off by not knowing exactly how it works? I know I have. But sometimes curiosity overrules the unknown, and you find something fantastic.
For me, that toy was Satisfyer Endless Joy. The Endless Joy immediately captured my attention as its funky form intrigued me. Advertised as a great toy for solo or partnered play, I decided what's the worst that can happen? More orgasms? And ordered it, without really knowing whether it would be my or my partner's vibe; literally.
So, what is it?
Satisfyer's Endless Joy is a waterproof, silicone vibrator that is shaped to accommodate penetration, either by a penis or other toy, while providing clitoral stimulation. The toy has three vibrators - one in the main body of the toy, and the other two in the silicone arms that extend from that.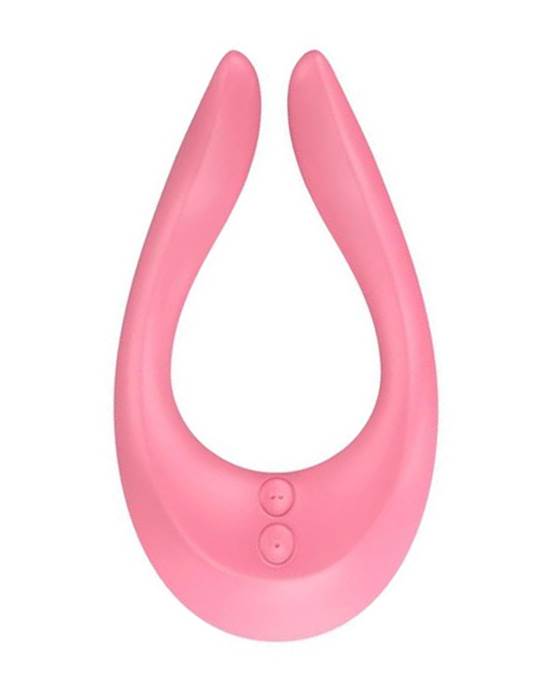 Satisfyer Endless Joy$48.95Shop Now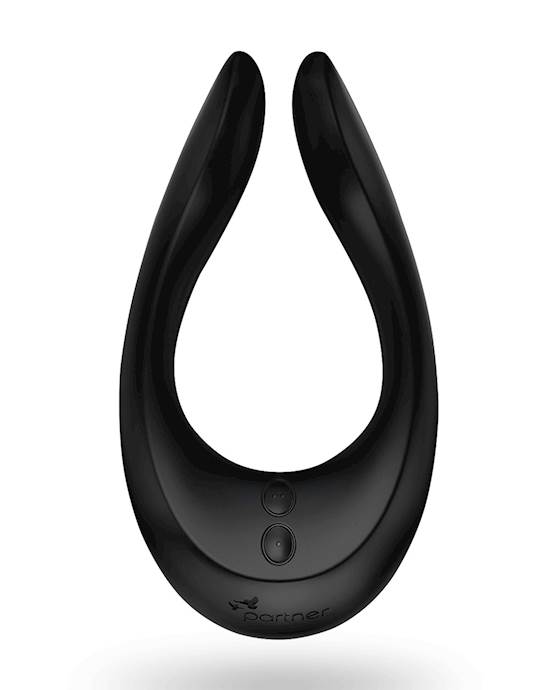 Satisfyer Endless Joy$48.95Shop Now
How does it work?
The vibration is controlled by two buttons on the main body of the toy, and - my favourite feature - the 'main' vibrator and vibrating arms can be turned on or off independently of each other. That means you can explore with just the arms vibrating or just the main body to explore what feels good to your body. The vibrating arms and main body each have 10 different types of vibration patterns, which means there are over 100 possible vibration combinations!
So how do you use this funky thing?
As with any pleasure time lube is always a great idea! Lube makes everything more sensual and comfortable and creates more pleasure in my opinion. This toy is silicone so be sure to pair it with your favourite water-based lube, making sure to cover the ends of the arms, and also the broad surface of the main body.
The curved arms are the perfect size to tease and tantalise nipples for foreplay, and they sit comfortably around the clitoris without pinching or pushing.
If you're using it with a partner, it can be fitted by slipping the lubed toy over the penetrative penis/toy and settling the textured main body of the toy on their balls with the curved arms of the toy pointed up and out for maximum effect. It can be worn during several sex positions like missionary, doggy, and cowgirl, and the dual vibration will have you and your partner seeing stars in no time!
My favourite way to use this toy is when I am sitting in the cowgirl position, as the arms are perfect for grinding on and stimulating the clitoris and labia. Being able to control the vibrating ends of the toy independently from one another is fantastic, especially if the stimulation is doing its job too well on one of you over the other - simply turn it off or cycle back through the patterns until you find a different setting you like!
I love the vibrating effect of this toy and paired with the soft silicone, it's become one of my favourite toys to pull out during sex. It's one of the few toys I have in my arsenal that I know is guaranteed to make me orgasm - and more than once!
I will say that sometimes I find the pointed end of the arms a bit too much stimulation, so I actually flip the toy over and use it upside down (so prongs facing away from me and towards my partner) and I actually like this more than the prongs facing me! It all depends on the position - missionary and doggy; prongs forward. Cowgirl; prongs backwards.
So how does it shape up?
Compared to other clitoral stimulation toys I have, such as the Satisfyer Pro 2, I found it gentler but no less effective. I found myself less prone to overstimulation and could handle it for longer periods than more intense partner toys such as the We-Vibe Chorus Couples Vibrator. As someone who deals with pain on penetration, the fact that this toy is predominantly about external stimuli like the clitoris and labia helped me relax into using it and having the distraction of something working its magic on my clitoris helps me handle penetration as well.
The vibration levels go up in intensity and pattern, and I love the control it gives me to sync my pattern with my partner's or change both of our patterns to something different and see what happens. In certain positions, you might need a helping hand to keep it in place, such as doggy position, but generally, once it's in place it's a push play-and-go kinda toy!
If you're looking for your first (or third) partnered toy, and penetration and clitoral stimulation are things that drive you wild, look no further than Satisfyer's Endless Joy.
Content Disclaimer:
The information in this article has been fact checked and reviewed for accuracy by Adulttoymegastore's team of content specialists and sexual wellness experts, including Sex Educator Emma Hewitt.
Adulttoymegastore does not provide medical advice, diagnosis, or treatment for illness. Any information published on this website, either by Adulttoymegastore or its authors, is not intended to be a substitute for medical advice, and you should not take any action before consulting with a medical professional.
For more product examples - shop all our
sex toys
here.