How to Use a U-shaped Couples Vibrator (Step-by-Step Guide)
Adding pleasure to your sex life can be easy with a U-shaped couples vibrator! These toys are designed to fit seamlessly into your sex life, providing extra stimulation for both partners. Here's how to use them.
U-shaped, or C-shaped, vibrators are one of the most popular types of sex toys for couples. For the purpose of this article, we'll refer to these vibes as U-shaped – but it really depends on what way you're holding it, so you'll see them referred to as both elsewhere! These vibrators are designed to be worn during penetrative sex/sex between a partner with a vulva and partner with a penis.
The smaller end of the toy is inserted into the vagina, with the larger end stimulating the clitoris externally. Many vulva owners require direct clitoral stimulation to orgasm, so these toys are perfect to help with this! The penis can then be inserted for penetrative sex, and the vibrations will provide stimulation for both partners! The combination of the penis and vibrator also provides a little extra girth once both are inserted.
U-shaped vibrators can also be worn for solo fun. The design means that they can be hands-free once inserted, leaving your hands free to explore and please other erogenous zones!
So whether you are using them for solo fun, foreplay, or with a partner, these vibrators might be the perfect addition to your collection.
How do you use a U-shaped couple's vibrator?
Using a U-shaped vibrator with your partner might seem complicated at first, but they are pretty easy to use once you get the hang of it. Don't worry if it takes you a few tries to figure it out, though – just like anything, it can take a few attempts to get it right!
Here are some general steps and a guide for using your couple's vibrator.
Step 1: Play around with the vibrations beforehand
Like with any new toy purchase, it's a good idea to test out the vibrations on your hand or outside the body before you get into it. This will help you get an idea of how strong the vibrations are – sometimes they can be a lot stronger than you might think!
When using the toy, you might even want to turn it on before inserting. This is particularly important if you are new to the world of vibrators, as your body might not be used to the sensation. If the vibrations are too strong it could be uncomfortable instead of pleasurable.
Testing out the vibrations and getting used to the controls will also help prepare you for when you're using the toy. Learning how to turn the toy on and off, and up or down, will mean you can get straight into it later with no fumbling around!
Step 2: Lube it up!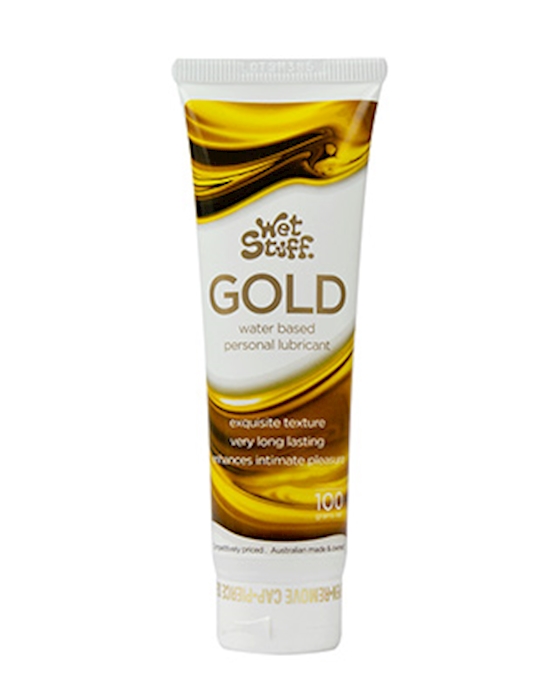 Wet Stuff Gold Waterbased Lubricant 100g$7.98Shop Now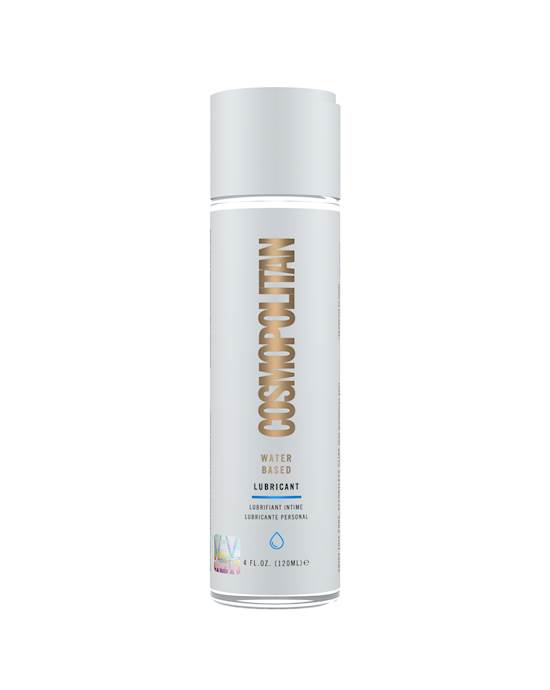 Cosmo Liquid - Water Based Lubricant $13.98Shop Now
It's important to ensure you have plenty of lubricant on hand. Apply this to the insertable end of the toy and insert it inside the vagina. Make sure you move it around a little so it feels comfortable, and so the vibrations will stimulate exactly where you want them to!
Water-based lubricant is your best bet for your couple's vibrator, as this is compatible with all sex toy materials. Other lubes, like silicone-based ones, might react with your sex toy!
Step 3: Get your partner involved
If you are using your vibrator during penetrative sex, the next step is inserting the penis. Apply plenty of lubricant and slowly slide the penis in alongside the vibrator. Be mindful that the U-shaped vibrator adds extra girth, so taking things slow is important!
A good starting position for using a U-shaped vibrator is missionary, with the wearer laying on their back and the person penetrating facing them on top.
From here, it's important to communicate with each other as you explore what feels good. And this really comes down to personal preference! You might find that the vibrations feel best when you're thrusting slower, or that another position works better.
Communication is key when it comes to using the vibrating feature as well. Remember, both of you will feel the extra stimulation! So you need to find a happy medium to ensure you are both enjoying the vibrations.
Step 4: Cleaning and storage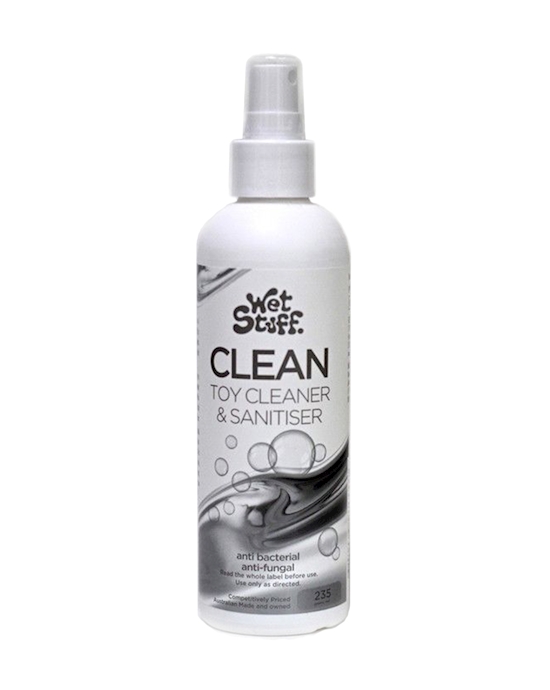 Wet Stuff Clean Spray Mist 235g$13.98Shop Now
Once you're finished playing, you need to give your toy a thorough clean. While it's always important to clean your toys, this is even more important when you are sharing a toy with a partner. Cleaning will help remove any bodily fluids or bacteria and keep your toy in tip top shape, which in turn will help it last longer!
Generally, using a few sprays of a sex toy cleaner and some warm water to rinse the toy thoroughly should do the trick. Leave it to dry completely, or dry with a lint-free cloth, before storing away.
While this will work for most toys, always check the specific instructions for your toy to see if it requires any special care.
How can I make the most of my U-shaped vibrator?
When using a U-shaped vibration with a partner, it might take a while to figure out what sex positions work best for you when wearing it. You might find that it slips out of place in some positions, but stays more secure in other positions – this can take a bit of trial and error to find what works for you both.
Don't be afraid to try different sex positions, or even incorporate a pillow for extra support in some positions. Adding a pillow under your hips for extra support can sometimes make all the difference, and might be the trick for helping your vibrator stay in place. Many people find that U-shaped vibrators work best when they are standing up as well, so don't feel limited to the bed!
Fun in public?
Most U-shaped vibrators are remote or app-controlled. If you are feeling daring, you can wear these under your clothes for some fun outside of the bedroom!
Pop in your vibrator and give the remote to your partner when you're out for dinner to really spice up your sex life. It's the perfect way to set the mood before you get home.
If you're planning on a little sexy fun outside the bedroom, always make sure you're respectful of people around you too. You can still have fun without them knowing what you're up to, and that's the excitement of it!
Wetter is better!
Many sex toys these days are waterproof, so you can take them in the bath or shower, and U-shaped couple's vibrators are no exception! Many of these toys will be able to accompany you in the bathroom for some steamy fun.
This is an easy way to switch things up from your usual routine. Just make sure you have some extra lube on hand, as the water will rinse the lube off quite quickly. And always take extra precautions! Sex in the shower can be fun, but also slippery.
Not sure if your toy is waterproof? Check the description on-site or the box. Look for one that is IPX7 rating, as this means it's safe to use under running water and submerged for up to 30 minutes.
What are the best U-shaped couples' vibrators?
There are plenty of options for U-shaped vibrators nowadays. Here are some of the best-sellers!
Share Satisfaction Mila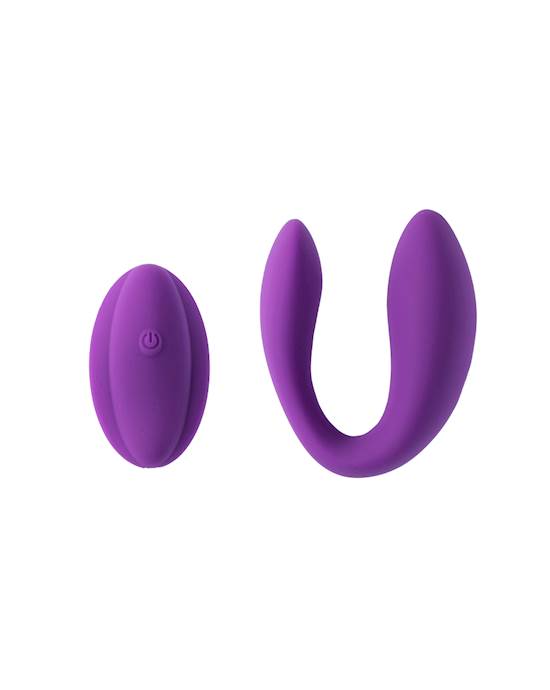 Share Satisfaction Mila Remote Controlled Couples Vibrator$72.98Shop Now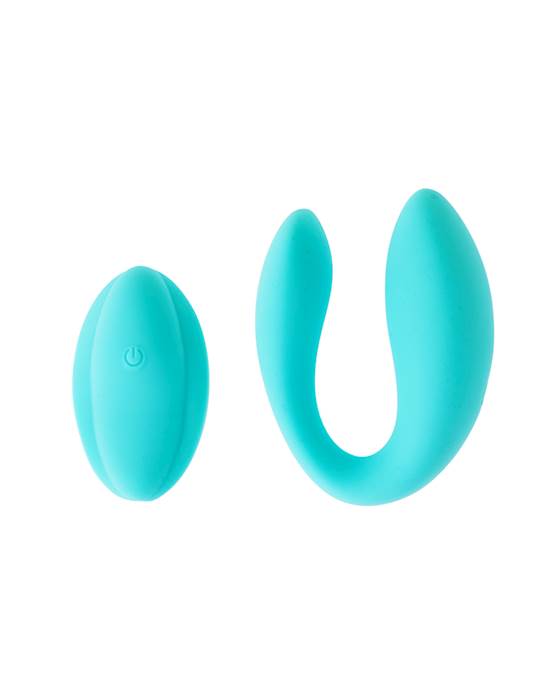 Share Satisfaction Mila - Remote Control Couples Vibrator$89.98Shop Now
Mila is an amazing luxury option with a very flexible design to fit a variety of bodies. The smooth silicone is premium quality, with multiple vibration patterns to stimulate internally and externally.
The great thing about Mila is that it also has a remote control. This makes playtime a lot easier, as you can switch up the vibrations with the press of a button!
Share Satisfaction Gaia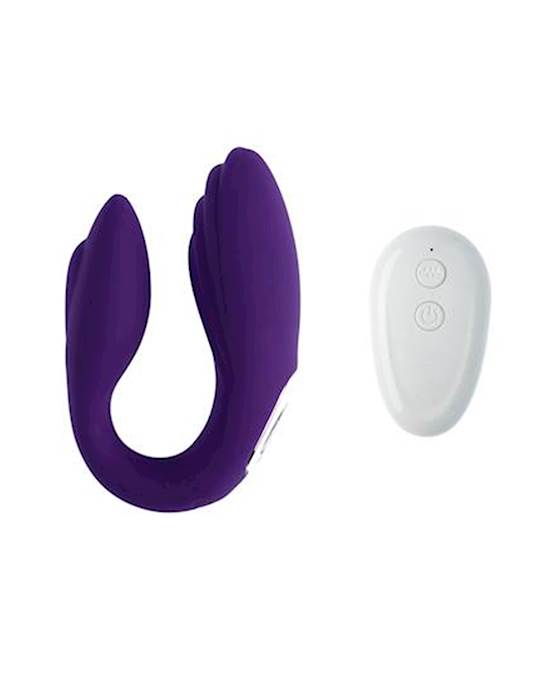 Share Satisfaction Gaia Remote-controlled Couples Vibrator$36.98Shop Now
Another popular pick from luxury brand Share Satisfaction is Gaia. Gaia also has a remote control, with extra texture on the toy for ultimate pleasure!
With 10 vibration modes, USB recharging, and a waterproof design, Gaia is here to enhance intimacy and passion in the bedroom. Compared to Mila, this toy is a little more rigid, but still has plenty of flex in the silicone.
Share Satisfaction Joia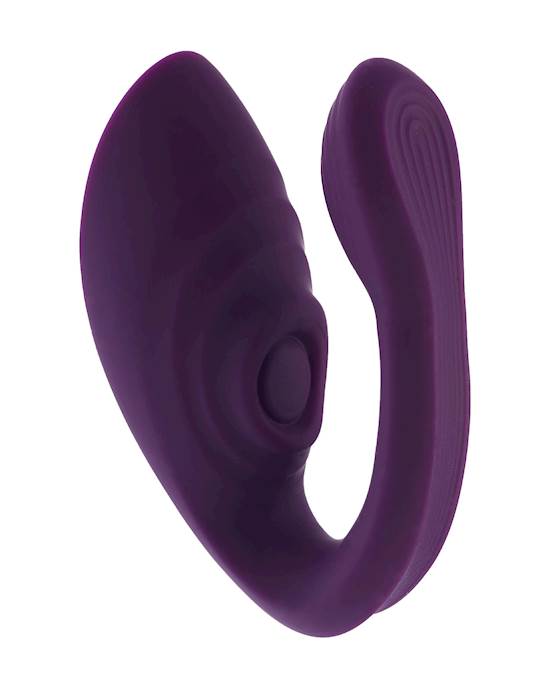 Share Satisfaction Joia$65.98Shop Now
If you're a fan of clitoral vibrators, like the Satisfyer Pro 2 or Kama by Share Satisfaction, Joia is an amazing toy that is sure to take your couple's play to the next level.
With a unique knocking-like stimulation to please the clitoris, Joia has a smooth and flexible design that will help stimulate both of you. Joia is waterproof, phthalate-free and rechargeable.
Satisfyer Double Joy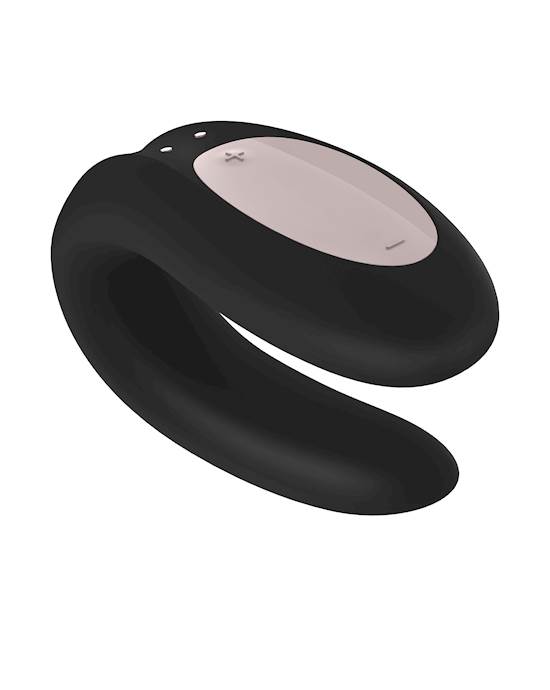 Satisfyer Double Joy$48.98Shop Now
The Satisfyer Double Joy is a great affordable option from the best-selling brand. The simple U-shape is complete with smooth silicone, two powerful motors, and a flexible design.
The great thing about the Satisfyer Double Joy is that it is compatible with the Satisfyer Connect app. This allows you to connect to anyone from the world and hand over the control to them!

We-vibe Unite 2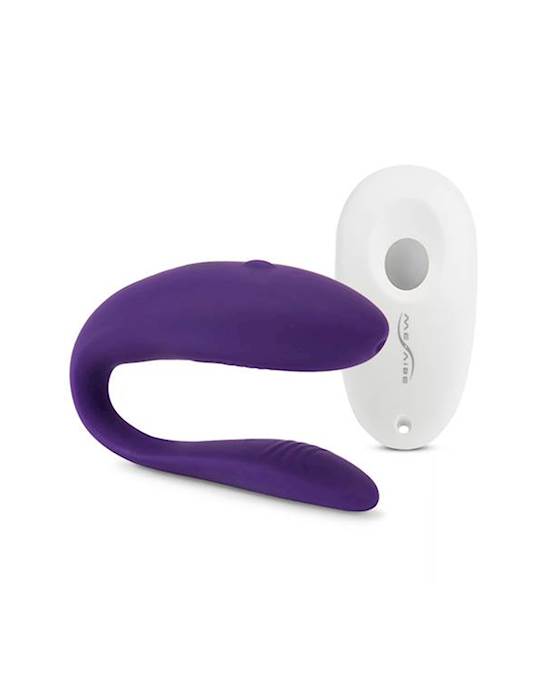 We-vibe Unite 2$104.98Shop Now
We-Vibe were one of the original creators of the U-shaped vibrator! While it's more on the expensive side, the We-vibe Unite 2 is a truly amazing U-shaped vibrator.
This vibrator has a thin insertable end, making it great for those who need something a little slimmer to fit inside, or great for those who are planning on wearing their toy out and about. The powerful vibrations, USB recharging, waterproof design and remote control complete this toy.
Dos and don'ts of using couples' vibes
Do check in with your partner regularly – communication is key!
Do try new positions until you find the best for you and your partner
Do take things slow at first
Don't pressure your partner into anything if they aren't enjoying themselves or if they are experiencing any discomfort
Don't forget to apply plenty of lube, and reapply as needed!
Don't forget to clean the toy properly after every use
Want more?
Using a U-shaped couple's vibrator is the perfect way to enhance your sex life and provide a little extra pleasure, without getting in the way.
Check out Adulttoymegastore's full range of couple's toys, including U-shaped vibrators, here!
Read next:
Content disclaimer:
The information in this article has been fact checked and reviewed for accuracy by Adulttoymegastore's team of content specialists and sexual wellness experts.
Adulttoymegastore does not provide medical advice, diagnosis, or treatment for illness. Any information published on this website, either by Adulttoymegastore or its authors, is not intended to be a substitute for medical advice, and you should not take any action before consulting with a medical professional.