The 7 Best Anal Toys for Beginners (According to a Sex Educator)
New to anal play? Here are the best anal toys for beginners according to a sex educator.
As fun and pleasurable as anal toys are for the experienced anal player, we acknowledge that starting out in anal play can be a slightly daunting experience. But don't let this feeling discourage you!
There are plenty of anal toys out there made specifically for newbies, and this guide will outline the best anal toys for beginners. Each product has been hand-picked by sex educator and self-confessed 'Anal Queen' Emma Hewitt to help you navigate the different types of anal toys and choose the right ones for you.
Before we begin, lets cover why anal toys can be a great addition to your sex life.
When asked why people would introduce anal toys to the bedroom, Emma said anal toys can be a great way to discover new sensations and parts of your body during foreplay or sex.
"Anal toys stimulate the nerve endings at the opening of the booty. This area is nerve-ending rich, making it a very pleasurable area to stimulate with toys," she explained.
"People with a prostate have what's called the P-spot inside the anus, which feels incredible when stimulated, while vulva owners have what's known as the 'A-spot'. This area located deep inside of the vagina between the cervix and the bladder can be stimulated with the help of anal toys or anal sex."
So, regardless of who you are, everybody has a butt and introducing anal toys to your sex life can be a thrilling and rewarding experience.
Quick tips for choosing your first anal toy
Before we dive into the list of the best anal toys for newbies, Emma said there are a few tips to keep in mind when choosing your first anal toy:
A tapered tip is going to help
Lube is your friend
Start small (1-1.5 inches in diameter at the widest point)
Never use an anal toy without a flared base, handle or retrieval cord.
The best anal sex toys for beginners
Now that you know the basics for buying your first anal toy, let's cover the best types for beginners, along with Emma's top recommendations!
1. Butt plugs
When thinking about anal play, the first toy that pops to your mind is probably a butt plug. Butt plugs do exactly as their name implies; they plug your butt. These anal toys create a pleasurable sensation of being filled up whilst they stimulate the nerves inside the anus. Plus, they look super cute.
Butt plugs come in all materials, shapes and sizes but some are better suited for beginners than others. Emma recommends "starting with a small plug with a tapered tip and plenty of lube!"
What are the best butt plugs for beginners?
If you want to try a butt plug for the first time, Emma recommends the following beginner-friendly butt plugs:
Silicone 4 inch butt plug by Doc Johnson
This simple yet classy black plug is sure to bring you serious satisfaction. Made from platinum premium silicone, the classically shaped plug features a velvety matte finish and ergonomic flat base making it super flexible and easy to wear.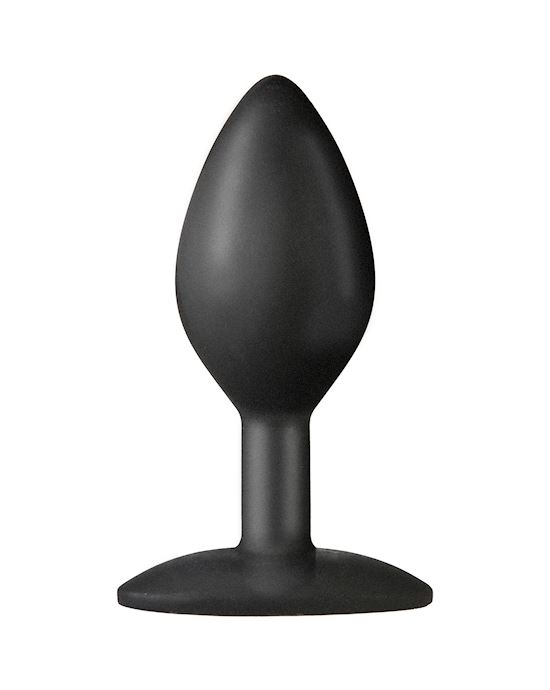 Platinum Premium The Minis Spade$20.95Shop Now
Booty Call Rocker butt plug by Cal Exotics
The Purple Booty Call Rocker is bound to rock your way to stimulation. With its unique design and pliable silicone material, this butt plug offers comfort whilst hitting all the right places. Its probe allows you to have full control of your movement meaning you can take the lead with your own stimulation.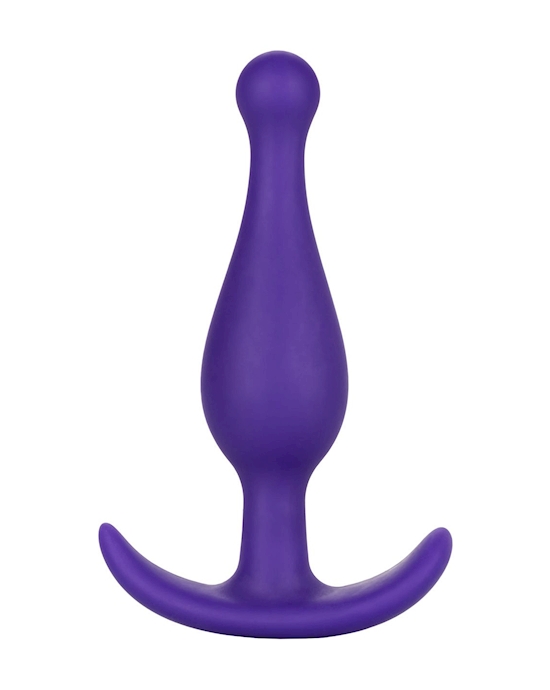 Booty Call Booty Rocker Butt Plug$16.95Shop Now
'The Minis' smooth butt plug by Doc Johnson
Pretty and pink, this perfectly petite mini butt plug by Doc Johnson is perfect for beginners. Made out of Platinum Premium Silicone, it's designed to provide a satisfying, yet safe experience. It's silky matte finish, makes this plug that extra all the more luxurious.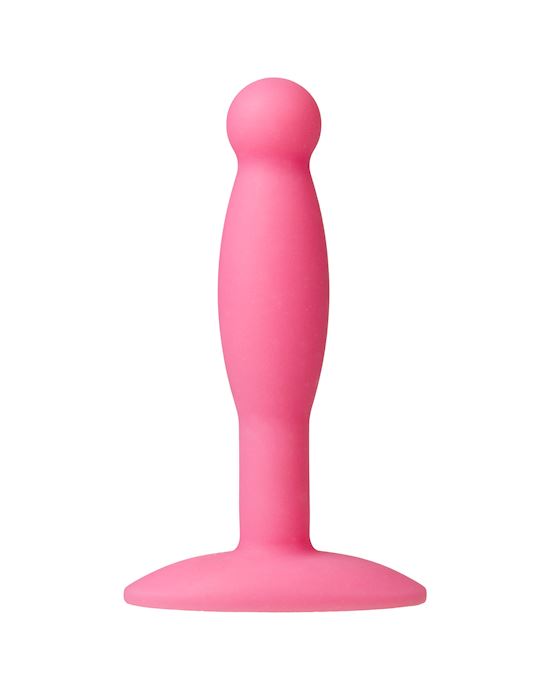 Platinum Premium Silicone The Minis Smooth Small$10.95Shop Now
2. Anal Beads
Unlike butt plugs, anal beads don't provide pleasure from their weight. Instead, its their insertion and removal which provides all the pleasurable sensations. Emma said: "Anal beads will give you a rousing feeling as they move in and out of your body. It's just like receiving an internal massage!"
What are the best anal beads for beginners?
Emma recommends the following anal beads if you're using them for the first time.
Satisfyer anal beads 8 inches
Dive into a world of sensual anal adventures with this set of Satisfier anal beads. Whether you want to use them for solo masturbation or with a partner, this set is guaranteed to provide you with ultimate pleasure. "Their ascending shape and rounded tips make this set perfect for beginners," Emma explained.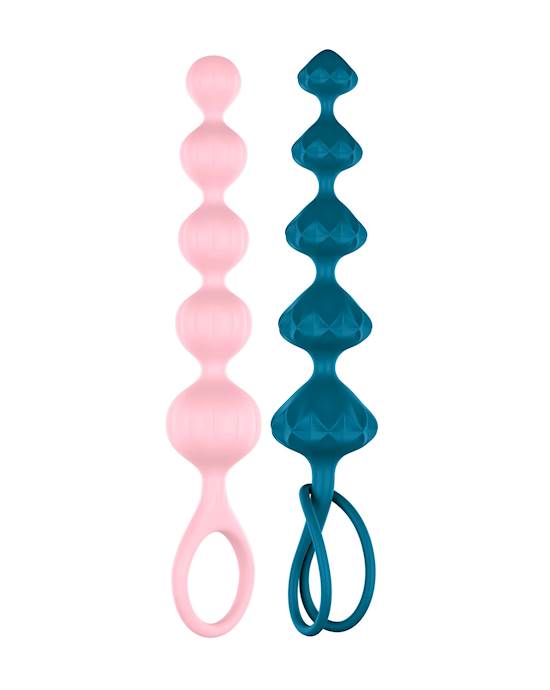 Satisfyer Anal Beads$24.95Shop Now
Amore Silicone Beaded Anal Chain
Indulge in a world of unmatched anal pleasure with this silky set of anal beads. Graduating in size towards the base, these beads make for easy insertion without forfeiting pleasure. With a two fingered loop hole, this toy is a breeze to remove and control anal play.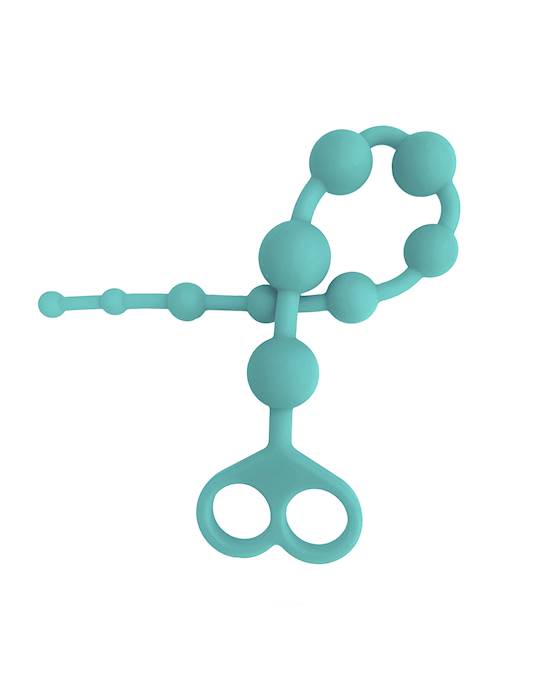 Silicone Beaded Anal Chain$13.95Shop Now
Amore Large Silicone Anal Beads - Pink
Once you are ready to level up your anal play, this silky set of hot pink large silicone anal beads is ready to be your new best friend. Gradually increasing in size, this set of beads measures a discreet 6 inches in length but is sure to pack a punch with its girthy balls. The removal of each bead will send pulsating shudders of pleasure throughout your whole body as the ergonomically shaped beads re-stimulate each and every nerve ending.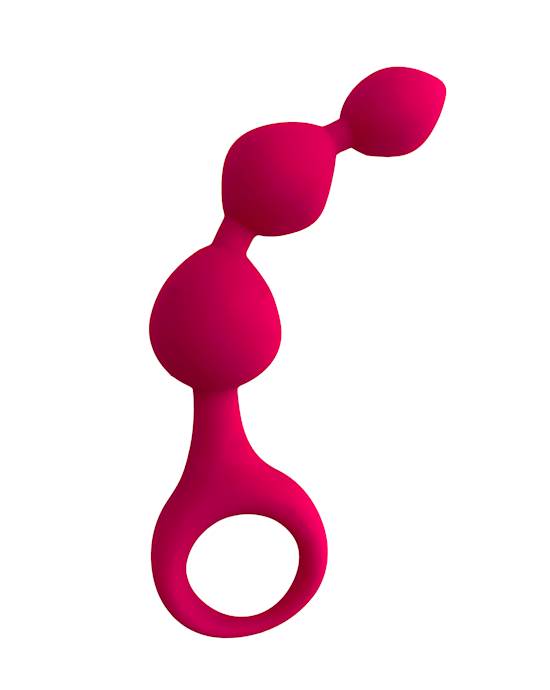 Large Silicone Anal Beads$10.95Shop Now
3. Anal Vibrators
Vibrations + the feeling of fullness = a sensual pleasure like you've never felt before. Anal vibrators not only feel amazing but are also a great way to prep for anal sex – they help to relax the sphincter muscles making insertion of a larger toy or penis easier.
"Whether you choose to wear these during foreplay, or while having sex, anal vibrators are a great way to get some buzzing stimulation while feeling the filling sensation of a butt plug," Emma said.
What are the best anal vibrators for beginners?
If you want to add vibration to your anal play, Emma says these are the perfect anal vibrators to start with:
Rocks Off Sensations Plug - Purple
This royal purple petite sensations plug is a cleverly designed to be ideal for beginners as well as experienced users who are craving an exhilarating thrill. With an ultra-soft silicone body and a slim tapered tip, there is no hassle sliding it in.
Emma said: "Its T-shaped tip sits perfectly between your cheeks, allowing the 7-function vibrating bullet to do its work hand free."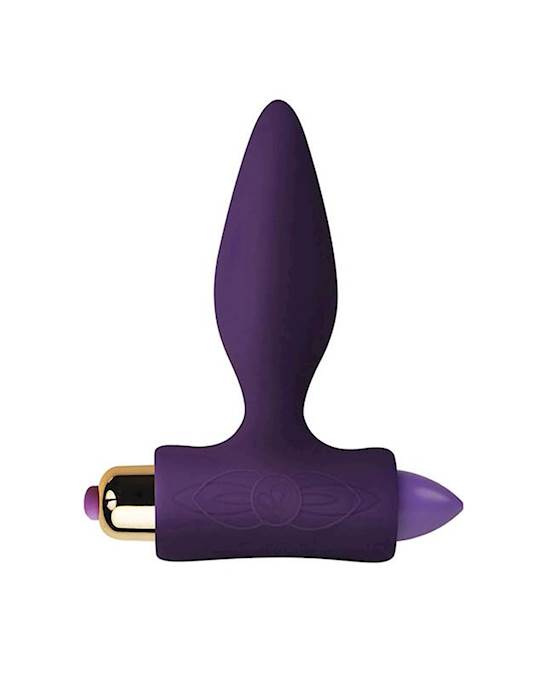 Petite Sensations Plug$23.95Shop Now
B-Vibe Novice Remote Control Plug - Fuchsia
This fuchsia remote controlled butt plug is packed full of power. With six vibration levels and 15 vibration patterns, it's not a toy you'd get bored of quickly. With the option to use with or without a wireless remote control, the possibilities of play with this toy are almost endless.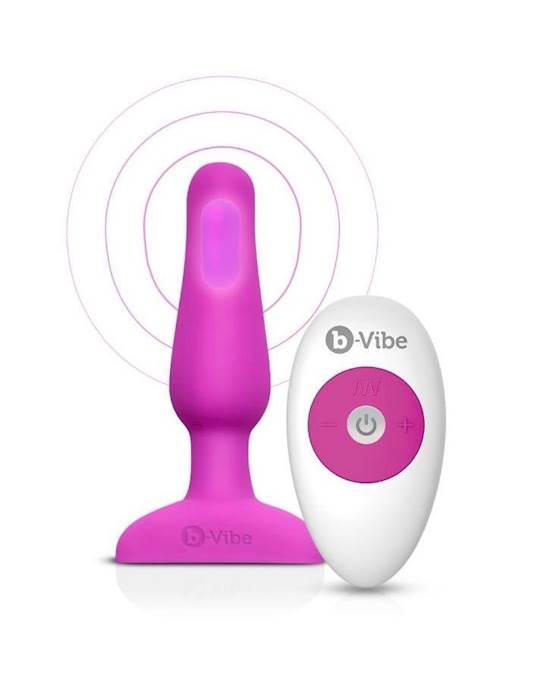 Bvibe Novice Remote Control Plug$111.95Shop Now
B-Vibe Vibrating Snug Plug 2
Designed for extended wear, this snug vibrating plug by B-Vibe is perfect for solo or couple's anal play. Made from premium body-safe silicone, this plug is silky smooth and designed for comfort.
Emma said: "This plug can easily be worn during penetration without worrying that it will fall out, and it has four vibration levels and six vibrating patterns to experiment with." .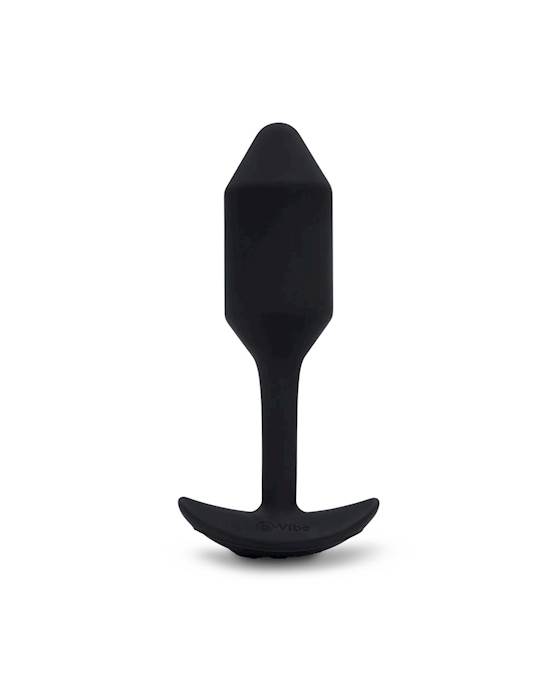 Vibrating Snug Plug 2$79.95Shop Now
Fifty Shades Freed Feel So Alive Rechargeable Vibrating Pleasure Plug
Elegant, tapered and smooth this Fifty Shades Freed vibrating plug is a sight for sore eyes. With eight patterns and twelve speeds of vibration, get ready for your excitement to be taken to new heights. "Its ergonomically shaped controller allows for both solo play and intimate couple action, so you can hand over the remote to your partner and let them control your pleasure!"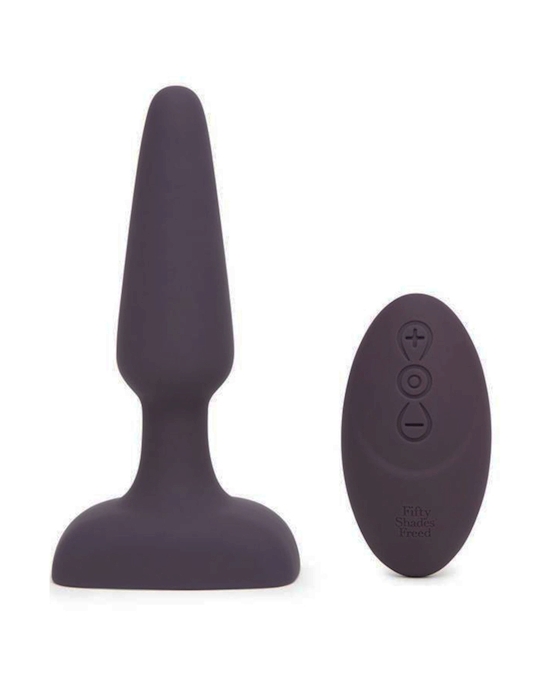 Rechargeable Vibrating Pleasure Plug$104.95Shop Now
4. Anal probes and teasers
With long, slim shafts, Emma said anal teasers and probes are a perfect place to start when venturing into anal play.
What are the best anal probes for beginners?
Emma recommends the following anal probes and teasers for first timers:
Anal Fantasy Fun Flex Anal Teazer - Black
Fun and flexible this black anal teaser is perfect for experimenting. Its double-sided wand features two heads: one smooth, one beaded, whatever you are in the mood for.
"Its super flexible shaft bends with your body's natural contours, letting it target all the right places. Insert however much or little as you find comfortable," Emma said.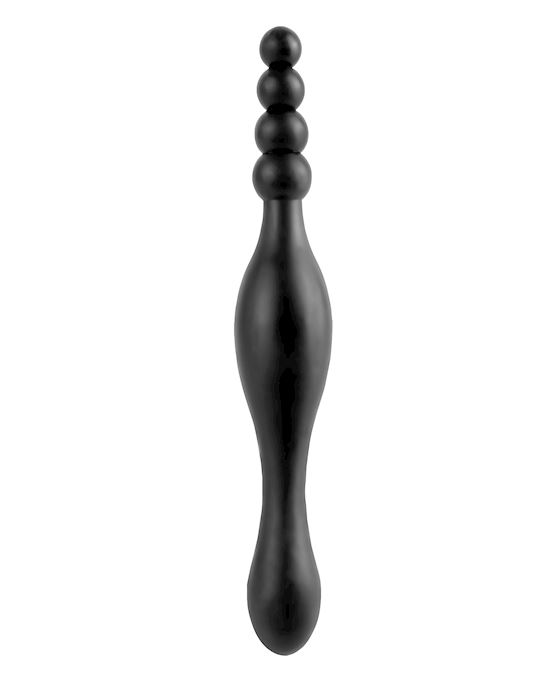 Fun Flex Anal Teazer$13.95Shop Now
Rocks Off Petite Sensations Teazer - Black
Streamlined to perfection, this petite anal teaser is an ideal toy for beginners. With seven functions and targeted vibrations, this toy will send shivers of pleasures throughout your whole body. Even better, this bad boy is 100% waterproof, so you can move you can enjoy a steamy shower or bath experience alone or with a partner.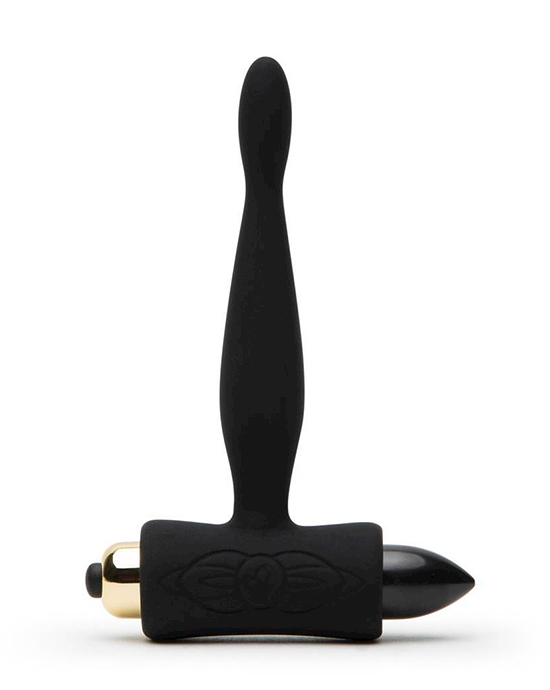 Petite Sensations Teazer$25.95Shop Now
5.Prostate toys
Made specifically to stimulate the walnut-sized gland that sits between the root of the penis and the bladder, prostate toys, also known as P-spot anal toys, are the key to powerful, deep full-body orgasms for people with penises.
"Prostate massagers are curved with typically bulbous heads which are made with the intention of targeting the prostate," Emma explained.
What are the best prostate massagers for beginners?
If you're looking for the best prostate massagers to try, Emma recommends the following:
Dr Joel Kaplan Silicone Graduated Prostate Probe
Hit your most intimate sweet spot with the Dr. Joel Graduated Prostate Probe. Its curvaceous graduated probe is ergonomically curved and contoured to take your prostate stimulation to the next level and deliver ultimate satisfaction every time.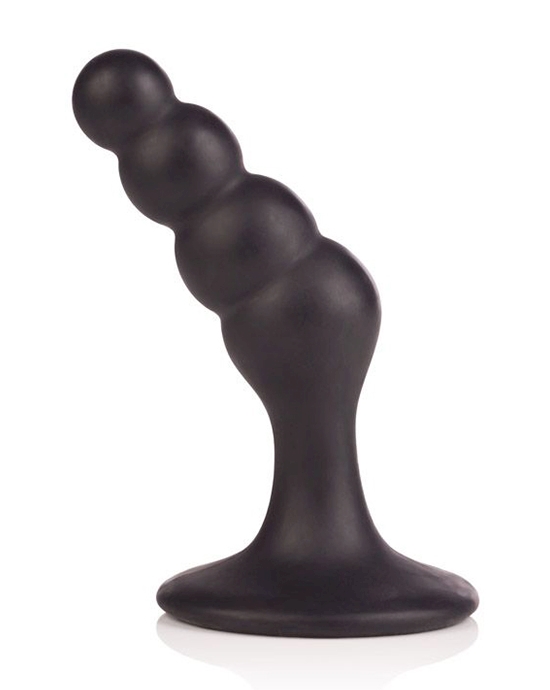 Dr Joel Kaplan Silicone Graduated Prostate Probe$11.95Shop Now
Rocks Off Naughty Boy 7-Speed
This Naughty-Boy prostate massager is velvety smooth and ready for dual action. Based on the world-famous Rude Boy, but this time with a sleek and cheeky design which is the perfect fit for the P-Spot and those starting in anal play.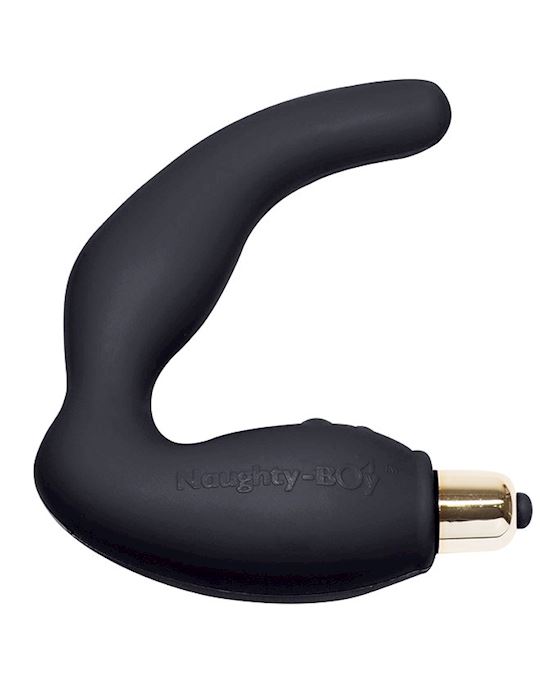 Rocks Off Naughty Boy 7 Speed $50.95Shop Now
Optimale P Massager Slate
Made from flexible silicone, this comfortable prostate massager helps to improve control and intensify orgasms while stretching you PC muscles. This toy features a pull ring for easy releases and insertion, making it worry free.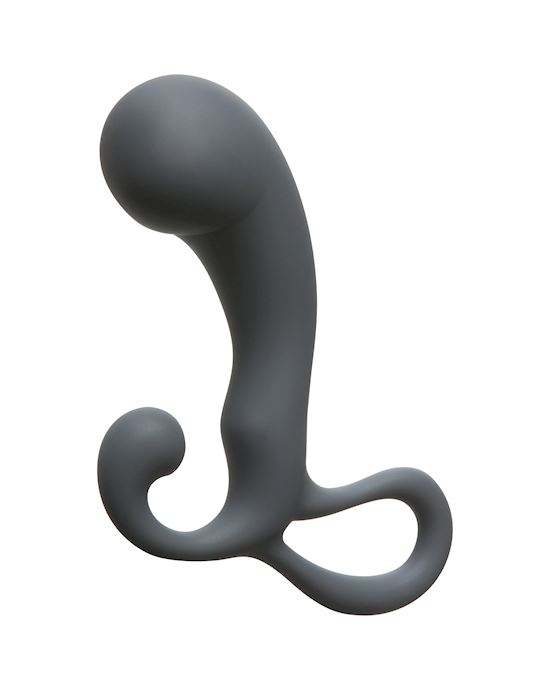 Optimale P Massager Slate$22.95Shop Now
Renegade Revive Prostate Massager
Get ready for the Renegade Revive to rock your world! This toy has dual motors which targets both the prostate and the testicles and provides extraordinary levels of satisfaction.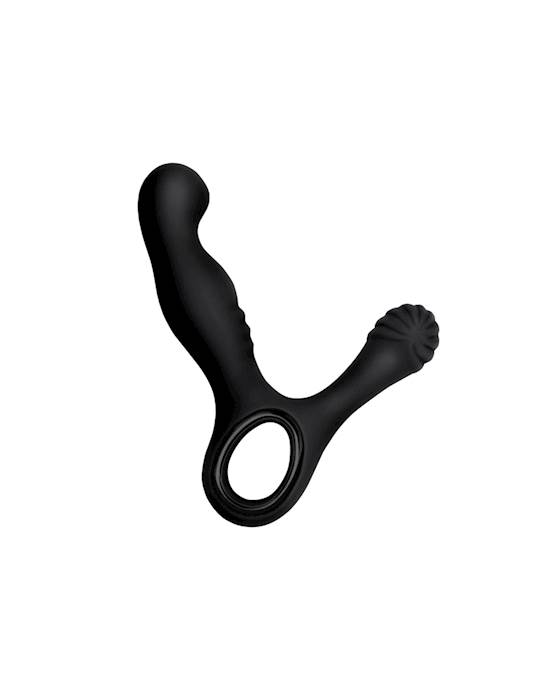 Renegade Revive Prostate Massager Black$54.95Shop Now
6. Anal Training Kits
With a selection of sizes of anal toys to choose from, anal training kits are perfect for gradually training for anal sex, or to just enjoy by themselves.
"An anal training kit is a great way to train your butt for anal sex or for enjoying larger anal toys," Emma explained.
Watch the video below to find out more about anal training, as Emma covers everything you need to know.
What are the best anal training kits for beginners?
Unsure which kit to start with? Emma said you can't go wrong with the following products:
Share Satisfaction 3 Piece Plug Kit
The 3 Piece Plug Kit from Share Satisfaction features 3 sleek silicone plugs with differing lengths and girths. This kit is perfect for gradually expanding the anus, in a natural and less painful way.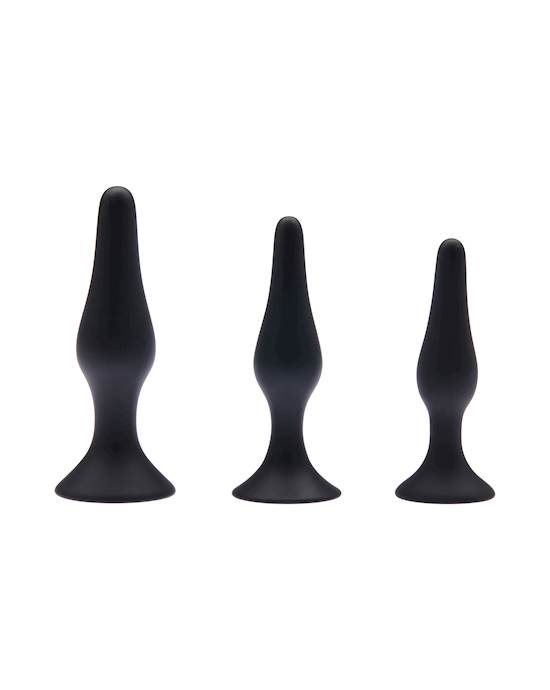 Share Satisfaction 3 Piece Plug Kit$26.95Shop Now
Firefly Prince Glow Kit
We can't think of many things more fun than this set of glow-in-the-dark butt plugs. Sexy, stylish and made of smooth silicone, these butt plugs are guaranteed to be a great addition to your sex life. With tapered tips and looped handles, these butt plugs are a breeze to insert and remove.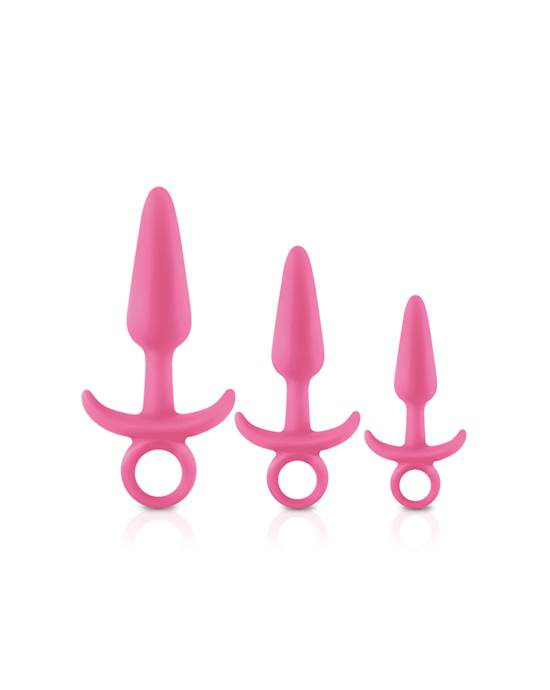 Firefly Prince Glow Kit $34.95Shop Now
American Pop Launch Anal Trainer Set
Get started in anal play with this set of fluorescent yellow cone shaped butt plugs. If you want to to add a pop of colour to your bedroom whilst gently expanding your backdoor boundaries, then this set it made for you. Smooth a flexible, these plugs will ensure optimum comfort making them ideal for beginners.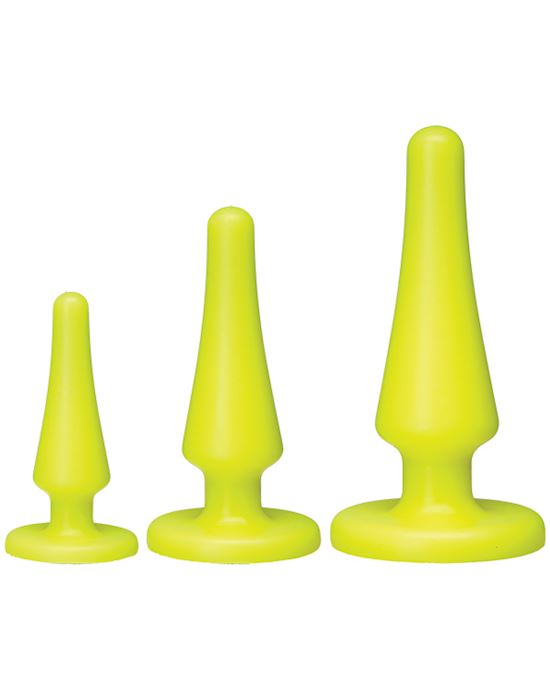 Launch Anal Trainer Set By American Pop$46.95Shop Now
7. Butt Plug Tails
These fun little plugs work exactly like an ordinary butt plug except they have a tail! With a selection of different animal inspired tails to choose from, butt plug tails are perfect for people wanting to get started in pet play or those simply wanting to add an extra level of cuteness and kinkiness to the bedroom.
What are the best butt plug tails for beginners?
If you're wanting to add a tail to your anal play for extra fun, Emma recommends the following tailed anal toys for newbies:
Leather Play Bunny Tail Plug 28 Inch - Silver/Pink
Hop around is this candyfloss-coloured lightweight bunny tail. This plug has a metal base making it slick and perfect for temperature play. "The tail also works as a stopper ensuring that the plug won't slip too far inside," Emma said.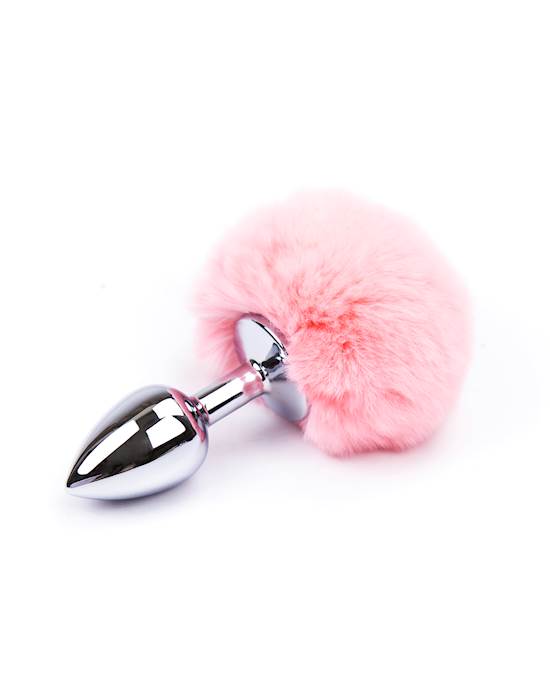 Bunny Tail Plug$37.95Shop Now
Silicone Bunny Butt Plug
This Silicone Bunny Butt Plug is just what you need to explore the world of anal stimulation. Made from super-smooth, flexible silicone, the tapered tip is easy to insert while also providing exciting pleasure.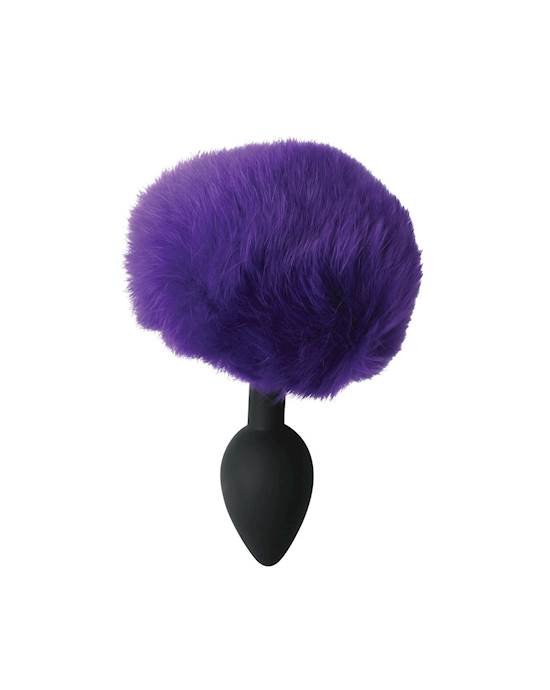 Silicone Bunny Butt Plug$25.95Shop Now
Leather Play Fox Tail Butt Plug White
Feeling foxy? This cream fox tail allows you to live out your wildest animal fantasies while looking super cute. Its lightweight bulb makes it great for hours of use.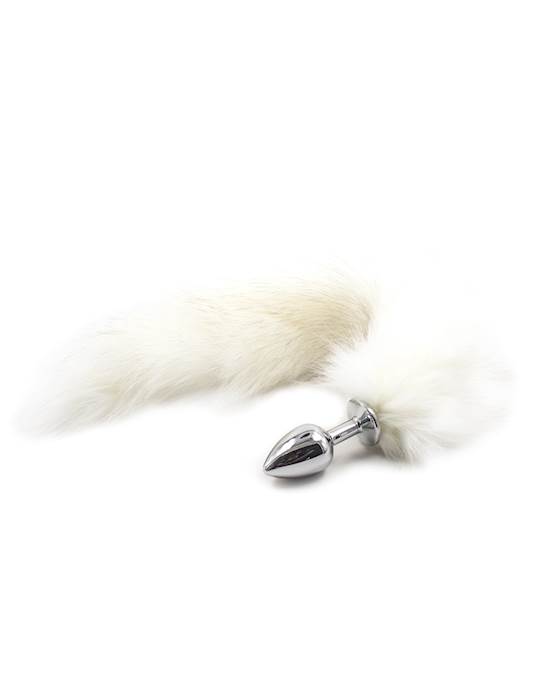 Fox Tail Butt Plug$32.95Shop Now
How to prepare your body for anal play
Now that you know what the best anal toys for beginners are with recommendations from a sex educator, it's important to learn how to prepare your body for anal play to ensure you're playing safe, are comfortable and clean.
Watch the video below to learn everything you need to know, with expert tips from sex educator and anal expert, Emma Hewitt.
Ready to buy an anal toy?
Adultoymegastore had more than 1,500 anal toys to choose from, at the best possible prices, shipped discreetly in 100% recyclable packaging to 11 countries around the world! Buy anal toys here.
Learn more about anal play
Want to keep learning about this highly erogenous zone? Check out these articles by our sex toy and sexual wellness experts:
Content disclaimer: The information in this article has been fact checked and reviewed for accuracy by Adulttoymegastore's team of content specialists and sexual wellness experts, including Sex Educator Emma Hewitt.
Adulttoymegastore does not provide medical advice, diagnosis, or treatment for illness. Any information published on this website, either by Adulttoymegastore of its authors, is not intended to be a substitute for medical advice, and you should not take any action before consulting with a medical professional.