The 10 Best Vibrating Anal Beads to Level-Up Your Anal Play
Looking to add good vibes to your anal play? Anal beads are all about a raunchy release, and additional vibrations will make the entire experience so much more satisfying. Here are 10 of the best vibrating anal beads money can buy, with options for all budgets!
10 of the best vibrating anal beads
Anal beads are a type of anal toy used for a unique form of anal play that focuses on pleasuring the sphincter muscles while inserted and triggering orgasmic sensations upon release when removed during climax.
Adding vibrations can make the release even more orgasmic and satisfying, so here are the best vibrating anal beads available online as recommended by Adulttoymegastore's sex toy experts.
1. B-Vibe Triplet Anal Beads
B-vibe is famous for vibrating anal toys (hence the name), so if you're looking for a premium, high quality option this sex toy brand is a safe bet. The B-Vibe Triplet Anal Beads feature three flexible tapered size beads, an easy grip handle, and two powerful motors with 6 vibration levels and 15 vibration patterns – perfect for new or experienced fans of anal play.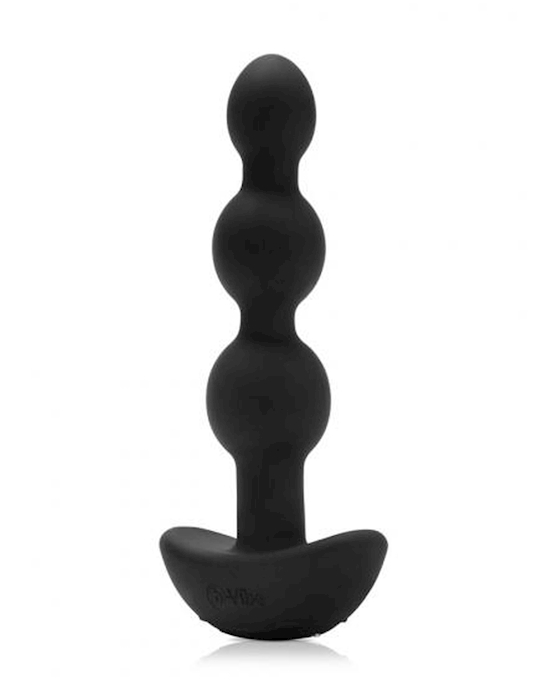 B-vibe Triplet Anal Beads$111.95Shop Now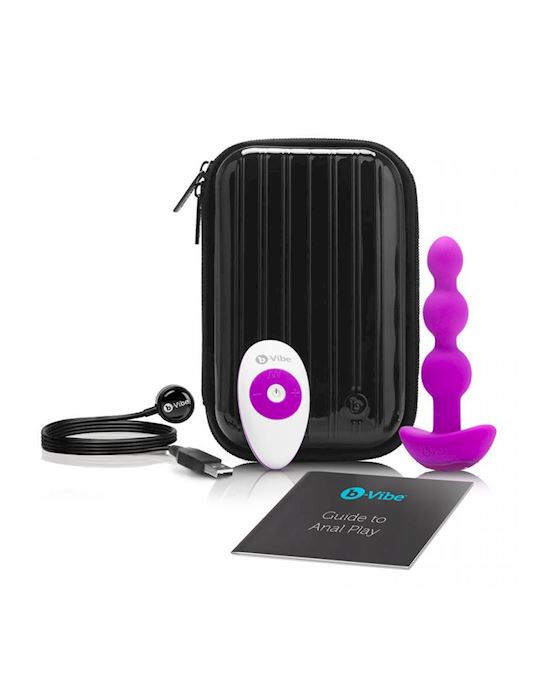 B-vibe Triplet Anal Beads$111.95Shop Now
2. B-Vibe Cinco remote control anal beads
Another incredible creation by B-Vibe is the Cinco rechargable remote controlled anal beads. Featuring five flexible tapered beads, an easy grip handle, three powerful rumbly motors, and a remote control that works up to 30 feet away, there is 8 inches of powerful beads to play with. It's an expensive choice, but if you're looking for the best vibrating anal beads available this is it.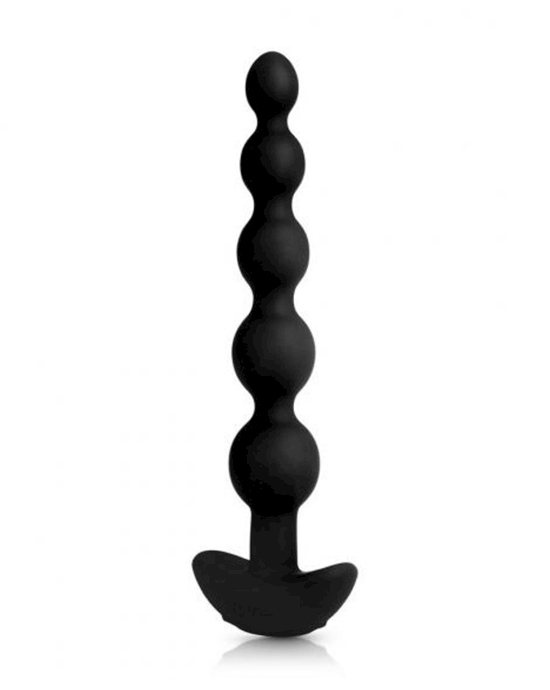 B-vibe Cinco Rechargeable Remote Control Anal Beads$143.95Shop Now
3. Bonda Dea vibrating anal beads
Beautifully crafted at an affordable price, the Bona Dea is special for it's outstanding design. The ultra sonic motors boast 40 minutes running time, so enjoy a prolonged anal session, but just remember to reapply lube if necessary!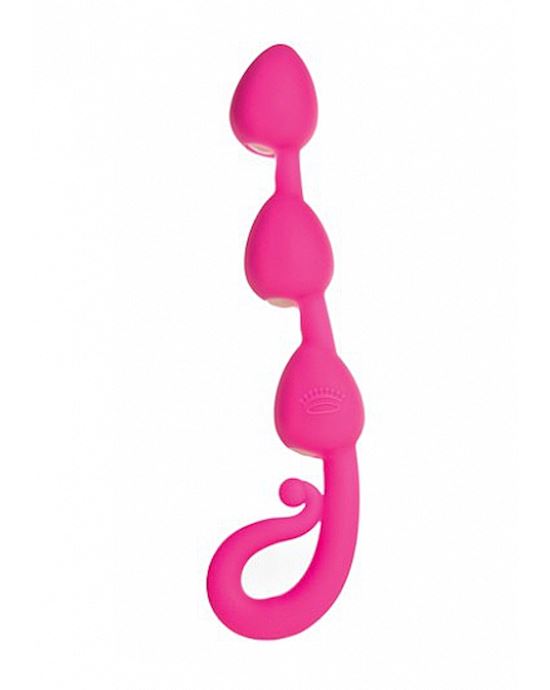 Bona Dea$13.95Shop Now
4. Booty Beads 2 by Powerbullet
The step up from the original Booty Beads. Booty Beads 2 has upped it's anal game. What makes this toy especially unique is the press and hold function. Which incorporates different speeds the longer you hold it, the power is in your hands!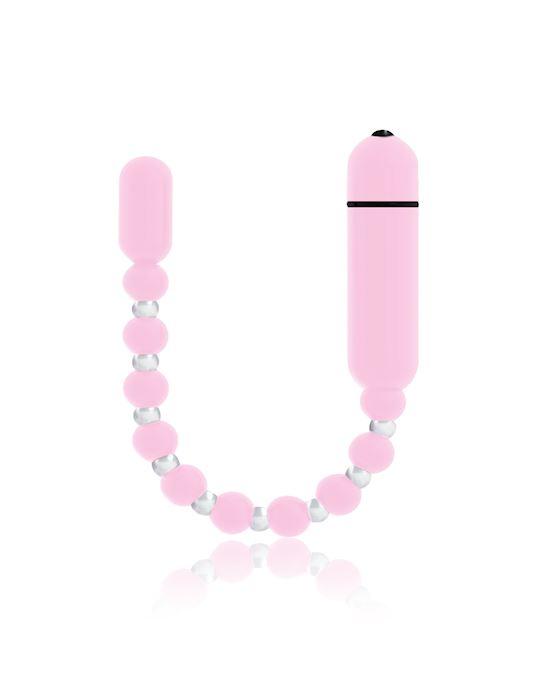 Booty Beads 2 Powerbullet Pink$43.95Shop Now
5. Shaki vibrating anal beads
Perfect for backdoor beginners is Shaki vibrating anal beads. This is a cheap alternative that can be used to see how comfortable you are with vibrating beads. The vibrations of the beads can also be used for clitoral stimulation (wash between uses!), so explore how it's used before moving onto any more intensive or bigger anal beads.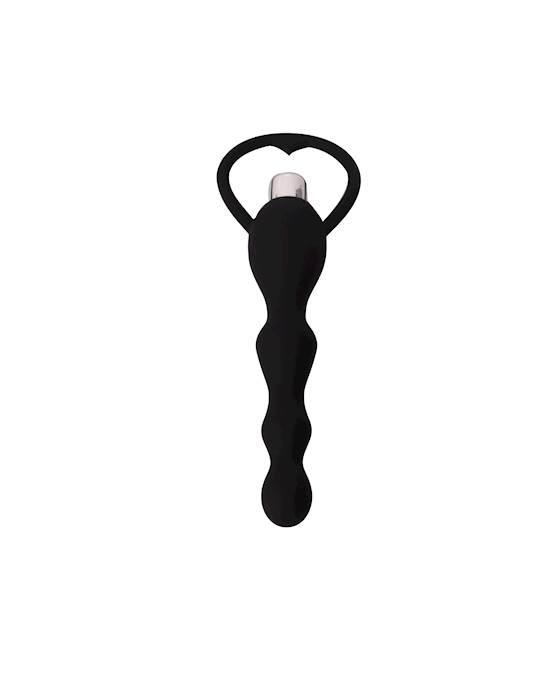 Vibrating Anal Beads $9.95Shop Now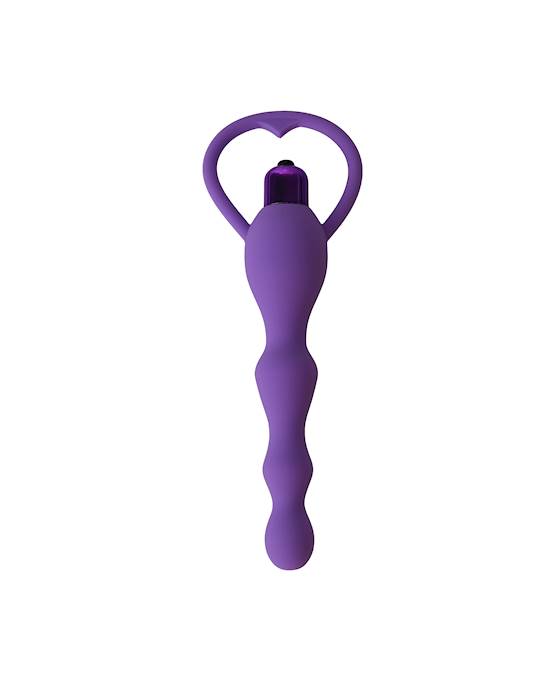 Vibrating Anal Beads $9.95Shop Now
6. Elite Power Anal Beads
Moving up in size, and at an affordable price, are the Elite Power Beads. Measuring 6.0 inches, the Elite Power Beads are more than capable of reaching every single one of your pleasure areas, and thanks to the bulbous design, can hit more than one pleasure spot at once! The easy push or pull handle helps with inserting or releasing at your discretion, making the experience safe and comfortable.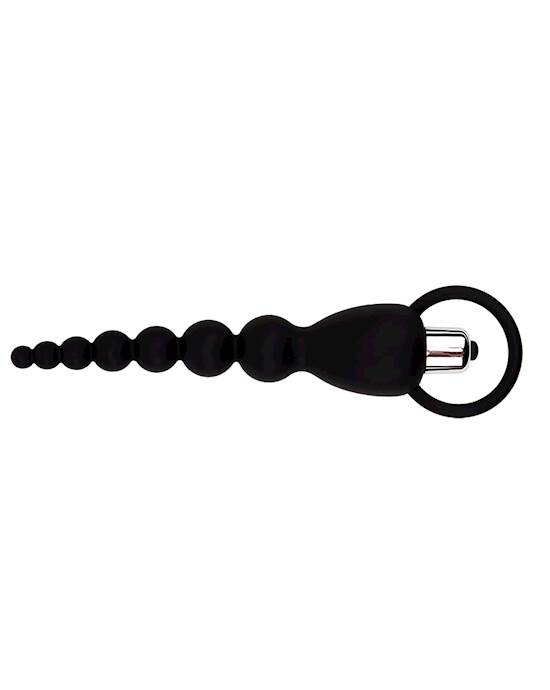 Elite Power Beads $14.95Shop Now
7. Remote conrolled vibrating anal beads
If you want to be able to easily control the vibrations of your anal beads, or hand over control to a partner, these wireless vibrating anal beads are perfect. With 8 inches of insertible length and 4.7 inches of girth they are for more experienced anal players looking for a super satisfying anal toys that goest the distance.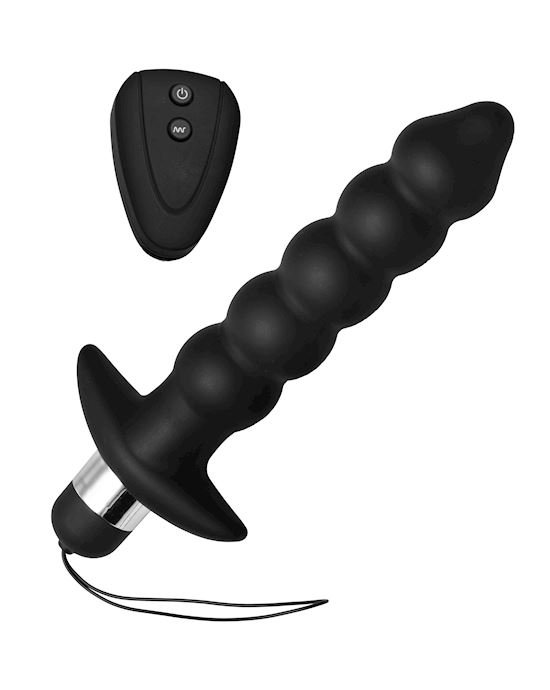 Wireless Vibrating Anal Beads With Remote$68.95Shop Now
8. Petite sensations anal pearls by Rocks Off
For something small but mighty, try the Petite Sensations Pearls by Rocks Off. Whether you're a beginner or an expert at anal play, this slim set of vibrating anal beads is ideal for those who are new to anal play or those experienced users that crave that world-changing sensation over and over.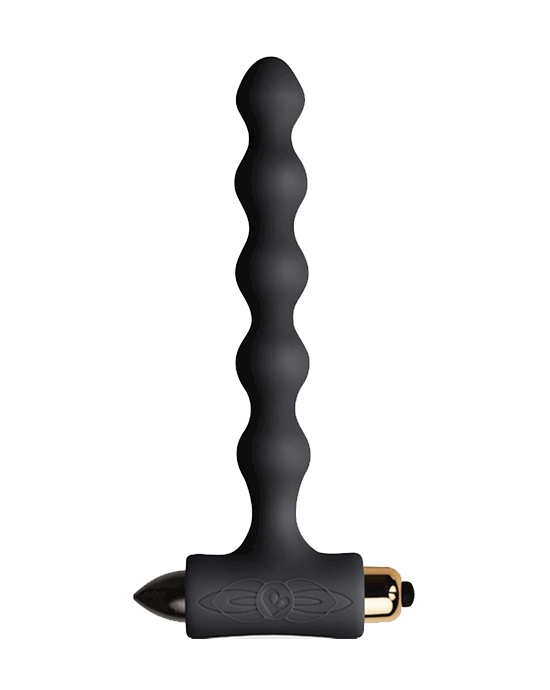 Petite Sensations Pearls$17.95Shop Now
9. Fifty Shades vibrating anal beads
These Fifty Shades of Grey inspired Vibrating Anal Beads. Similar to the film the beads are classy and picturesque. With 3 vibration intensities and 7 speeds to explore, these beads suit beginners or even prostate professionals. A great option for those who want a toy they can develop with!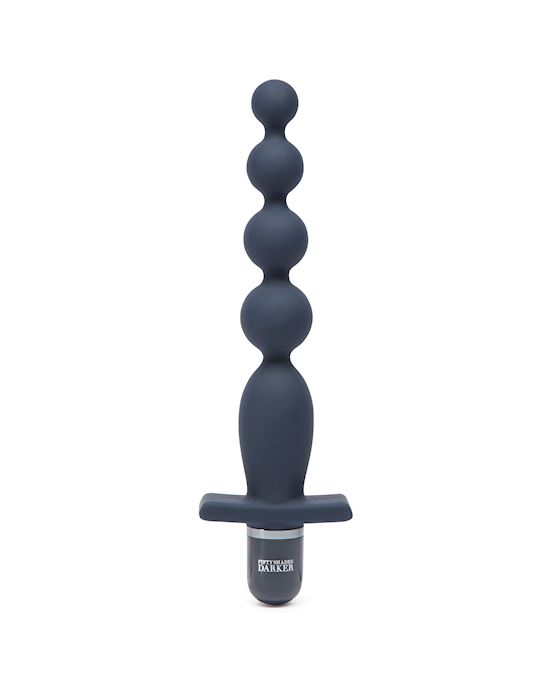 Fifty Shades Of Grey Darker Carnal Promise Vibrating Anal Beads$69.95Shop Now
10. Flexa-Pleaser Power Beads
Flexa-Pleaser Power Beads focus on meeting the sensual specifics of the body it's enter. Cycle between three vibration speeds to build towards an all consuming climax.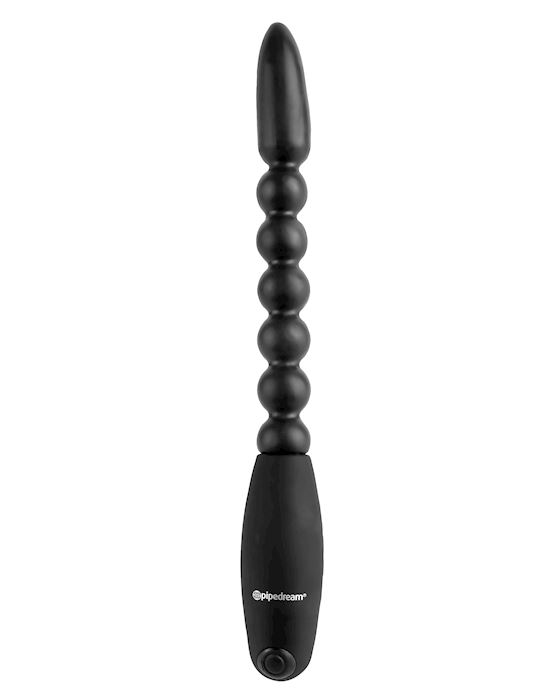 Anal Fantasy Collection Flexa-pleaser Power Beads$40.95Shop Now
How to use your vibrating anal beads
Anal beads should be inserted slowly. Unlike other anal stimulators or prostate massagers, anal beads won't feel incredible during insertion and will only provide a small amount of massage once inserted. It's the series of delightful sensations while pulling them out that have people so sexcited.
If you've been viewing pornography involving these toys, you may have seen someone pulling them out quickly near or during orgasm. This was done to provide an extremely pleasurable boost to orgasm, but it is not necessarily how they should be used.
Others like to release them slowly during sex or masturbation to build towards an orgasm. This is generally safer and just as pleasurable in the long term. Even though it all happens in one amazing moment during porn, remember that a lot of preparation has gone into crafting that scene. So be thorough in your own preparation as well.
Lubrication
As with any anal experience, using lubricant is essential. It's recommended to be extremely generous, especially if you're a beginner. This connotes covering every section or bead that is going to be inserted. Notice that most anal toys are silicone, this is because silicone is comfortable to insert and easy to clean.
However, don't use silicone based lubricant with your silicone toy as it will break down the toy. Water based lubricants can be used, but they can dry up relatively quickly. Oil based lubricants are recommended as they enable anal lube longevity.
Expert tips for using vibrating anal beads
Begin with a finger. Your phalanges are the free gift for backdoor beginners. This is a really easy way to introduce yourself to anal play and your body to stimulating the anus, anal sphincter muscles and for men the prostate gland.

Arousal and anal. The more sexually excited you are, the easier the entire process it is. You want to encourage your body to associate anal stimulation with arousal. This will cause insertion to be a lot smoother. This is further why if things aren't going as planned. Simply stop and put any anal sex toys away for the day. Forcing anything is not only unsafe, but is going to ruin the intimacy of the entire session.

Cover in a condom. Some people ensure things are kept hygienic by covering their beads in a condom before usage. the This is great for those who plan on sharing their anal toys. However, silicone lubricant present in some condoms will break down silicone material present in sex toys.
Whichever condom you decide to use, remember to replace it after use as an anal toy, before coming into contact with alternative body parts! Using a condom on your sex does not mean you're free from cleaning! However, cleaning should be easier. The more hygienic things are, the greater likelihood your toy will last longer and the more encouraged you'll feel to use it!
Important things to remember
Communication is essential to a safe and satisfying anal experience. Make sure you are comfortable and stop if things ever become too difficult. Identify two safe words before using anal beads. One that means that made you feel a little bit uncomfortable and another that means an immediate stop! Sort of like the adult version of playing hot and cold.
Get your bead on!
See Adulttoymegastore's full range of anal toys, including anal beads, butt plugs, anal vibrators and more!
Learn more about anal play:
Editor's note: This article was originally published on 19 October 2018 and was updated on 14 July 2021 for relevance and comprehensiveness. The information in this article has been fact checked and reviewed for accuracy by Adulttoymegastore's team of content specialists and sexual wellness experts, including Sex Educator Emma Hewitt.
Content disclaimer: Adulttoymegastore does not provide medical advice, diagnosis, or treatment for illness. Any information published on this website, either by Adulttoymegastore of its authors, is not intended to be a substitute for medical advice, and you should not take any action before consulting with a medical professional.