The 7 Best Anal Toys for Aspiring Anal Trainees
Anal play isn't something anyone can just jump into. With thorough preparation required and differing levels of comfortability associated with different people, it can become a lengthy progress. If your knowledge of anal is influenced by porn. It's important to acknowledge that a lot of preparation is packed into those scenes!
However if you're interested in anal and are imagining yourself eventually leveling up to bigger and better things. Then an anal training kit would be the recommendation for you. So what is an anal training kit? You may ask. An anal training kit usually involves three similar shaped anal toys that increase in length and girth. Therefore they're perfect for backdoor beginners and well experienced users alike.
Another preferable aspect about a training kit is that it's cost efficient. If you realise that you really enjoy anal play or were more accomodating of a certain product than you originally thought. Easy! The next addition to your raunchy resume is politely waiting entry. If you're a beginner, it's highly unlikely you quickly move to the finale. Unless you're experimenting a lot with anal sex! I don't know what you do with your spare time. Generally it's advised to be honest with your progression, definitely not forcing anything that's not ready. Having a pleasurable challenge to work towards can be motivating and rewarding.
10 Awesome Anal Training Kits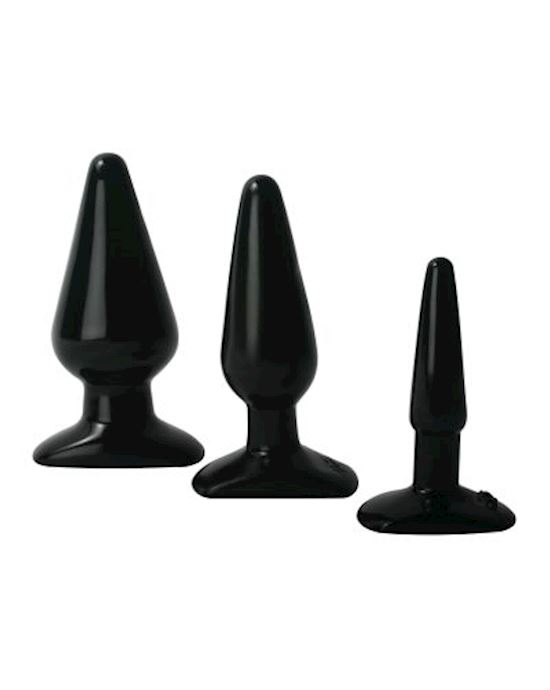 Trinity Anal Trainer Set$27.95Shop Now
Kicking off your journey to become the greatest anal practitioner in the land is the Trinity Anal Trainer Set. Simple and effective, this set ensures a comfortable start towards maximising anal pleasure.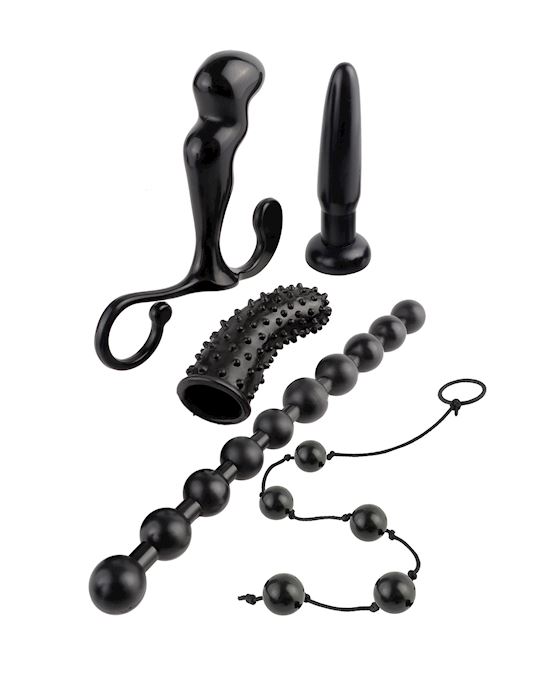 Anal Fantasy Collection Beginners Fantasy Kit$38.95Shop Now
Offering a range of anal alternatives, this Collection Beginners Fantasy Kit isn't the optimal way to increase in size. Instead, it focuses on exploring a plethora of anal toys. There beginners can experience the different sensations other toys provide. Whether it's the release of an anal bead, the massaging of your prostate gland or gradual anal stimulation. Backdoor bliss is ensured!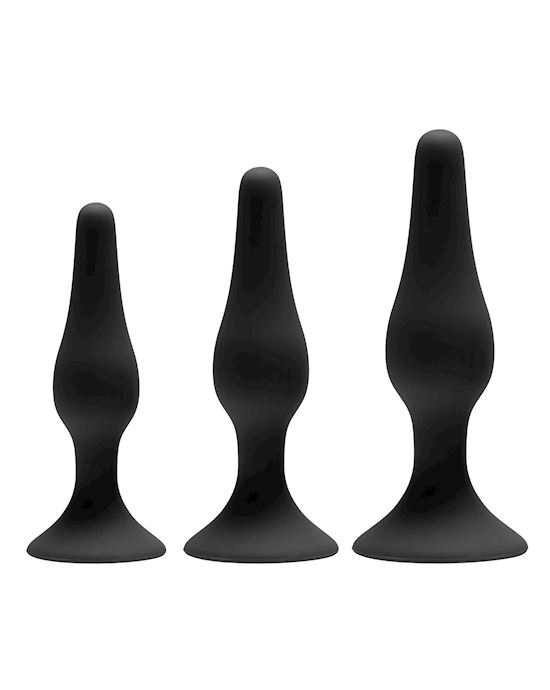 Apprentice 3 Piece Silicone Anal Trainer Set$36.95Shop Now
The Apprentice 3 Piece is a variation on your standard trainer kit. The curvaceous nature of these plugs encourage easier insertion. The other reason the shape is comforting is that it makes it easier for the plugs to remain inserted. Allowing beginners to gain an indication on how long they can keep a plug in before it's uncomfortable. People keep butt plugs inserted for a number of reasons. The most enticing reason is that they enable stronger orgasms during sex, masturbation and for all genders!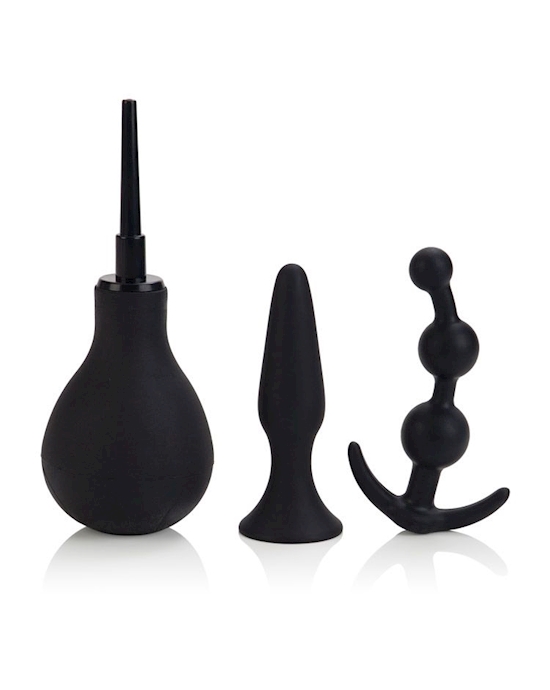 Anal Explorer Kit$48.95Shop Now
One important aspect that no other training kit has included is an anal douche. Nothing is a greater buzzkill than a hygienic anal adversity. This Anal Explorer Kit it ensures that beginners understand the entire process of anal play. Once you are thoroughly prepared, enjoy the suction cup probe or graduating angle probe.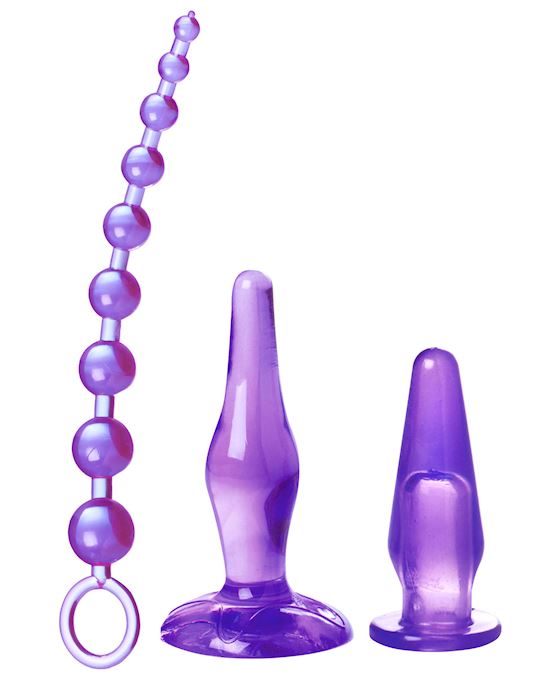 Amethyst Adventure Anal Toy Kit$13.95Shop Now
A refreshing addition to the training list. The Amethyst Adventure Anal Kit contributes some much needed colour. For all those whose friskiness comes with fashionable intent. Acquiring a training kit of a preferred colour can be the difference in your experience due to visual arousal. With certain colours sticking out of your partners back side they may look more sexy and feel greater confidence.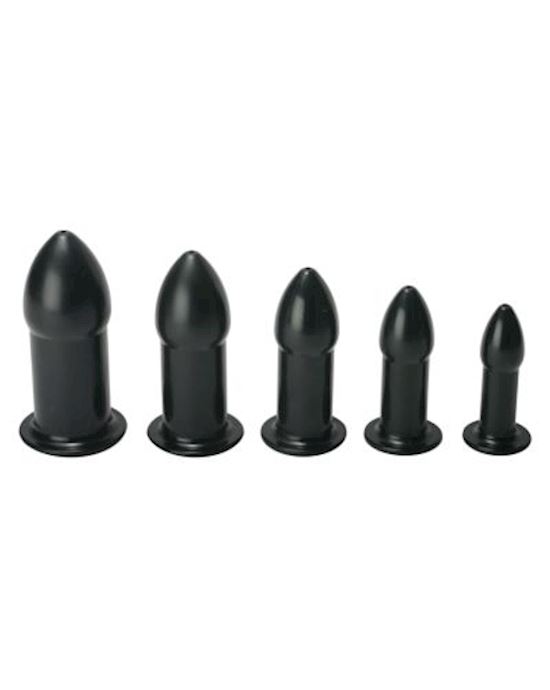 Ease-in Anal Dilator Kit$73.95Shop Now
One problem that some users encounter is the graduation gap being too great. Meaning that the next plug is too uncomfortable too insert. The Ease-in Anal Dilator Kit was created to encourage a very gradual increase in plug measurements. Filling previously untouched gaps of satisfaction, users can train at a pace that meets their sensual specifics. Giving all trainees ever chance of graduating with a bachelor of backdoors.
Important things to remember
Whenever participating in anal play. Be generous when applying lubricant! The general rule is that it's better too have too much than not enough, especially for backdoor beginners. Not applying an adequate amount is one of the main reasons people find their introductory anal experience unpleasant. Causing them to give up on all the potential pleasure that transformed others sex life. Further, water based lubes are more susceptible to dry up compared to when applied to a vagina. So if using a water based lube, be lavish with your lavering.
Thicker lubricant is recommended for the use of anal toys. This lowers the probability of any cuts happening inside the rectum. Cuts can occur without proper application because rectal walls are thinner than vaginal walls. Therefore they require a greater amount of lubricant to keep things slippery. Another thing to consider if your not in a monogamous relationship and haven't had appropriate testing. Wearing a condom is still important with anal play, so the lubricant must also be latex free.
Applying lubricant to a finger or anal fingering is a good way of indicating whether you are actually into anal play. It's also a completely free gift! Many couples enjoy anal fingering as it takes advantage of various erotic nerve endings found at the opening of the anus. Always keep things slow applying small 5 second pressure phases to different areas of the opening. Trying to relax the external anal sphincter muscle. Once your partners feels comfortable and relaxed, only then is it appropriate to enter. There is an entire lengthy process to this, it's important to undertake this before purchasing an anal training kit. If still unsure about the correct techniques for anal fingering there are plenty of guide online!
Whenever undertaking anal play with a partner. It's important to have complete trust in this person and feel comfortable communicating with. Especially because the insertion of a toy can be a lengthy process that is potentially painful. Therefore you must be comfortable expressing whether you are in discomfort and whether things need to change or completely stop for the day.
Customer privacy is essential to Adulttoymegastore. Therefore we ensure that all orders are shipped in discreet plain packaging. If you have any other queries about the delivery process, checkout our shipping information page.
Begin your anal journey!
See Adulttoymegastore's entire range of anal sex toys, including anal training kits, anal plugs and anal lubes!
Read More: