Bondage Guide for Beginners
Introducing Bondage Play for Beginners
A lot of the time, our fantasies lie outside of the boundaries of what we believe we should feel, and many people feel like they want to experience rougher, more intense, and more adventurous sex. If people want change, bondage play can be a great choice for people looking to open their horizons sexually.
Bondage also known as BDSM (bondage and discipline, dominance and submission, sadism and masochism) has begun gaining popularity amongst couples since Fifty Shades of Grey topped the book charts in 2011 as it encouraged BDSM to become openly discussed, helping to get rid of that once social stigma.
Although it's growing in popularity, knowing where to start when experimenting with BDSM can be an absolute minefield! You want to make sure you don't go in too deep too quick and instead start off with less intimidating options.
Sensory play is a good place to begin when you first begin experimenting with BDSM, as blindfolds are generally less intimidating and can also help people shed their inhibitions. Without sight we rely on our other sense much more, such as sounds and physical contact. These senses also become much more enhanced making each whisper and touch that much more satisfying!
A blindfold can increase sexual tension and arousal through the build-up of anticipation as you try to interpret what your partner is going to do next. Take turns blindfolding one another and treating each other to a variety of different sensations. Lick, tickle, suck, squeeze, and kiss each other in different places so that they will never know what is coming next. You will be amazed at how aroused you both become!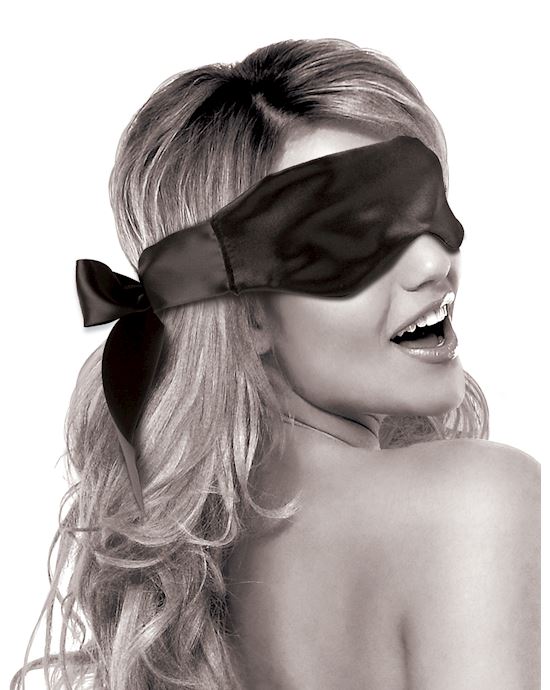 Fetish Fantasy Limited Edition Satin Blindfold$16.98Shop Now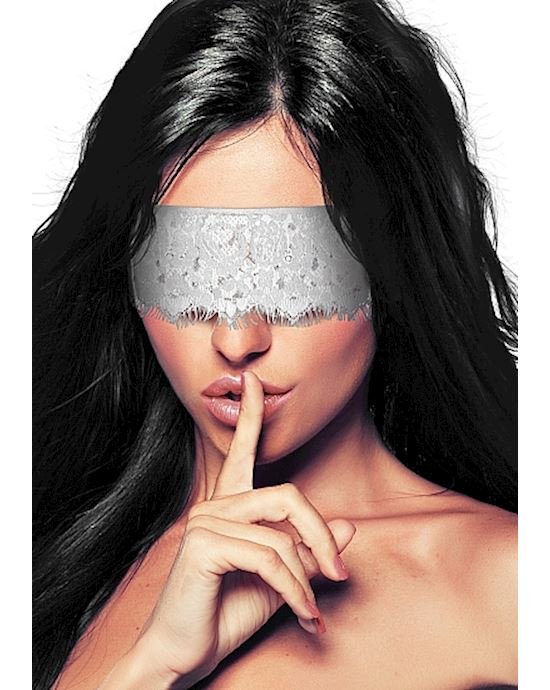 Mystère Lace Mask$34.98Shop Now
Take Control
Many people love the idea of being tied up and being under complete control of their partner. In fact, for many men and women this is one of their biggest sexual fantasies. If you are new to restraints, then it's a good idea to start out at the tamer end of the spectrum. So, for now it's best to avoid ropes or metal handcuffs and stick to silk ties, scarfs or fabric restraints with Velcro.
If it is your first time, tie their forearms together rather than tying them down to the bed. They will find this a lot more comfortable both physically and mentally as if they do feel uncomfortable or begin to panic, they can easily escape if they felt they really needed to.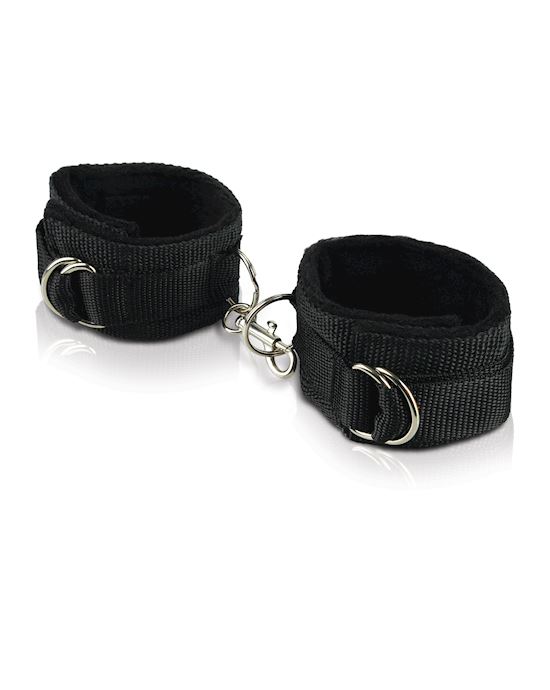 Fetish Fantasy Limited Edition Luv Cuffs$19.98Shop Now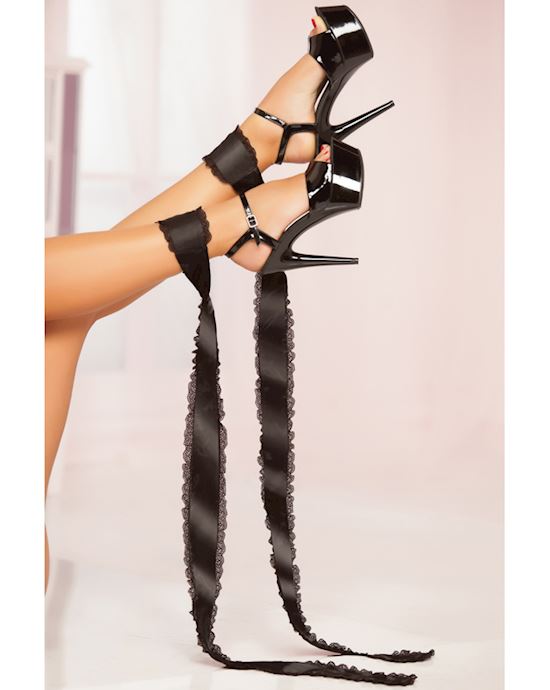 Bondage Ties$29.98Shop Now
Tickle your fancy
If the thought of spankers and whips frighten you then we recommend you start with a feather tickler first! Let's be honest, your partner is much more likely to enjoy being tantalized by a feather rather than being whipped repeatedly. Holding onto the stem, allow the soft tip of the tickler to gently caress your lovers skin all over. They'll experience head-to-toe tingles and be left with extra sensitive skin for subsequent play.
It's best when you experiment with different types of contact. Use a combination of barely-there touches and prolonged strokes, while paying attention to where they like it most. Of course if you do prefer to use spankers and whips remember that BDSM is a form of punishment that is meant to be pleasurable for both of you, so don't spank your lover too hard and make sure to pause between each spanking!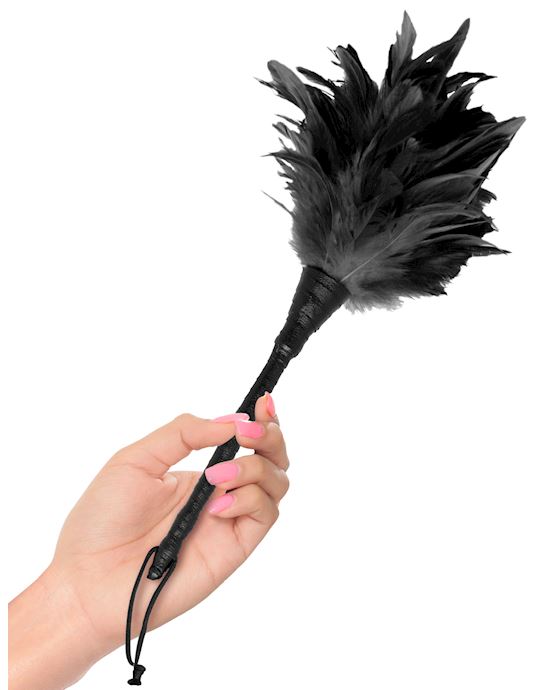 Frisky Feather Duster$13.98Shop Now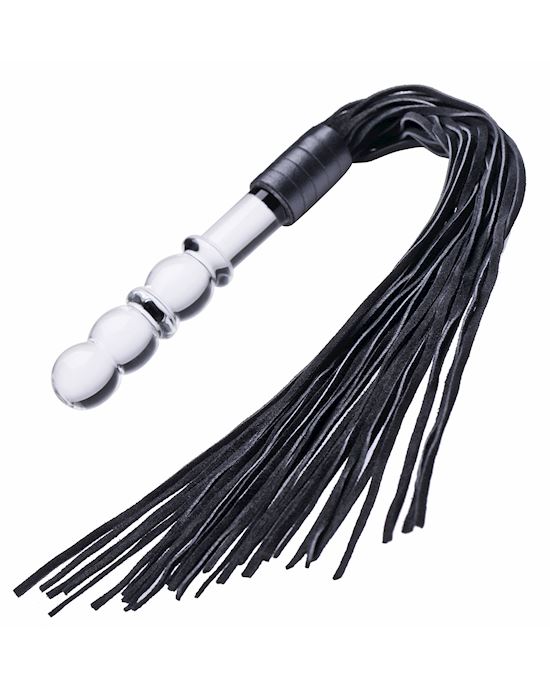 Lingam Glass Dildo Flogger$35.98Shop Now
Power Play
There is something truly sultry and exciting about power play. To some degree these roles probably already exists but power play encourages you to take it up a few extra notches! Whether you prefer to be the dominant or submissive, there are no guidelines on the right way to take part in this kind of play.
A submissive doesn't have to be a sex slave or completely submit themselves in all situations, just like the dominant doesn't always have to be the one to make all the decisions. It's up to you how you like it but mixing it up can be just as satisfying as changing roles can really spice up the relationship!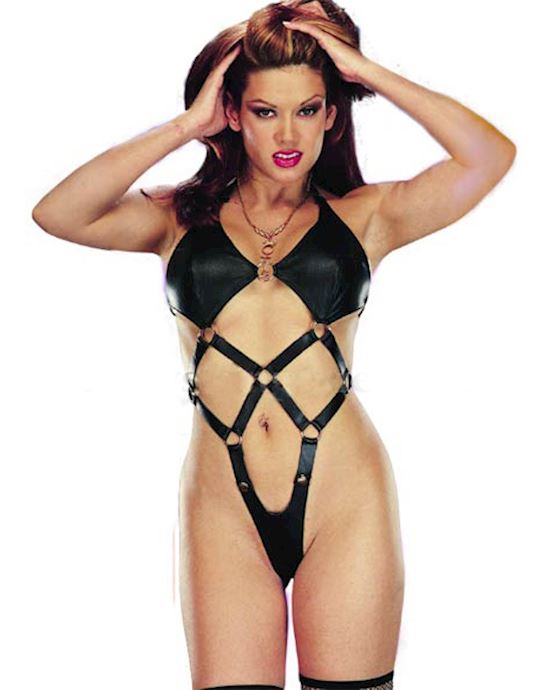 Stapping Number$13.98Shop Now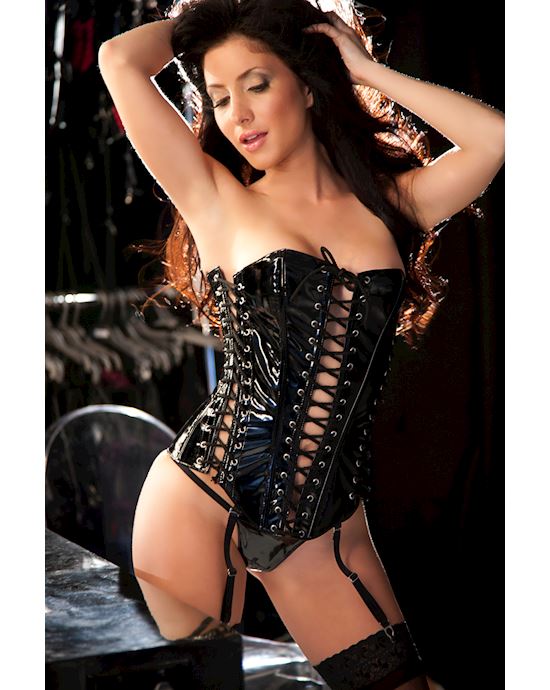 Lace-up Vinyl Corset & G-string$88.98Shop Now
Communicate
With any kind of bondage play, communication is key. With such a high level of communication required, this may be why a lot of couples find BDSM more intimate then regular sex. Especially when restrained, you are completely at someone's mercy, so it is vital that you absolutely trust them.
Couples often employ a safe word in order to let their partner know when things get a little too uncomfortable. There is also the option of discussing beforehand both soft and hard limits so your partner knows what to do and what to stay away from. If you feel like you aren't able to trust your partner or have trouble communicating you will find it difficult to relax and completely enjoy.
A safe word is a code word commonly used in BDSM for a submissive to unambiguously communicate to a dominant that they are approaching or crossing a physical, emotional or moral boundary. These words tend to be irrelevant and strange in the context of a sexual situation as words like 'stop' or 'please' are too common within a role-play context. Safe words in BDSM fall under the guiding philosophy of safe, sane and consensual. In some cases, the choice to give up the use of safe words is a consensual act on the part of the submissive.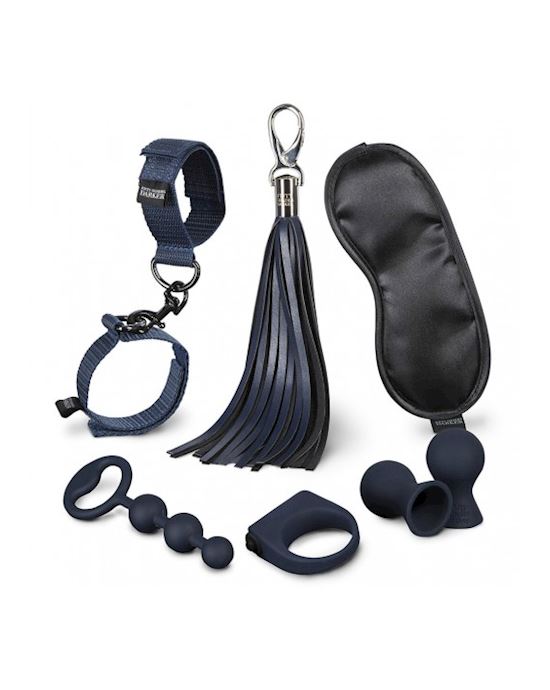 Fifty Shades Darker Kinky Fuckery Kinky Couples Kit$69.98Shop Now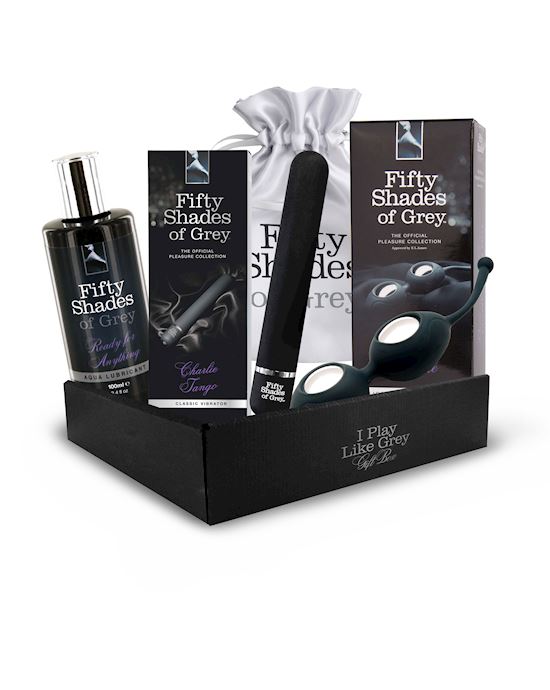 Play Like Grey Sex Box For Her Basic$111.98Shop Now
Are You Ready to Try Bondage Play?
Browse our wide range of bondage accessories with your partner to mutually decide what toys you both feel comfortable using. Remember you both want to enjoy yourselves!
How to Choose the Perfect Bondage Gag
Whether it's to silence screams, tone down the talk or add some power to your bondage or BDSM play, gags are the way to go! A gag is a device worn in or on the mouth to prevent the wearer from speaking and screaming. Gags are commonly used in conjunction with bondage during BDSM play and are usually worn by a submissive to give the dominant partner more control. Here's what you need to know about them.
Gags come in several different styles and offer varying levels of restraint. It's important you do some research first before purchasing as some are more suitable for beginners, while others are more suited for experienced users. Whether you use your gag to increase the size and access to your partner's mouth, to use it as a form of control or use it to simply shut them up, there is a gag type for you!
Below is an overview of our most popular types of gags, including what they are, what they do and some safety tips to make your gag experience smooth sailing.
Safety First!
When playing with gags make sure you agree on a VISUAL safe word. A safe word is pretty important as safety should always be your first priority! Now, on to the gags...
Ball Gags and Bit Gags
Ball gags and Bit gags are the most common gags used within BDSM play and although they may not be as effective at completing silencing the wearer, they still limit your ability to communicate. The ball gag is designed to sit tightly yet comfortably in your mouth, while an adjustable (generally leather) strap is fastened around the back of your neck. A bit gag is long and narrower than a ball gag. It sticks out on each side of your mouth, working similar to how a dog holds a bone. Due to your mouth being propped open by these two types of gags, it makes it difficult to swallow salvia which can result in a bit of drooling. But hey, drooling can be pretty sexy!
Ball and Bit gags are considered pretty safe since they sit just inside the mouth, without going all the way in. There is the option for solid ball gags which means the wearer will have to rely on breathing from their nose, or there is the option for hollow plastic gags with little holes which ensures constant air flow. Bit gags are usually always solid. The material you opt for will depend how comfortable you find your experience, as silicone will be a lot more comfortable against your teeth in comparison to plastic or metal.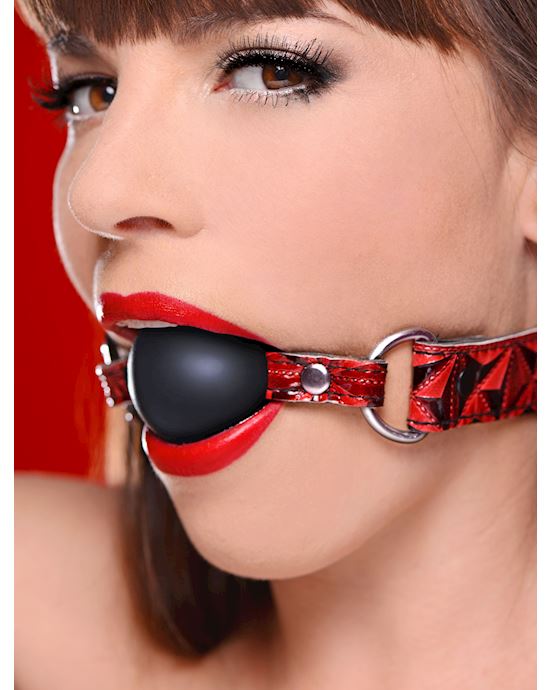 Crimson Tied Triad Interchangeable Silicone Ball Gag$48.98Shop Now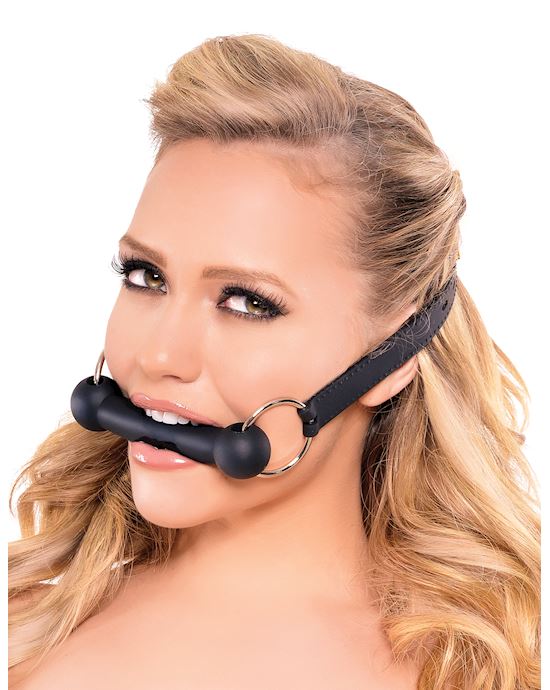 Fetish Fantasy Series Silicone Bit Gag$59.98Shop Now
Open Mouth Gags
Sometimes what you want is not so much to restrict your partner's speech but to rather have complete access to their mouth. Open Mouth Gags are generally metal rings, which are designed to prop your mouth open while still allowing your partner to access your mouth for oral, medical play or other purposes. Gags of this kind include metal ring gags, tube gags, spider gags and whitehead gags.
Open mouth gags are excellent for air flow and although they won't silence your partner, it will still alter their quality of speech. This type of gag will often force your mouth to open wider than a ball gag would, so just make sure you don't overdo it as pushing yourself could result in hurt gums and lips.
Fetish Fantasy Series Open Mouth Gag$29.98Shop Now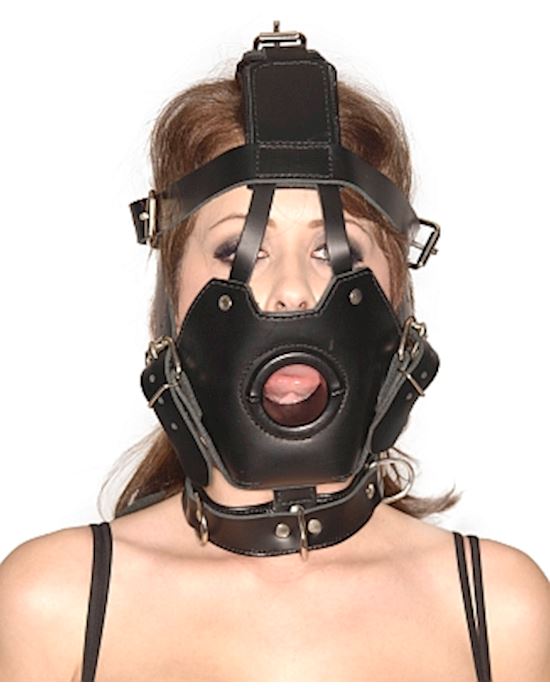 Strict Leather Premium Muzzle With Open Mouth Gag$412.98Shop Now
Tape Gags
Tape gags are the ultimate solution if your purpose is to keep your partner completely silent. It prevents any movement of the lips, with the only sound being able to echo from their throat. Tape also restricts breathing, so the safety precautions mentioned above apply here as well. Although there is probably tape available down the road at the corner dairy, we don't recommend opting for duct tape as that stuff can seriously damage the skin. Bondage tape is specifically designed to stick firmly to the skin but is able to be removed with ease.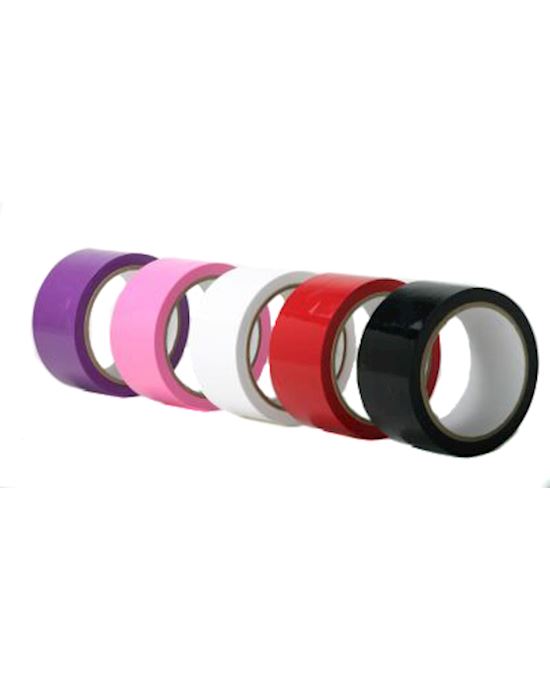 Bondage Tape$16.98Shop Now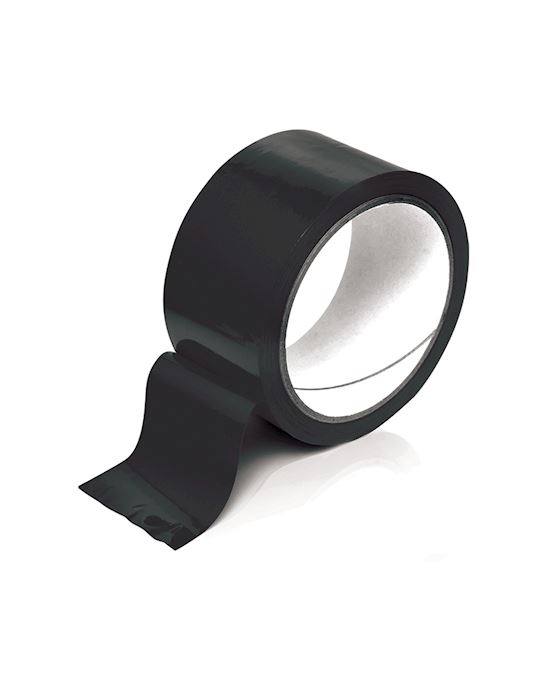 Fetish Fantasy Series Limited Edition Bondage Tape$6.98Shop Now
Are you ready to try a Gag?
If you're ready to take your bondage and BDSM play to the next level, a gag is the ideal sex toy for you! No matter what, safety should always come first when participating in bondage or BDSM play. Always communicate with your partner and use a safe word.
An Introduction to Bondage Tape
Bondage tape is one of the least intimidating pieces in bondage play. A colourful and comfortable alternative to rope, metal cuffs, or tight leather. Tape is completely harmless and easy to apply, yet it can achieve what other more specific bondage pieces offer!
Why Bondage Tape?
Bondage tape is completely safe. Being hair and skin friendly, tape makes cleaning up quick and stress free. When applying the tape, communication avoids the chance of tape being pulled too tight or loose. Bondage tape is easy to get in and out of, only requiring a bit of unwrapping or one snip from a pair of scissors.
Bondage tape can be used as many different restraints. Use bondage tape as a wrist restraint, ankle restraint, blindfold, mouth gag, or even an entire body restraints (mummification). How you use the restraint is only limited by your imagination. Because of its length, you can mix and match restraints or even incorporate its use with your favourite piece of furniture.
Bondage tape can even be used again and again! This is however, dependent on how to use it. Wrapping bondage tape with minimal kinks or twists will assist users who'd like to re roll and use it again. If you find at the end of a session, the tape is all ripped, twisted and wet. Don't worry! A roll of bondage tape has plenty of individual uses within it.
Tape also is not limited by sizing! The main difference in tape dimensions is the width. Bondage tapes with larger width is used to bind more of the body or even make clothes.
Tape can also be used to make the most tempting attire. Wrapping tape to hide your most private areas will have your partner fuelled with undisguised lust. Feel free to mix and match different colours of tape!
Keen to be taped up? Below are ten different bondage tapes that are suitable for any beginners. The following tapes are categorised by width and colour.
Basic Black
Elegant and suggestive of authority. Black bondage tape is a great place to start playing with dominant and submissive play. Limited Edition Bondage Tape or Entice Lovers Tape are winning ways to wrap up your lover.
Pretty in Pink
Wrapping anything in pink makes for a night of pleasure! Ensuring safety and visual stimulation, these Non Sticky Bondage Tapes are great for any contemporary kinksters.
Large Wrap
Ever wanted to treat your submissive to a miniskirt? Maybe even a bra? Tape with a larger width can be used to create wider bondage bindings or clothes. Envelop your submissive in erotic practice with any colour of these greater width Body Bondage Tape.
Red Hot
Make a bold entry to tape bondage buy cutting through some red tape! This Pleasure Tape from Fetish Fantasy or Bondage Tape is a great way to accomplish your bondage tape dreams. The colour of love, lust and passion will have your submissive hot with a desire to be dominated.
Naughty Neon
These Neon Pleasure Tapes have fashion forward bondage play taped up. Neon coloured tape stands out as a hallmark in any sensual scene. Measuring ten metres in length, you have plenty of tape to light up your lover!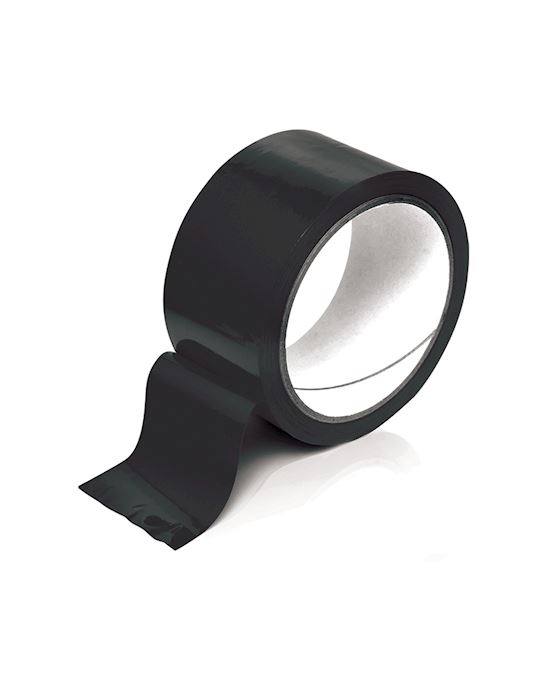 Fetish Fantasy Series Limited Edition Bondage Tape$6.98Shop Now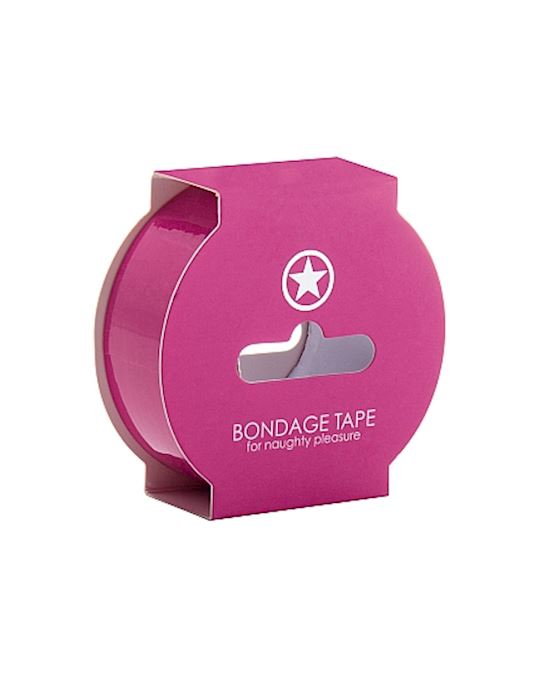 Non Sticky Bondage Tape 175 Meter Pink$13.98Shop Now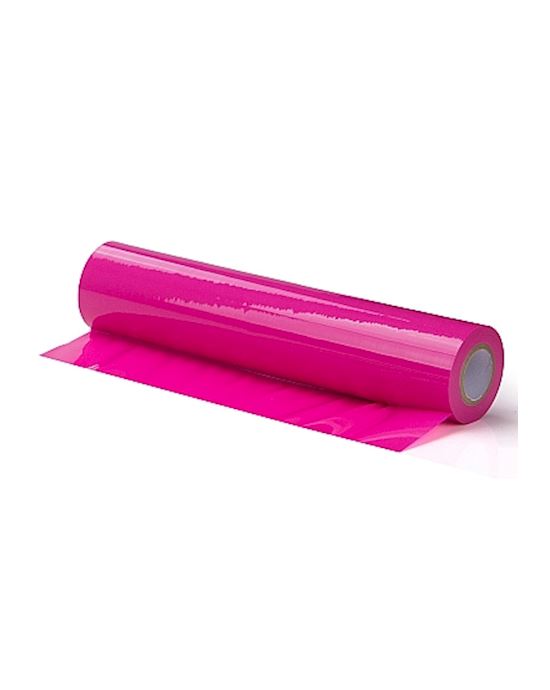 Body Bondage Tape$24.98Shop Now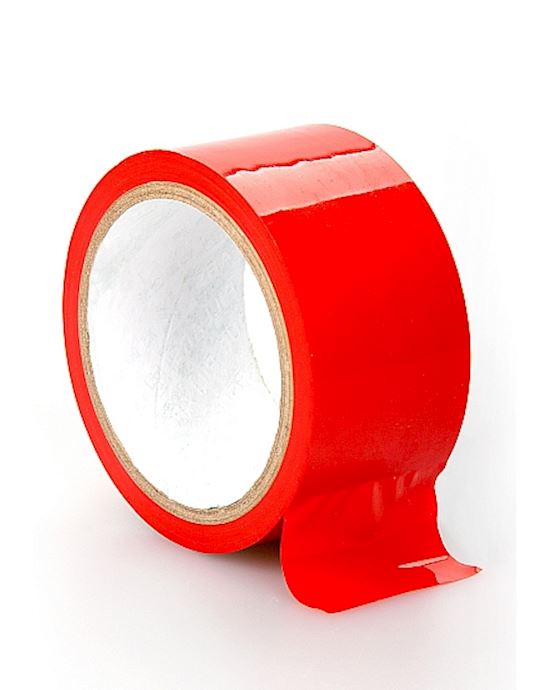 Bondage Tape Red$8.98Shop Now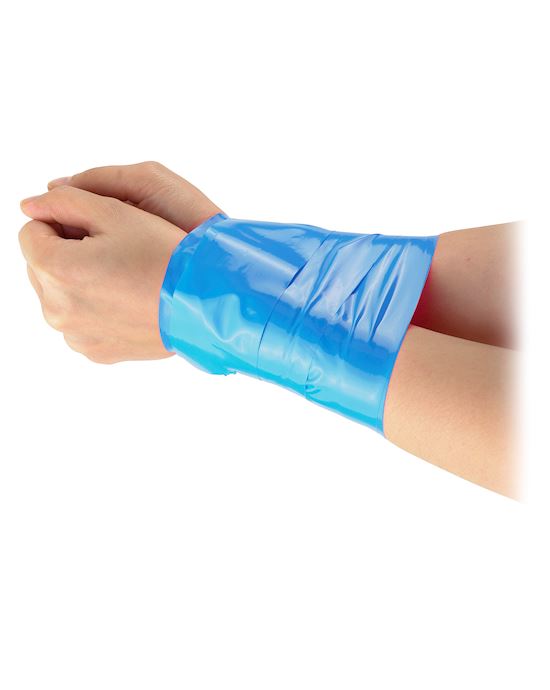 Neon Pleasure Tape$4.98Shop Now
Important Things to Remember
Beginners keep things comfortable! When applying the tape, communicate whether something is too tight or too loose.
Communication in bondage is vital to a pleasurable experience, pay special attention to your partner when using bondage tape as a blindfold or mouth gag as facial expression may be more difficult to read.
Always perform any bondage practices with someone you trust!
Further Options
Bondage tape is great to experiment with different bondage restraints, positions and scenes. Try taping off the scene for your police officer partner to inspect!
If you'd like to experience more specific bondage pieces, try our wrist restraints, blindfolds or gags here.
Why Under Bed Restraints?
Once you're in the mood, the thought of having to quickly grab individual bondage restraints and tie your partner might be a bit of a buzzkill. Instead you might end up having sex there and then, but all you BDSM fanatics might be left wishing it could've been that much better.
This is exactly why bed restraints are such an effective bondage kit. They lay there waiting for whenever you or your partner are keen to get tied down. Just knowing that they are there is enough to encourage more risqué sex in your relationship.
Now that you know why mattress restraints are so great, let's look at a few different examples to satisfy your most specific BDSM desires.
Bed Restraints for Beginners
Below are five different restraints that are setup by tucking them under your mattress. Bed restraints are unique bondage kits that require minimal setup time, the following are great for beginners and pros alike!
For any bondage beginners this Bedroom Restraint Kit is a popular choice! Adjustable straps ensure that your submissive is restricted well on any sized mattress.
This SM Bed Bondage Restraint Kit provides light restraint but firm domination. Coming with four straps you can choose whether you'd like to tie down one, two, or all your partners appendages.
Another standard kit is the Bondage Bed Restraint Kit, featuring the addition of a satin love mask. Users can experience the added sensations of blindfold play whilst being tied down. The submissive can't help but focus on receiving pleasure!
This Ultimate Bed Restraint System is great for anyone lacking a headboard. Each tether is lined with D-rings allowing a lot of variation in your dom and sub play. Allowing many different positions, the wearer can be quickly uncuffed and switched into your preferred submissive position.
Comfortable but firm. Take turns taking control with this Under the Bed Restraint Kit. This Kit can either restrain you from the bottom or sides of the bed and is especially great for travel.
Important Things to Remember
When experimenting with bondage restraints, pay close attention to your partner to make sure they are not feeling any unwanted discomfort. This is even more important when including blindfold play as expression can be harder to read.
Identify a safe word to put an immediate stop to anything undesirable.
Safe words are absolutely essential in any sex life. Your attitude in the bedroom can fluctuate with the weather. Sometimes you're boring, starfish style and other times you're adventurous, kinky even! Either way, identifying a safe word ensures everyone and anyone involved is comfortable and respected.
One common misconception is that safe words always mean stop! This is not always the case, especially in a BDSM context. Some partners may have 2 or three safe words that represent "stop immediately!" "that feels great keep going" or "any further and I'll be too uncomfortable." Often traffic light terminology is used to connote different feelings.
Identifying a safe word is sexual health and safety 101. It's important to discuss sexual boundaries, what acts are completely restricted and what are enjoyable up to a certain point. This is where safe words are particularly useful, where partners can learn exactly at what point things begin to feel uneasy. This could refer to a certain tightness around bindings, amount of sensory deprivation, spank endurance or even erogenous stimulation. Further, identifying safe words is generally caring and shows appreciation for your partner's pleasure. Partners with a safe word will feel greater intimacy in the bedroom compared to those without.
Here are 10 of the Most Popular Safe Words
Fruit might appear a few times in this list. I'm not sure why it's so popular, but hopefully it's a reflection of balanced diets amongst the BDSM community. American comedian Kevin Hart performed a stand-up special discussing his use of "pineapples" in the bedroom. This could be one reason why this fruit reigns supreme amongst the rest. Another reason could be the irritation many people experience when eating a pineapple. Without proper negotiation around consuming a pineapple, all that deliciousness will cause you discomfort. Just like a BDSM session without proper communication.
Road safety meets sexual safety. I'm going to fuse these as a collective because they often accompany the other. Red means stop, yellow means ease up and green means keep going. Pretty self-explanatory really.
For the no nonsense kinkster. Probably the same people whose passwords are "password." Simple and effective, its popularity shows that it works. For those couples who want to find a safe word that is unique to them, using "safe word" is like a default choice before you agree upon your sexual semantics.
Fruit must just be frisky. The banana is the fruit that is most often present in phallic metaphors, penetrates a sexual context yet again. Whenever things get a bit too bananas in the bedroom... say... "banana..."
One of the few times mixing apples and oranges can be positively used. This safe word could refer to vitamin C rich citrus, could refer to a lukewarm colour. Orange could be another addition to the traffic light system. Where it could be in between, yellow and red. Not suggesting an immediate stop needs to take place, but intensity levels definitely need to lower.
Makes sense, vanilla is the opposite of kinky sex. Doing things, the standard conventional way, no additional features welcome. There's nothing wrong with being on the vanilla side of the spectrum, having kinkier preferences doesn't put you on some sort of sexual pedestal. Whatever you're comfortable with in the bedroom is unquestionable and should always be respected.
Oklahoma, Palmerston North? Canberra?
The popularity of this word obviously births from America. The word itself was chosen because apparently the fun stops when you enter Oklahoma. It's interesting to think about what place name people would elect in New Zealand and Australia. Palmerston North for New Zealand and Canberra for Australia? Everyone has a place they've particularly disliked, unfortunately, it's often their hometowns.
A delicious fruit but if we take a religious perspective, a joy stopper. Although a tree climbing snake that offers you free fruit is pretty awesome, the apple was the beginning of destruction and evil. In a sexual context, the mentioning of "apple" is still a forbidden fruit, representing forbidden sexual territory.
Calming, soothing, wisdom sharing blue, or dull, depressing personal raincloud blue. Whatever the case, if you hear it the motion of the ocean needs to halt. Like a pleasure stopping Poseidon, "blue" means a commanding stop!
Made popular after it was used in a famous sitcom romance between Michael Scott and Jan from 'The Office.' A hilariously desperate, toxic and moody relationship, saying "foliage" will prevent yours from being the same.
Remember
Feel free to come up with a safe word for yourself. There's plenty of interesting words people use, the common theme being that they need to disrupt play. When they are said, they should feel out of place. Partners have reported saying "Justin Bieber," in recent years, "Donald Trump" has helped put a stop to any fun. Whatever the case, ensure that both partners have agreed upon the safe word and are completely comfortable communicating with each other.
For those who have fantasies around saying "no" or "stop" during sex. Ensure your safe word has nothing to do with these words! This is a big reason many safe words are abstract; they shouldn't occur naturally during sex.
Now that you are privy to the wonders of bondage, go forth! Whip, spank and tickle to your heart's content!