PDX Fill Her Up
Firstly, lets take a look at the packaging. This product makes no apologies, it assumes you're horny, with a picture of a girl fully exposing herself next to the quote "I want your cum inside of me!" This fleshlight is often a first time fleshlight for people and its provocative presentation reflects that, it's like it knows this might be your first time holding a naughty toy. Personally, I found the box to be a bit of a laugh. Whether you find it funny or not, it's likely to turn you on a bit and had me looking forward to some alone time later that night.
Apologies the box became a bit creased and I'm not talking her.
When first taking the masturbator from the packaging you are hit with a smell that's expected with the material used. Fanta flesh sometimes can give an unpleasant, chemically sort of smell. The good thing is, during the act a small sniff isn't going to be enough to put you off, so in the case of any whimsical whiffs, just put your head down and soldier on.
The product was accompanied with a sample pack of lube and a one-use toy cleaner, that will make your first clean so easy! Just squeeze the sample pack into the masturbator run some warm water through and it's ready when you are.
Use
Here goes nothing.
Firstly, the entrance was rather tight, so after a second appliance of lube I found success. Expect entry to always be a bit clumsy with this masturbator, I don't think it's a big deal, it's one of the more pleasurable obstacles you'll have to navigate in your life. If I was to use a tennis metaphor my first serve of this product was a fault, because of the floppy nature of the sleeve my forehand felt a bit awkward. Don't get me wrong, it felt really good, but I found it difficult to get into a consistent repetitive motion. Eventually, I found the solution was to quickly switch to a two-handed stroke if things ever went out of whack and after a few risqué rallies I was on my way to winning Wimbledon. My first big compliment for this masturbator is that it feels really good! The inner ribbing felt similar to more pricey masturbators I have tried and. The accuracy of "It feels just like the real thing" definition is questionable, but it is similar. This product has always given me some pretty powerful orgasms and has got me to the point of no return quickly. However, when comparing it to others (more pricier options), it of course has its downsides.
Length
High end masturbators such as the Alexis Texas Signature (see my review here!) usually have some extra length to catch bodily fluids when your on-match point. But, this masturbator doesn't, and it actually has a small hole at the end of it, so if you're not careful you could drip some of your winnings. This can be easily avoided by just making sure you don't point the masturbator downwards or another way to do it would be to put a tissue on the end of the masturbator after use and begin cleaning from there.
Firmness
The masturbator can go a bit floppy so using it can take some practice or extra effort, the difference between this and other masturbators is that you are only using a sleeve instead of holding an outer casing to make things a bit more fluent. As stated earlier, I had to switch to a two-handed grip every now and then to not upset nature.
Material
Although the material did have a slight unpleasant smell and unfortunately this doesn't go away. It does feel lifelike when using and looks close enough upon visual appearance. One downside to the material is that it is quite sticky, so keep the sleeve away from any fluff that gathers around the house, this is especially important when placing the sleeve somewhere to dry.
Value
Amongst all the downsides I have stated in this review, we have to remember the price this masturbator comes at! It's a steal for the way it feels and is a great masturbator for newcomers and experienced users alike. If we focus solely on how good the main event of this product is, it's a winner every time. The negatives of this product are easy to deal with, if they ever become a bit too annoying, you've probably pumped your moneys worth by that point anyway.
Clean Up
Clean-up is super easy, using the sample pack you'll realise how quick clean up can be. Some warm water and a generic sex toy cleaner such as this Refresh Anti-Bacterial Toy Cleaner is all it will take. Pat it dry with a cloth, or paper towel. If you'd like to ensure longevity, apply some UR3 Refresh Poweder after use, I didn't do this, but powdering may mask some of the unpleasant smell. Then leave it out to air dry.
Left it to dry in my room... Tempting study break.
To get your entire cleanup kit in one go, try this PDX Fanta Flesh Care Kit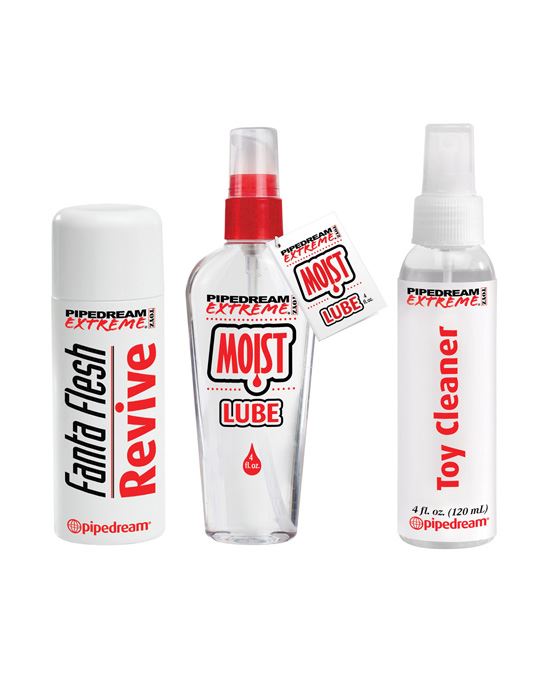 Or 4 Payments of $8.25
Conclusion
Overall I think this item is well worth the price. Ultimately it's how good it feels for the price which saves the item. If it didn't give really pleasurable orgasms with the other issues, I would have rated it much lower.