Everything You Need to Know About Four Seasons Condoms
Everything You Need to Know About Four Seasons Condoms
Condoms are one of the most popular forms of birth control, and help prevent sperm and STIs (sexually transmitted infections) from spreading between partners. Condoms are thin and can be made from a variety of different materials, however latex is the most common.
The great thing about condoms is they are accessible and a great option for most people as they have no side effects, provided you aren't allergic to rubber. They are hormone free, and therefore a much better option for people who find that taking oral contraception causes side effects such as weight gain, acne, or moodiness.
If used correctly every single time, condoms are 98% effective at preventing pregnancy. However, condoms are not always used correctly, making them around 85% effective on average.
How do you use condoms?
Condoms are super easy to use, but it's important to use them correctly every time, for maximum benefit. Some people who have used condoms regularly for years, still might not be fully versed in how to correctly put one on. But don't worry, it's pretty simple!
Open the condom carefully to avoid tearing or breakage.
Pinch the tip of the condom and roll it down the erect penis (or sex toy). If you find the condom particularly hard to roll down, it might be inside out. Don't worry, just take it off and grab another one out – don't use the same one as there is a chance there might be some pre-cum on it.
Have sex!
Once finished, remove the condom slowly, tie a knot at the end, and dispose of it responsibly.
What precautions can I take?
To ensure you get the most out of your condom use, there are several precautions you can take to make sure they are as effective as possible.
Check the expiration date. Most people don't realise that condoms actually have expiration dates! Once a condom is past its expiry, it is much more likely to break or tear during sex, and often people don't even realise this happens.
Store them correctly. While it's always good to be prepared and have a condom on you at all times, having one tucked away in your wallet or pocket isn't ideal! The heat and moisture can be damaging for condoms, and mean that they are much more likely to break or be affected by the moisture.
Don't rush! While it might be tempting to rip open the condom and hurriedly attempt to put it on in the heat of the moment, this can result in damage to the condom, or incorrect use. Take your time!
Use lubricant! Lube is a great way to not only prevent breakage, but make sex a lot more enjoyable! Just make sure you use a water-based lube as these are most compatible with condoms! Avoid oil-based ones as these will break down the material of your condom.
Why are Four Seasons condoms good?
Four Seasons Condoms are Australian owned, and aim to produce the most high-quality condoms to cater to everyone's needs and size requirements. They aim to be not only safe, but completely comfortable and enjoyable during intercourse. The company advocates for safe sex and condom research, supporting many schools, universities, sexual health clinics, and more!
Four Seasons condoms have a variety of different flavours, materials, and sensations, making them a great option to offer a little bit of variety in your sex life. We all know that condoms can be a little annoying at the best of times. However, there are many options out there that might feel a hundred times better than the ones you're using at the moment! It's just a case of finding condoms that work for you and that you like the feel of – everyone's different.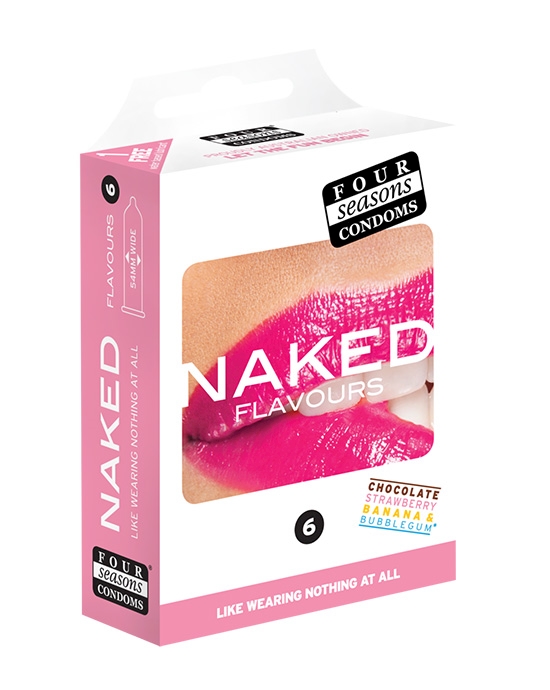 Four Seasons Naked Flavours 6pk$4.95Shop Now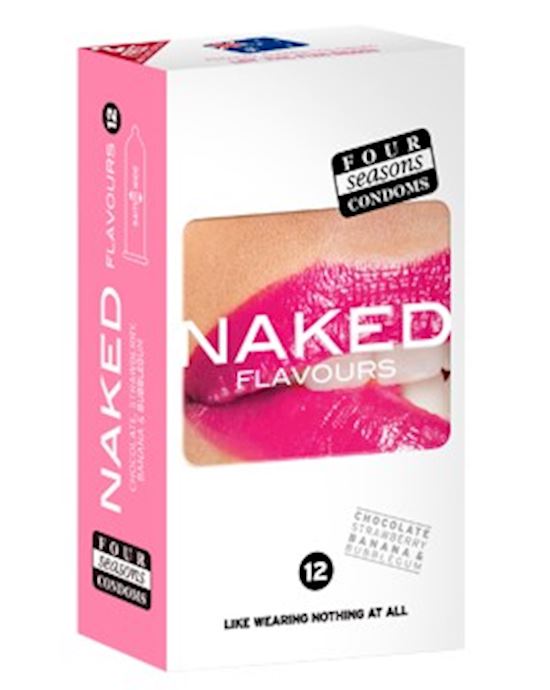 Four Seasons Naked 12 Pack Flavours$8.95Shop Now
The Four Seasons flavoured condoms come in chocolate, strawberry, banana, and blueberry, so there really is something for everyone! Whether you prefer sweet or fruity, these flavoured condoms are perfect for increasing pleasure during oral sex and sweetening up your sexual pleasure.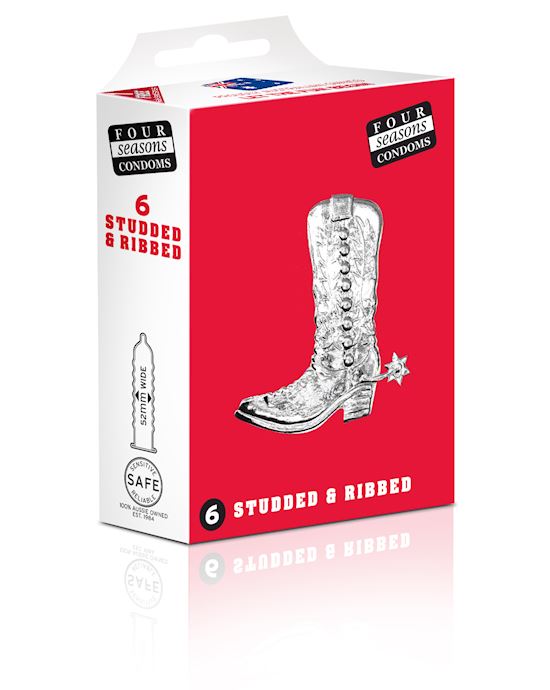 Four Seasons 6 Pack Studs And Ribs$9.95Shop Now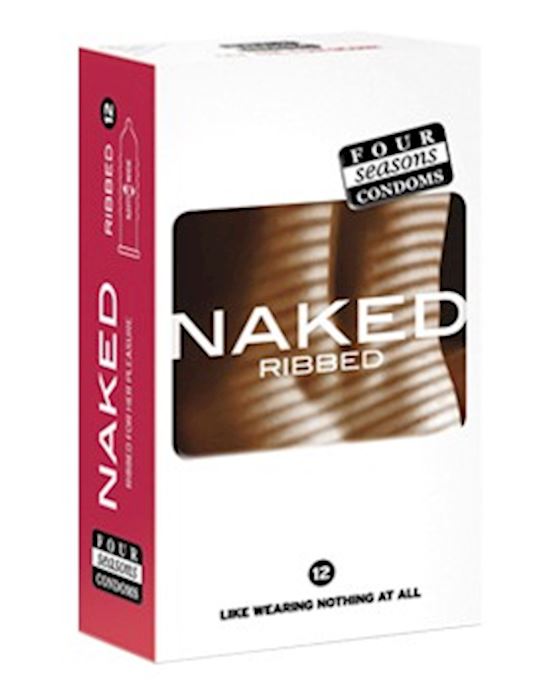 Four Seasons Naked 12 Pack Ribbed$6.95Shop Now
If condoms sometimes feel like your worst enemy, then textured condoms might be just the thing for you! Condoms with a little extra sensation are guaranteed to increase your pleasure and provide a more enhanced sexual experience. For people who feel as though condoms decrease sensation, added sensation condoms are a great option and can make condoms seem like less of an enemy.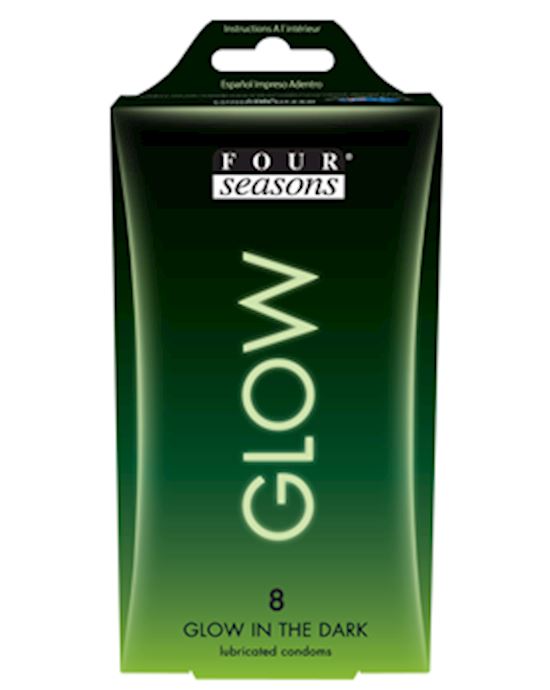 Four Seasons 8 Pack Glow In The Dark$6.95Shop Now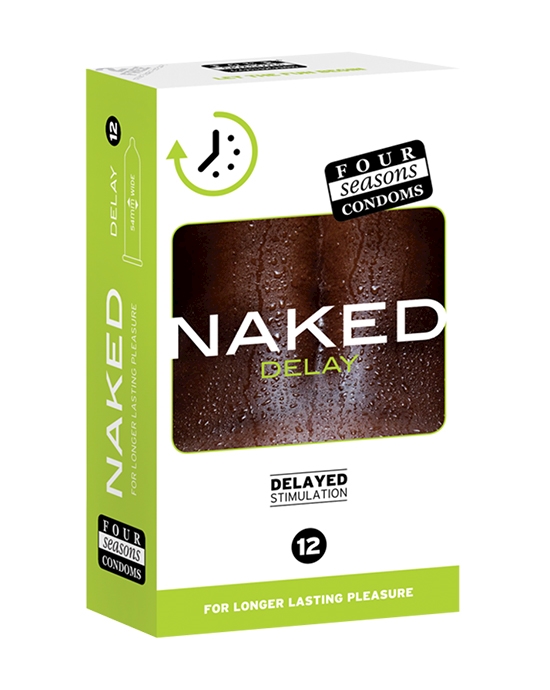 Four Seasons 12s Naked Delay$11.95Shop Now
Or for a slightly more unique experience, Glow in the Dark condoms are definitely a delight! Turn the lights out and watch your manhood glow…
Alternatively, the Four Seasons Naked Delay condoms are great for anyone who struggles with premature ejaculation, or if you just want to last a little bit longer! These condoms are slightly thicker, which helps to reduce sensation, therefore ensuring sex lasts longer.
Other condom tips
It's very common to use condoms on your sex toys, too! If you're sharing toys with a partner, or using them during foreplay or sex, putting a condom on can help prevent bacteria and STIs from spreading between partners. Just make sure you change the condom between partners!
Remember, condoms aren't always 100% reliable. No matter who you are having sex with, it's important to have a "back-up" plan in case you notice that your condom has broken. This might mean using a second form of contraception, or knowing where you can locate the morning after pill.
Additionally, it's important to get regular STI checks to make sure that you're clean, or catch any infections early on. You might trust your partner's word, however they might not even realise that they've got anything! Some STIs don't show obvious symptoms, so it's always better to be safe than sorry.
Want more?
Adulttoymegastore is an online retailer of sex toys distributing across New Zealand, Australia and the USA. ATMS was opened in 2009 and is still proudly New Zealand owned and operated, with over 8,000 products from more than 45 brands to choose from! We take great provide in providing the best products to thousands of happy customers, and have many benefits such as a loyalty programme, free samples with every order, and and personalised notes.
Adulttoymegastore has a huge range of sex toys including vibrators, dildos and cock rings for every occasion! With fast, 100% discreet shipping, and price guarantee, ATMS has everything you need to make good sex, great!