The 11 best wrist restraints for beginners
Are you curious about spicing things up in the bedroom with Wrist Restraints? Whether you're a beginner or an experienced player, we've got you covered with our roundup of the best wrist restraints and beginner-friendly handcuffs.
Wrist restraints, or handcuffs, are a popular tool in the world of BDSM and can add an exciting element of power play to your intimate encounters. Whether you're a seasoned practitioner or a beginner looking to explore, wrist restraints provide a simple yet effective way to experience a new level of pleasure. However, it's important to remember that with any BDSM play, communication and consent are key.
When using wrist restraints, it's essential to establish clear boundaries and safe words before getting started. It's also important to pay attention to the type of restraints you're using and to make sure they are secure and comfortable. Whether you're looking for a fun and kinky way to spice up your sex life or are simply curious about the world of BDSM, wrist restraints can be a thrilling addition to your toy collection.
When using handcuffs, it's crucial to ensure that they are not too tight, as this can lead to injury, discomfort, or even nerve damage. This is why it's so important to have a safety plan in place and to use a safe word. Check-in with your partner often to ensure you are both having fun and aren't experiencing any discomfort.
Looking for the best wrist restraints? We've got you covered. So buckle up, and let's dive into the exciting world of wrist restraints!
1. Quickie Cuffs Medium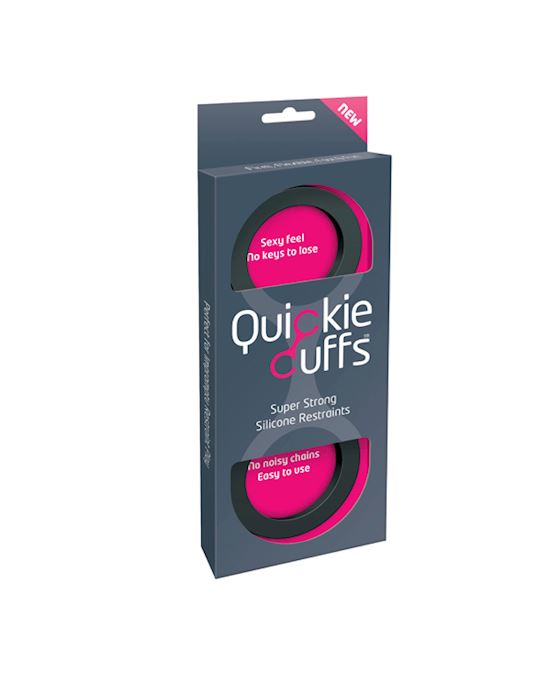 Quickie Cuffs Medium$18.98Shop Now
The Quickie Cuffs are great beginner's handcuffs, made from flexible silicone that can mould to fit anyone's wrists comfortably. Easy to slip on and take off, they are soft but strong and perfect for those who are new to bondage play. As an added benefit, you won't have any of the noise that you get with classic handcuffs!
These wrist restraints are an affordable option for those new to the scene, and a great starting point to play around with your partner.
2. Pop by Share Satisfaction Luxury Bondage Ties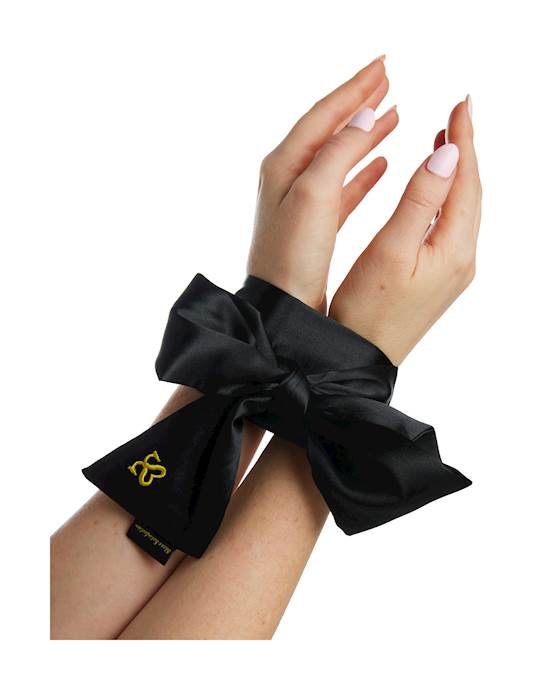 Share Satisfaction Luxury Bondage Ties$11.98Shop Now
Add a little luxury to your life with the gorgeous Share Satisfaction Luxury Bondage Ties. These beginner-friendly ties are made of luxurious, smooth satin and are designed to keep your lover tied up and ready to submit to your every command.
These versatile ties are long enough to easily secure your partner to bedposts, furniture or even to themselves, allowing your imagination to run wild with all the possibilities. Plus, with the embroidered Share Satisfaction logos positioned in each corner, these ties are not only functional but also visually stunning. A great choice for beginner's wrist restraints!
3. Sex & Mischief Beginner's Handcuffs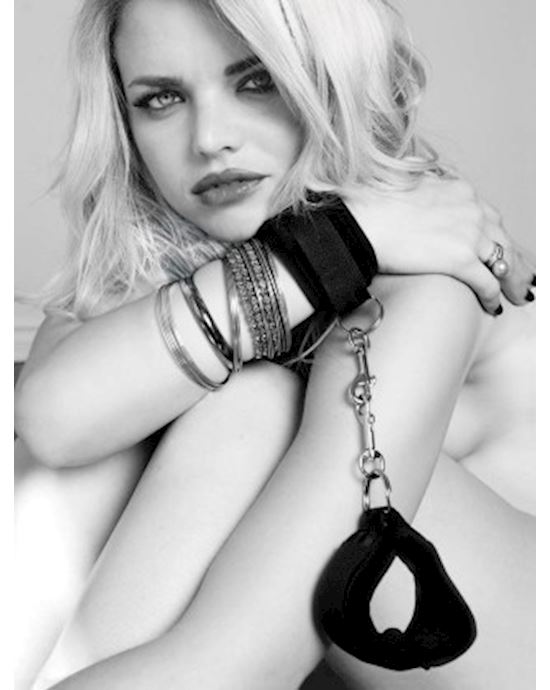 Sex & Mischief Beginners Handcuffs$16.98Shop Now
Another of the best beginner handcuffs on offer is the Sex & Mischief Beginner's Handcuffs. These simple cuffs are easy to get on and off, comfortably securing your wrists with the soft fabric to ensure a secure yet comfortable fit. The velcro closure means the cuffs are great for beginners, as they are adjustable and easy to remove quickly if needed. These cuffs are a great choice for an affordable beginner's exploration into BDSM!
4. Japanese Style Cotton Wrist Cuffs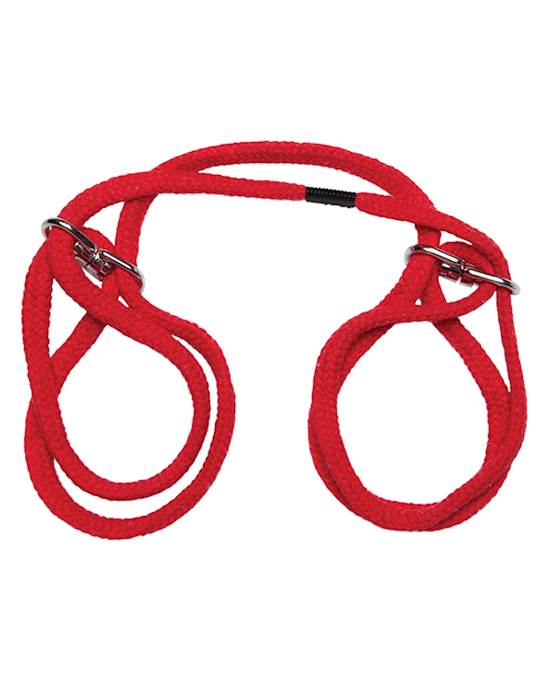 Japanese Style 100% Cotton Wrist Or Ankle Cuffs$13.98Shop Now
If you're after something versatile and a bit more unique, look no further than these Japanese Style Cotton Cuffs! Perfect to use as beginner's wrist restraints, or for your ankles, these soft cuffs feature a simple slip-ring design that requires no rigging or knotting experience, making them an excellent introduction to rope play. The long loop allows for endless possibilities of use and customization, while the soft cotton fibres are gentle on the skin and move smoothly with the body for maximum comfort and safety.
Rope is the ultimate bondage and restraint tool, so these versatile cuffs are a great option.
5. Bijoux Indiscrets Desir Metallique Cuffs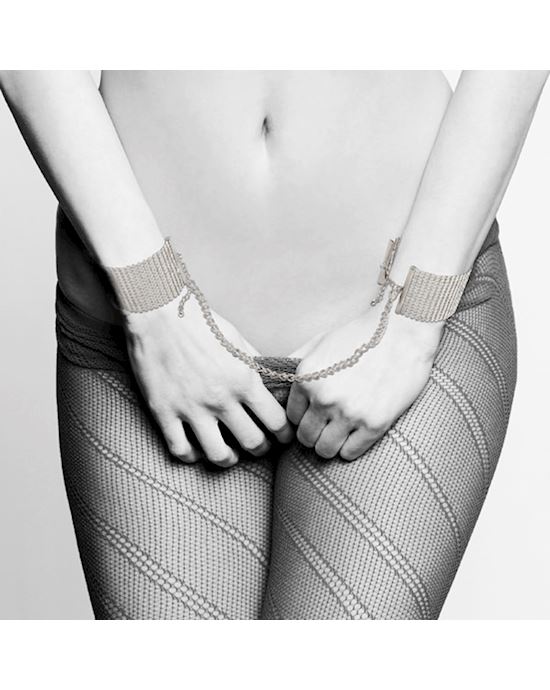 Bijoux Indiscrets Desir Metallique Cuffs$22.98Shop Now
For those who want something that is just as pretty as it is practical, these stunning handcuffs from Bijoux Indiscrets are a perfect choice! The Bijoux Indiscrets Desir Metallique Cuffs feature a convertible bracelet with a removable and adjustable chain. These sleek beginner's wrist restraints are the perfect accessory to add to your life, great for restraining your partner and exploring the world of bondage play.
6. Scandal Posture Collar With Cuffs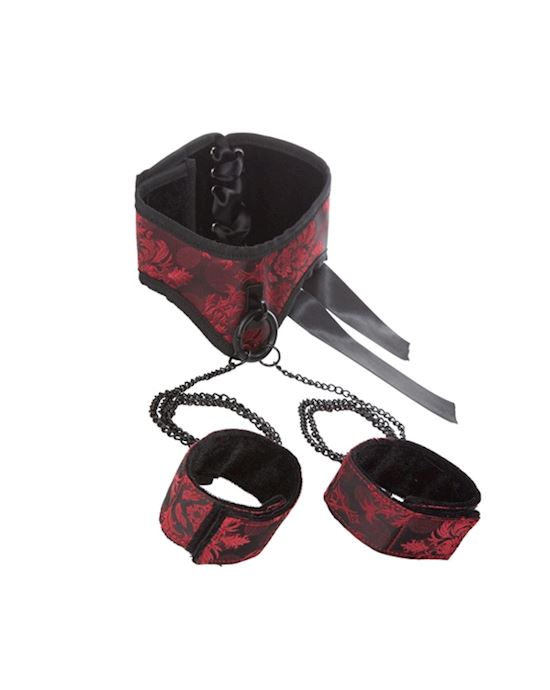 Scandal Posture Collar With Cuffs$69.98Shop Now
The Scandal Posture Collar with Cuffs is the ultimate in designer bondage gear and a great choice for versatile beginner handcuffs. This collar features a sensual lace-up design and is made with a soft and plushy material on one side and designer fabric on the other.
The collar is fully adjustable, with a maximum size of 16"/40.75cm, and comes with universal cuffs that can adjust up to 10.5"/26.75cm. The heavy-duty metal chain with a universal clasp is detachable and measures 25"/63.5cm, offering endless possibilities for your bondage play.
Crafted from high-quality, non-tarnishing, and nickel-free materials such as polyester, iron, and alloy, this collar with cuffs is perfect for anyone who wants to explore their deepest desires in comfort and safety. Complete with a gorgeous design, it's a great stunning yet practical option.
7. Bound Luxury Universal Cuffs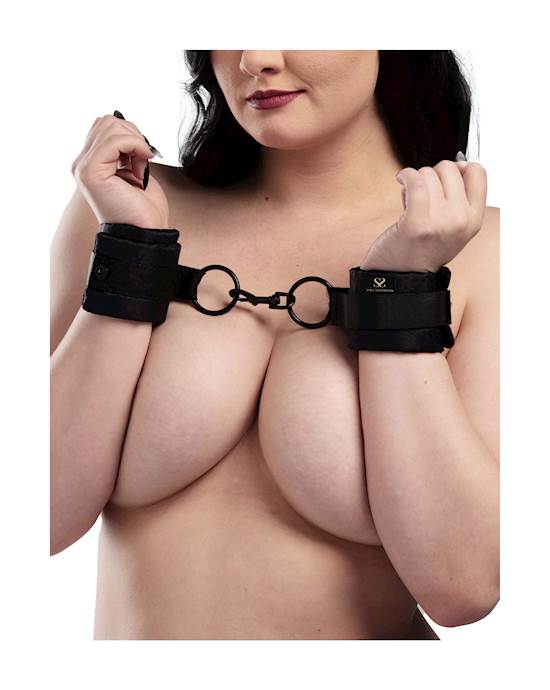 Bound Luxury Universal Cuffs$20.98Shop Now
Another set of amazing beginner's handcuffs from Share Satisfaction, the Bound Luxury Universal Cuffs are the perfect combination of high-quality materials and high-end design.
These paisley patterned cuffs are perfect for those who are new to BDSM as well as those who are experienced. They have a soft velvet lining that ensures comfort during long play sessions. With long Velcro strips, they can fit almost any wrist or ankle size, and they are strong enough to withstand rough play. The cuffs come with a long chain that can be detached easily and connected to other bondage items of your choice. These luxury cuffs are a great addition to your collection, and perfect for those just starting in their BDSM journey!
8. Plush Wrist Cuffs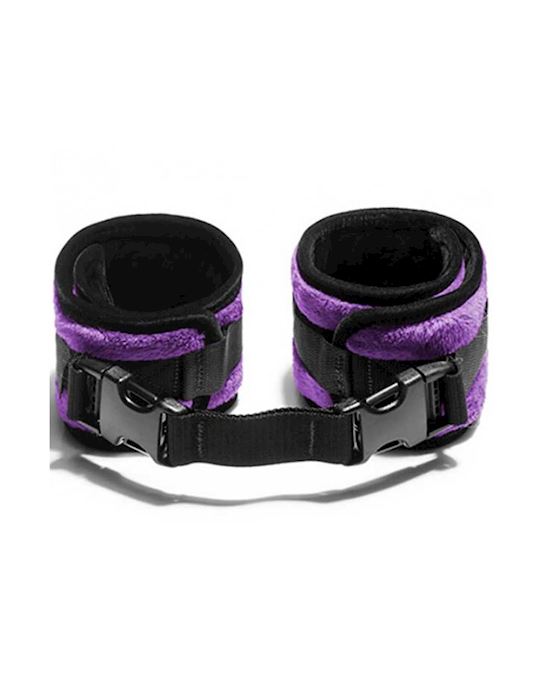 Plush Wrist Cuffs$34.98Shop Now
These Liberator Plush Wrist Cuffs let you lock your lover to bedposts and rails for a more sensual experience! It's time to spice things up in the bedroom. Each cuff is made by hand with microfiber and double-stitched for durability. The tethers are easily attached to bedposts or furniture, making them a great pick for beginners. This kit comes with everything you need for the perfect experience, including two cuff connectors, two 20" tie-downs, and a clear vinyl storage/travel bag. Plus, they have a gorgeous luxury purple colour that will make you feel like royalty!
9. Calexotics Tickle Me Pink Universal Cuffs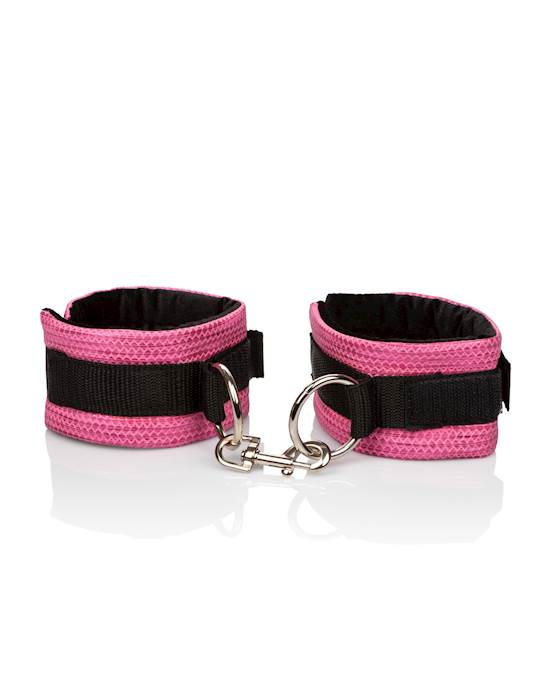 Calexotics Tickle Me Pink Universal Cuffs$24.98Shop Now
Tickle me pink! The Cal Exotics Tickle Me Pink Cuffs are here to brighten up the bedroom. Indulge in submissive play with these luxurious beginner's handcuffs, featuring a fully adjustable and comfortable fit so you can focus on pleasure while you play. The Velcro straps ensure versatile and safe play, allowing you to get the perfect fit and easily take the cuffs off if needed. Made with vegan leather and non-tarnishing universal hardware, look no further for your new wrist restraints.
10. Beginner's Bondage Fantasy Kit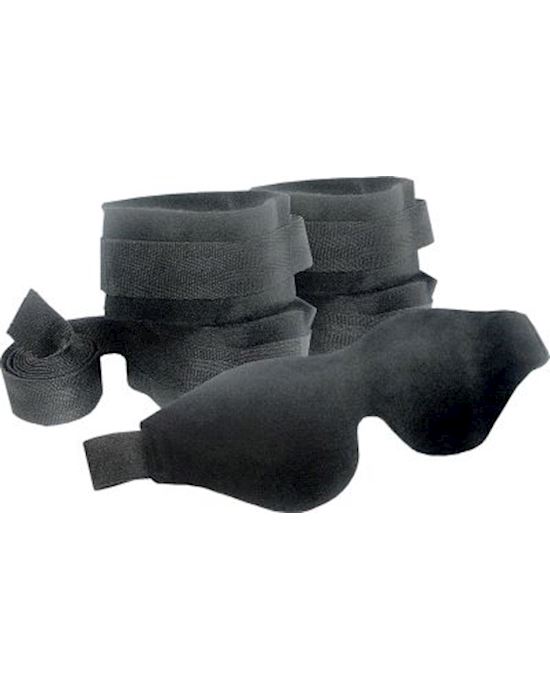 Beginners Bondage Fantasy Kit$30.98Shop Now
Get more bang for your buck with the Beginners Bondage Fantasy Kit! This beginner's kit is perfect for adding some excitement to your bedroom, and a great choice for those just starting to explore. With 4 restraints connected to nylon straps, it's sure to make for an unforgettable experience. Blindfold your partner and let the squirming begin! This set includes 2 wrist and 2 ankle restraints with 44-inch connector straps and a soft blindfold to level up your pleasure.
11. Crave Leather Cuffs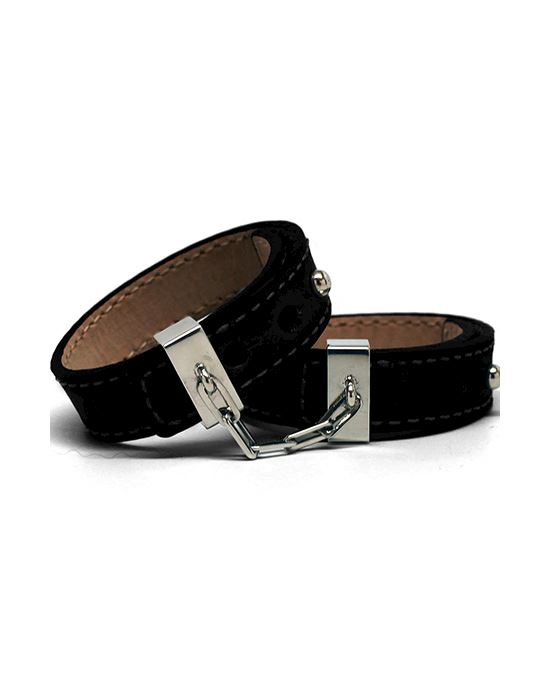 Crave Leather Cuffs$87.98Shop Now Finishing off the list is the stunning Crave Leather Cuffs! Essential for anyone who loves a bit of style and luxury in the bedroom.
These versatile leather cuffs are perfect for light play and can also be stacked as a stylish bracelet - for in and out of the bedroom! Crafted from genuine leather, these cuffs come with an adjustable size and can fit wrists from 7 to 8.5 inches in circumference. The stainless steel chain and nickel-free electroplating make them sturdy and durable for any kind of play. Wear them as jewellery during the day, and use them for playtime at night! The perfect day-to-night bedroom accessory.
Exploring the world of wrist restraints can be an exciting and fulfilling experience, but it's important to keep safety and communication in mind. Our list of the 11 best wrist restraints for beginners is a great starting point for anyone looking to explore this aspect of BDSM play.
Remember to always communicate with your partner and establish clear boundaries and safe words before starting any BDSM play. Whether you're looking for something comfortable and beginner-friendly or a more advanced option, there is a wrist restraint out there that can elevate your playtime and take your pleasure to new heights. Check out our full collection here. So go ahead, experiment, and have fun!
Read More:
Content disclaimer:
The information in this article has been fact-checked and reviewed for accuracy by Adulttoymegastore's team of content specialists and sexual wellness experts.
Adulttoymegastore does not provide medical advice, diagnosis, or treatment for illness. Any information published on this website, either by Adulttoymegastore or its authors, is not intended to be a substitute for medical advice, and you should not take any action before consulting with a medical professional.