The best vibrating cock rings for every budget
Looking for a new toy that's pleasurable and practical? Vibrating cock rings are here to play! Perfect for solo play or penetrative sex, these toys are a great tool to add to your collection, and there is something to suit everyone. Let's take a look at the best vibrating cock rings for every budget.
What is a vibrating cock ring?
Also known as penis rings, cock rings are a toy that mix pleasure with practicality. Classic cock rings are designed to help restrict blood flow in the penis, which helps with achieving longer lasting and harder erections. The cock ring sits at the base of the penis and can be worn during masturbation or partnered play. Wondering why you should use a cock ring? Cock rings are great for those who are looking for extra size, or who might struggle to maintain an erection. Who doesn't want extra size and stamina?!
A cock ring should feel tight to achieve the desired results, however, it shouldn't be painful at any point. If you experience pain, loss of feeling, or extreme discomfort using a cock ring, it may be a sign that you need to remove it and try one that offers more flex. It is recommended to wear a cock ring for no longer than 30 minutes. If you're new to penis rings, try for a few minutes at first to ensure a good fit and get used to the sensation. Then work your way up!
With vibrating cock rings, you'll get the same results as a classic cock ring, with an added buzz that can help stimulate both partners. Vibrating penis rings come in all shapes, colours, and sizes, with varying vibration patterns and strengths.
Wondering how to use your new vibrating cock ring? Using a cock ring is easy. Firstly, you'll want to use some water-based lubricant to help the cock ring slide on easier. It's best to put on a cock ring when you are flaccid or semi-erect. Simply slide it down to the base of the penis gently, and you're ready to go!
If you are using a cock ring that also has a loop for the balls, slide the ring down the penis before carefully stretching the second loop around the balls. Be sure not to let the loop 'snap' at all, as this could cause pain for the wearer. And again, lube it up! Lubricant will help provide extra glide and reduce friction when sliding the ring into place.
Low-budget vibrating cock rings
Screaming O Cock Ring
Let's kick things off with the affordable Screaming O Cock Ring! If you're looking for a cheap vibrating cock ring, this is a great pick. With pleasure knobs and ticklers, both partners can enjoy plenty of added pleasure and sensation. The vibrations can be felt throughout the entire ring, while the stretchy band ensures a secure fit.
This cock ring is perfect to try before committing to a more expensive cock ring, or great to take with you on holiday. The battery only lasts 30 minutes, but that will be plenty of time for you to enjoy its surprisingly strong vibrations!
Ovo B1 Cock Ring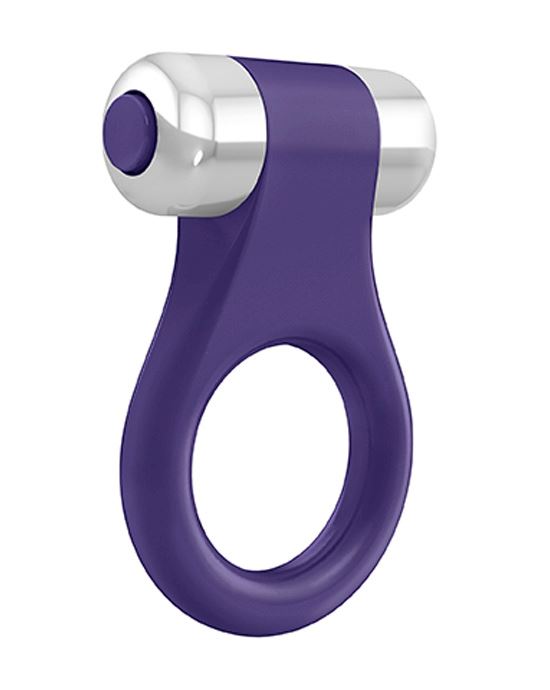 Ovo B1 Ring$9.98Shop Now
Next up is another great affordable vibrating penis ring, the OVO B1 Cock Ring! With the beautiful purple colour giving off a luxury vibe, this vibrating cock ring is showerproof, whisper quiet, and designed to please with its powerful vibrations. OVO is well-known for its quality toys and sleek designs, and this cock ring is no different!
With batteries included, you'll be away in no time and ready to enjoy these sweet vibrations as soon as your new penis ring arrives.
Cosmo Dual Delight Couples Ring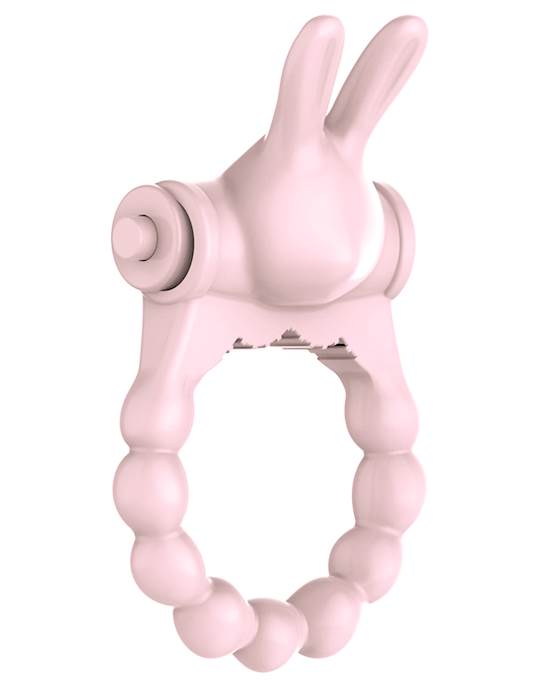 Cosmo - Dual Delight Couples Ring$13.98Shop Now
Our last pick for cheaper vibrating cock rings is the adorable Cosmo Dual Delight Couples Ring! This single-speed, battery-operated toy offers strong vibrations and a rabbit ear style to stimulate the clitoris during penetrative sex. With a discreet design, this cock ring is perfect to tuck in your bedside drawer or take with you for some extra fun on holiday!
Looking for something with a bit more variety, or a more advanced vibrating cock ring? Keep reading for some of our favourite mid-level vibrating cock ring picks…
Mid-budget vibrating cock rings
Fantasy C-Ringz Lovely Licks Couples Ring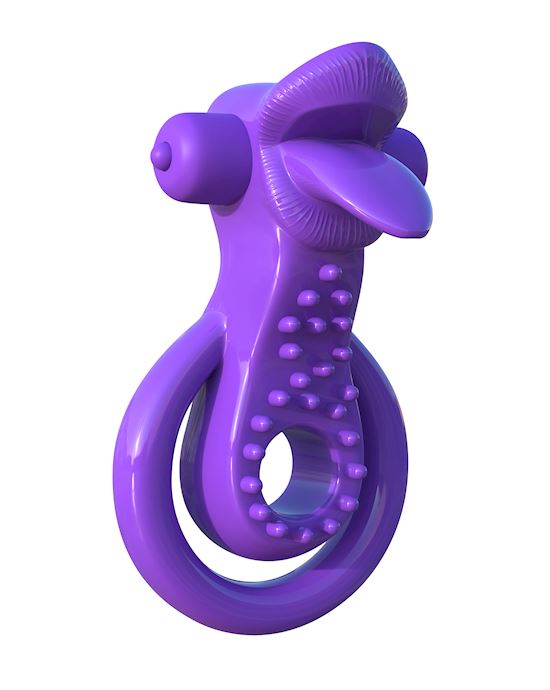 Fantasy C-ringz Lovely Licks Couples Ring$27.98Shop Now
Strap in for the ride of your life with the unique Fantasy C-Ringz Lovely Licks Couples Ring! With a soft, vibrating tongue to provide incredible clitoral stimulation, and a smaller ring to help the wearer feel harder and last longer - this is sure to please both of you. As well as the ring to wrap around the shaft, this vibrating cock ring offers a second larger ring to wrap around the testicles for heightened pleasure.
Made from stretchy TPR, this cock ring is powered by a vibrating waterproof bullet, with stimulating nubs along the side.
Optimale Vibrating C-Ring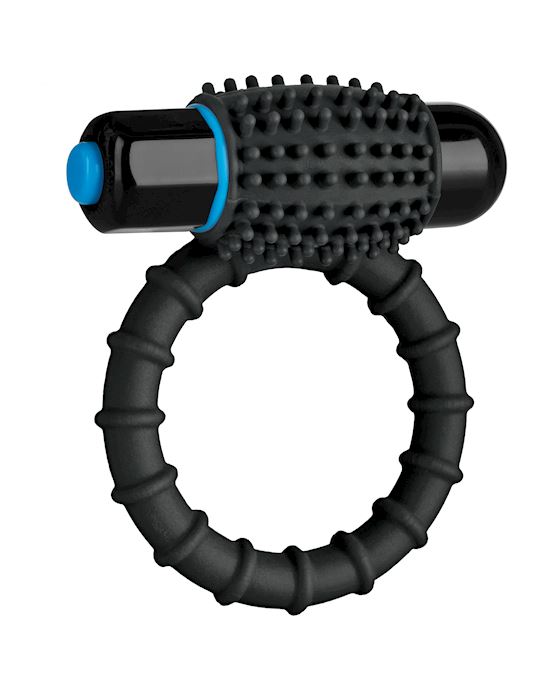 Optimale Vibrating C-ring$37.98Shop Now
Looking for a powerful, waterproof vibrating cock ring? The Optimale Vibrating C-ring is made for pleasuring both partners during penetrative sex. The stretchy silicone ring ensures a comfortable, yet effective, fit, with a ribbed sleeve for stimulation. Wear the ring on top of the shaft for clitoral stimulation, or below to stimulate the testicles. 10 unique vibration patterns mean you can find the perfect vibe for you! The removable bullet means you can use the vibrator for all-over pleasure too, simply pop it out of the silicone ring and get creative.
Satisfyer Cock Ring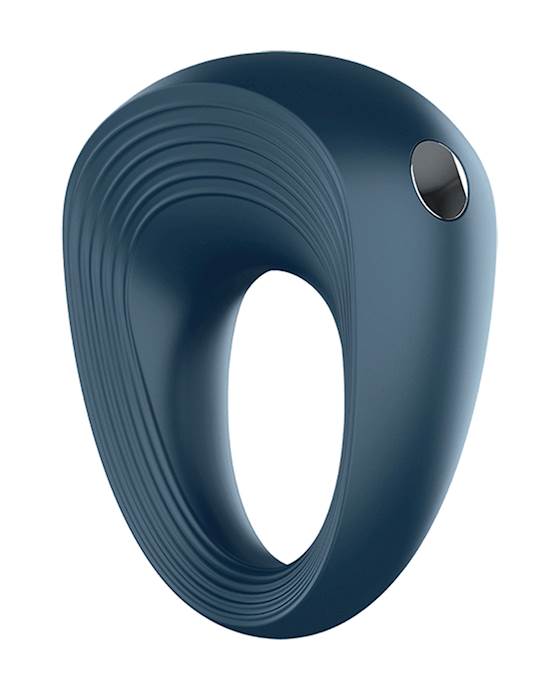 Satisfyer Cock Ring By Satisfyer$41.98Shop Now
Satisfyer is one of the leading adult toy brands, so it's no surprise that the Satisfyer Cock Ring made the list! With a flexible loop, this cock ring can adapt to all sizes, while still providing a firm fit for extended pleasure. With 10 vibration patterns to enjoy and switch between, this vibrating ring also offers USB charging, so you never have to worry about the batteries running flat again! This is great if you're someone who likes to have your toy charging and ready to go at any moment.
High-budget vibrating cock rings
Share Satisfaction Castor Vibrating Cock Ring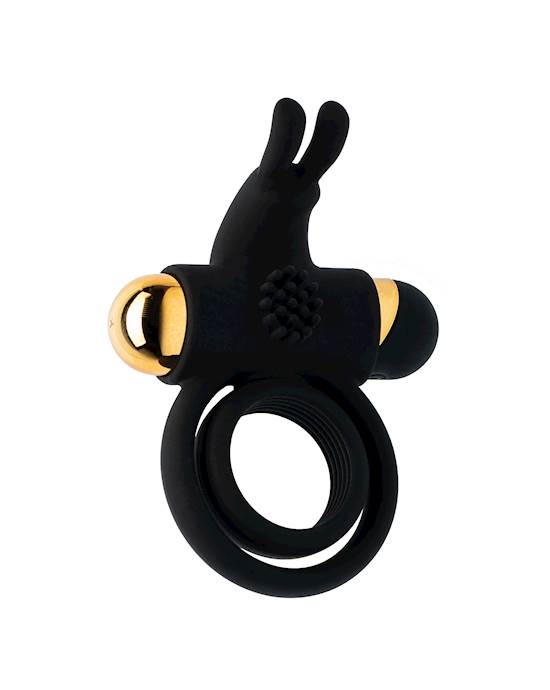 Share Satisfaction Castor Vibrating Cock Ring$39.98Shop Now
If you're looking for a toy that ticks all the boxes, look no further than Share Satisfaction Castor. The epitome of luxury toys, Castor is a great pick if you are on the hunt for a vibrating cock ring that is versatile and packs a punch. Castor features a double loop for the shaft and balls, a removable bullet, stimulating nubs and rabbit ears for direct clitoral stimulation. With 3 speeds of vibration and 7 patterns, Castor is USB rechargeable and waterproof. Made from body-safe silicone, this toy looks and feels amazing.
Created by luxury sex toy brand Share Satisfaction, you can't go wrong with purchasing Castor for you and your partner. Or surprise them with a sexy gift!
Verge by We-vibe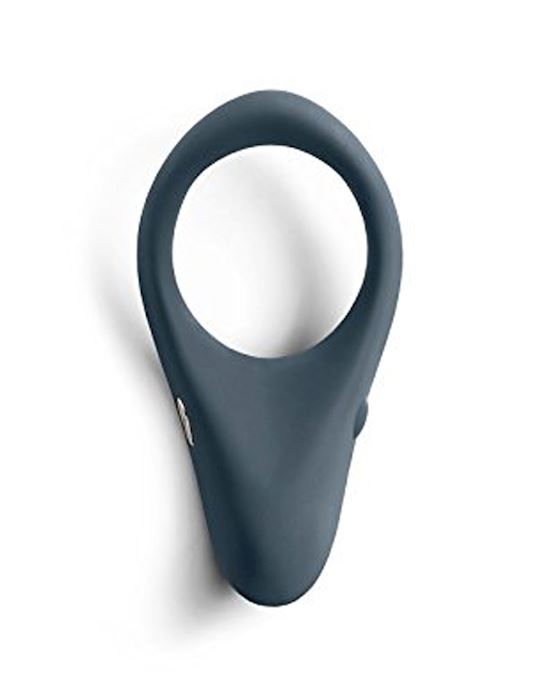 Verge By We-vibe$125.98Shop Now
We-Vibe is one of the most recognisable sex toy brands, well known for its quality toys and unique designs. Verge by We-Vibe has an ergonomic shape to mould with your body, with an added curve that helps to directly target the perineum as well. The perineum is an erogenous zone that can feel amazing when stimulated! The deep, rumbly vibrations that Verge offers are noticeably stronger compared to cheaper vibrating rings. This toy is one to please and a must-have for anyone who enjoys stronger vibrations.
The best thing about Verge is that it can be controlled via the We-Vibe app. This allows you to connect with your partner, and the toy, from anywhere in the world! Long distance relationships don't have to mean no more intimate moments - We-Vibe has got you covered.
Atom Plus
Another luxury pick is the Hot Octopuss Atom Plus. With a similar design to Verge, Atom Plus has incredible dual-integrated motors that provide deep perineum stimulation as well as intense vibrations on the top of the shaft. This creates a mind-blowing experience for both partners and means it's amazing for solo play too.
The raised nub adds even more stimulation and pleasure while you switch between 5 speeds and 5 vibration modes, discovering new waves of desire. Why is Atom Plus so unique? Well, this toy is one of the first cock rings to have dual motors. Given vibrating cock rings need to stretch, it was previously unheard of for a cock ring to have dual motors. However, the Atom Plus overcomes this with its patented wiring system, enabling the material to stretch and accommodate most sizes, while still powering two motors at the same time. Sign us up!
So there you have it! Nine incredible vibrating cock rings to suit every budget. Whether you're just starting and need something affordable, or are willing to splurge on a new luxury toy, we have everything you need at Adulttoymegastore.
Vibrating cock rings are the perfect toy for anyone who is looking to increase stamina and erection size in the bedroom. Paired with the added benefit of vibration, they can help to provide extra stimulation for both partners. This is great for levelling up your penetrative sex and helping to explore new ways of pleasure without getting in the way too much. Vibrating cock rings are truly a must-have for anyone's collection!
View the full range of vibrating cock rings here.
Read next:
Content Disclaimer:
The information in this article has been fact-checked and reviewed for accuracy by Adulttoymegastore's team of content specialists and sexual wellness experts, including Sex Educator Emma Hewitt.