Le Wand Petite is My Favourite Sex Toy of 2021. Here's Why!
Adulttoymegastore sex toy expert Gerogia May reflects on 2021 and shares her favourite toy of the year, the Le Wand Petite!
2021 was a great year for sex toys. Share Satisfaction released the incredible Sutra. Satisfyer launched dozens of fun new products. The Womanizer Premium Eco, the first Pleasure Air sex toy made from sustainable materials, also hit the shelves in 2021.
But there was one toy that was a clear winner for me – Le Wand Petite! While it isn't necessarily a newcomer to the market, it was new to my collection in 2021. I had my eye on Le Wand Petite for a while before I committed to purchasing it. This toy is definitely a bit of a splurge compared to cheaper options on the market – but I'm here to tell you that it's worth every penny!
What is Le Wand Petite?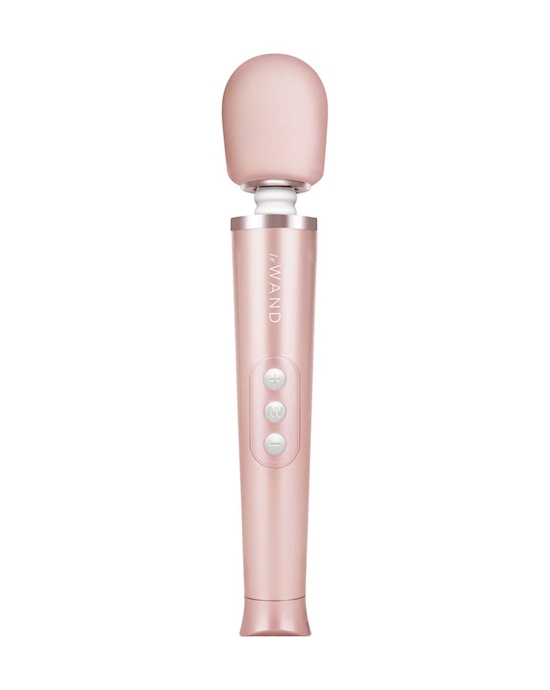 Le Wand Petite Rechargeable Massager$199.95Shop Now
Like the name suggests, Le Wand Petite is a wand vibrator, and the smallest of the wands sold by incredible brand Le Wand. Le Wand was founded by Alicia Sinclair, the same person behind B-Vibe and the Cowgirl – and all three brands are well-known for their quality, luxe products. I knew I was in good hands purchasing Le Wand!
While it's the smaller size, I was surprised to find that it's actually quite large, with a total length of 25.4cm. The head is made from smooth silicone and the handle is made from ABS plastic. The design is super simple, with three buttons to control the 20 pulsation patterns and 10 vibration intensities. It's USB rechargeable and comes with a silk bag to keep it safe after use.
If you want something even more powerful, there is a larger size as well that measures in at 34cm in length. It's pretty huge! There are also corded options available for even more power.
Why is Le Wand Petite my favourite toy this year?
I tried a few other wand vibrators before purchasing Le Wand Petite. However, none have been anywhere near as powerful! This is what I love most about Le Wand. If you are someone who likes intense stimulation or rumbly vibrations, you'll love this toy.
As someone who doesn't tend to enjoy vibrator patterns, I was pleasantly surprised by how much I enjoyed Le Wand Petite's different patterns. Given the vibrations are very rumbly, you can feel the sensation deeper inside the body. It's a yes from me!
The flexible neck is another feature that I love about Le Wand Petite. This ensures you can stimulate all areas of the body easily and comfortably, as opposed to a rigid wand that doesn't provide as much flexibility.
Some sex toys can be difficult to control, and there's nothing worse than accidentally changing your vibrator setting when you're in the zone! But luckily Le Wand keeps it nice and simple with the Petite. You simply press the + button to turn it on, and click the + and – buttons again to adjust the intensity accordingly. You can then use the middle button to change the vibration patterns. It's super easy! And with 10 intensities and 20 vibration modes to play with, there is a lot of variety to enjoy.
The design is very luxurious and is sure to be the perfect addition to anyone's collection.
How do you use a wand vibrator?
Wand vibrators are great tools for stimulating anywhere externally on the body. While this might seem a bit limiting at first, you just need to get a bit creative! Any erogenous zones that you find pleasure from can be stimulated with a wand – the clitoris, nipples, balls, inner thigh, neck... the list goes on!
Wand vibrators are great for using for solo play, however they can also be fun to use with a partner as well. The long handle means that you can reach different areas of your body much easier, without getting in the way.
For this same reason, wand vibrators can be great for people who have limited mobility. The handle makes pleasure more accessible for everyone, and will ensure you target the right areas while you play.
And who doesn't love a good massage?! Wand vibrators double as a full-body massager to help ease tension and relax your muscles.
What are the best wand vibrators on the market?
While Le Wand Petite is my personal favourite, there are some other great wand vibrators available too! Here are some other options to check out.
Vush Majesty Wand Vibrator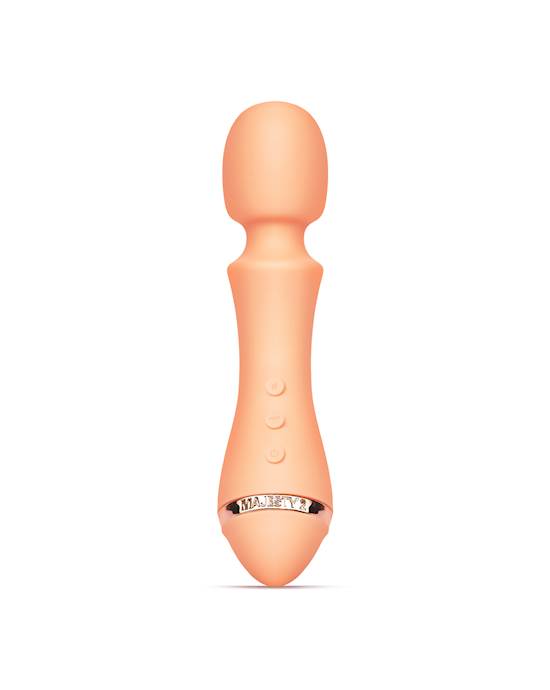 Vush Majesty 2 Wand Vibrator$119.95Shop Now
The Vush Majesty Wand Vibrator is a bright and fun toy that is made from smooth silicone that is soft to the touch. Mix and match the levels and patterns for 50 different combinations to enjoy!
The Majesty is USB rechargeable, waterproof, and comes with a silky storage bag.
Bodywand Midnight Massager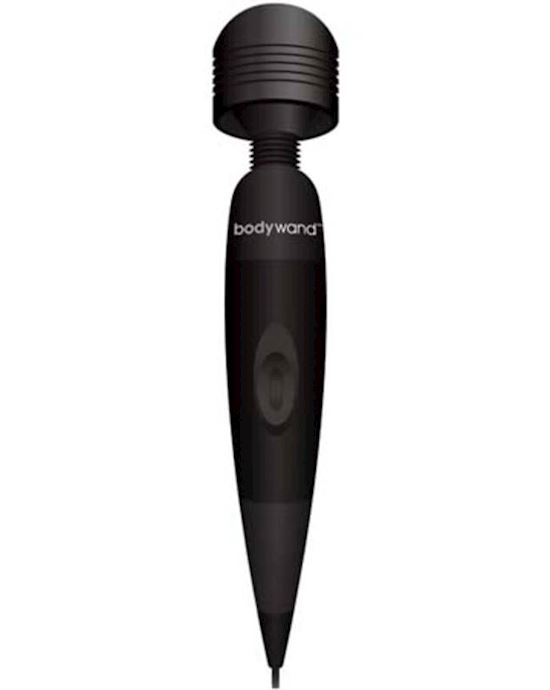 Bodywand Midnight Japanese Massager$71.95Shop Now
For those who want even more power, a corded option is the way to go. These wands plug directly into the wall, meaning you do have to deal with a cord, but the power will be a lot more intense!
The Bodywand Midnight Massager is an amazing example of a quality wand vibrator. With multi-speed vibrations, a wide silicone head, and easy-touch controls, this wand will seriously rock your world!
Maya by Share Satisfaction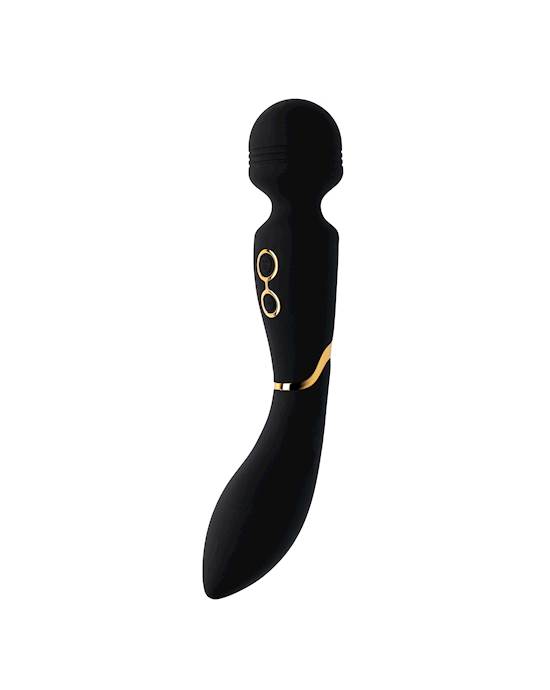 Share Satisfaction Maya Luxury Double Ended Wand$68.95Shop Now
Wand vibratos are already a versatile sex toy. But Maya by Share Satisfaction takes that to the next level!
Maya is double-ended, with a wand vibrator at one end, and insertable vibe at the other. This allows you to stimulate internally and externally, for all-around fun. It has a luxurious design, USB recharging, and is waterproof for fun in the bath or shower.
Want more?
Check out Adulttoymegastore's top 10 products of 2021 to see what the best-sellers were this year.
Read next
How To Use A Wand Vibrator With Your Partner How to get the most out of your wand vibrator How to use and look after your wand vibrator
Content disclaimer:
Adulttoymegastore does not provide medical advice, diagnosis, or treatment for illness. Any information published on this website, either by Adulttoymegastore or its authors, is not intended to be a substitute for medical advice, and you should not take any action before consulting with a medical professional.