The Best Types of Nipple Clamps for Beginners to Nipple Play
Nipple clamps are a type of bondage play item that take advantage of the nerve endings on your nipples for pleasurable nipple play with a touch of pain.
Nipple clamps can be used regardless of your gender and the key is to choose the right clamps to fit your unique nipples. The larger the nipple, the more stimulation needed, and the stronger the nipple clamps will need to be to reach preferred levels of sensation.
This guide to nipple clamps will help you find the best types for your experience level. Watch the video below where sex educator Emma Hewitt will take you through the different types of nipple clamps and how to use them.
*Editor's note: This article was updated on 7 October 2021. *
Opt for adjustable nipple clamps if you're a beginner
Nipple clamps are an introductory piece when entering pleasurable pain play. So, you can expect a bit of a painful pinch, but it doesn't have to be the winding, twisting, turning, gyrating, body writhing pain that you might be imagining, unless you want it to be!
Adjustable nipple clamps are the best recommendation for beginners who want to test out how comfortable they are with pain sensations during sex and can allow beginners to up the strength of the clamps at their own pace. Adjustable clamps level of pressure is usually altered in two ways, either a small screw will accompany the clamp that can be twisted to alter pressure. The other way is by featuring a small sliding portion that will run along each arm of the clamp, similar to a pair of tongs used in the kitchen.
Time to clamp down with the 5 best nipple clamps for beginners
Nipple clamps differ in length, design and colour but the important feature I'd like to emphasise for beginners is that they are adjustable. Here are five adjustable nipple clamps that will hopefully cause an enjoyable introduction to nipple clamps.
1. Basic nipple clamps
A simple way to start. Adjustable Nipple Clamps do exactly what their name suggests. Coming in a range of colours to compliment your favourite pair of panties or provide a sexy contrast with your birthday suit.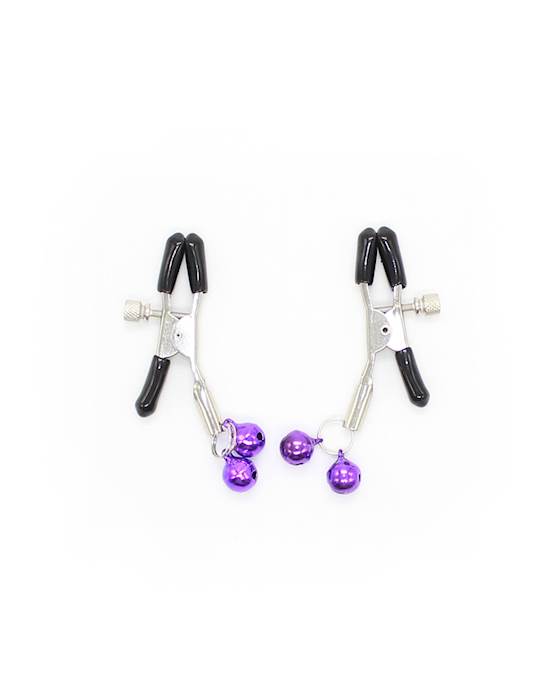 Slay Bell Adjustable Nipple Clamps$14.95Shop Now
2. Contemporary nipple clamps
Design ideas are limitless when it comes to nipple clamps, allowing beginners or pros to achieve their ultimate fantasies. A fashion-forward fantasiser may want to go for a contemporary nipple clamp that can be adjusted with soft rubber tips for the clips.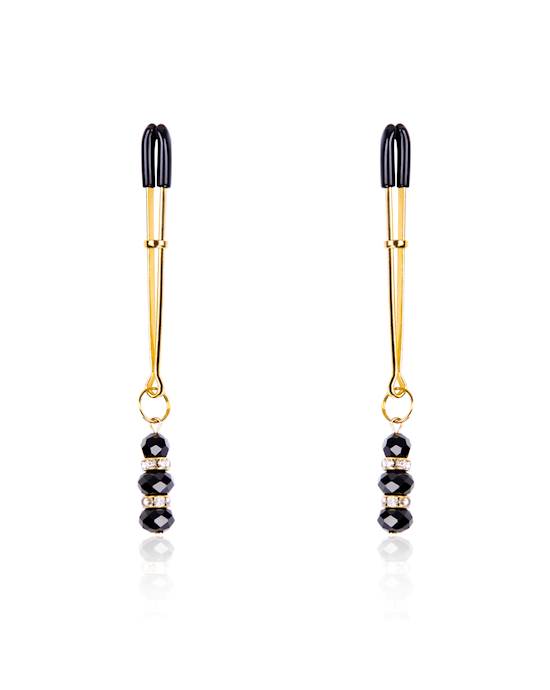 Chandelier Clamps$30.95Shop Now
3. Novelty nipple clamps
Unique and ideal for beginners! The Chimera Adjustable Bell Nipple Clamps are a great example of nipple clamps that are adjustable by a sliding portion. The low-pitched ringing of these bells will indicate the beginning of your pleasure pain journey.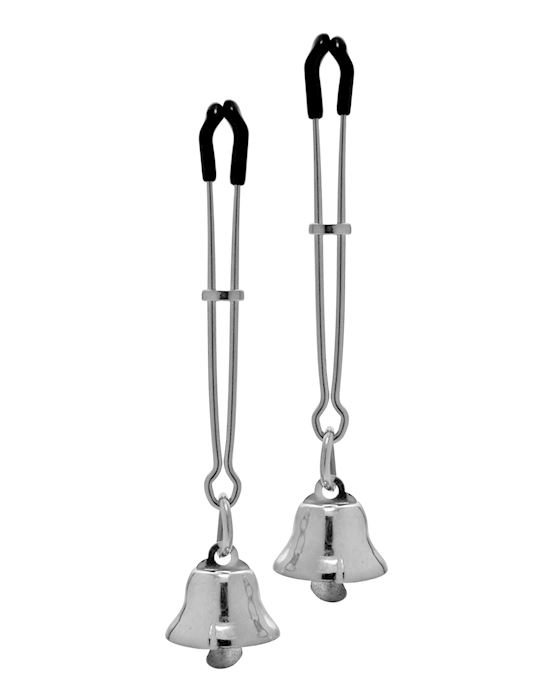 Chimera Adjustable Bell Nipple Clamps$19.95Shop Now
4. Jewelled nipple clamps
Nipple clamps are providers of pleasure but let's not forget the elegance of them! The Ornament Adjustable Nipple Clamps with Jewel Accents are a good example of clamps that enhance the jewellery aspect. Adjustable clamps to pleasure the wearer as well as providing dazzling sex appeal for the non-wearer.
Slay Bell Adjustable Nipple Clamps$14.95Shop Now
5. Added stimulation nipple clamps
Decorative nipple clamps come with the bonus of looking amazing, but what's more is with a bit of extra weight comes added stimulation. You can get weighted nipple clamps or vibrating nipple clamps to add extra sensations to your nipple play. Be ready to tone down the pressure of these clamps if the extra stimulation brings too much discomfort.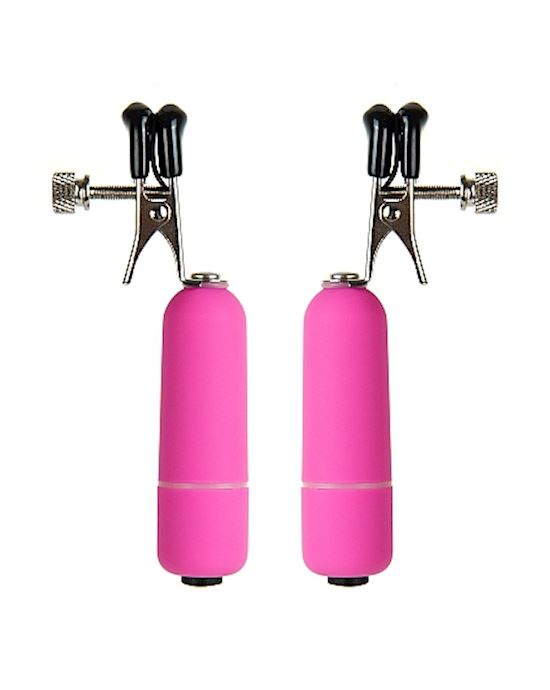 Vibrating Nipple Clamps$37.95Shop Now
Burden Cylinder Nipple Weight Clamps$36.95Shop Now
The Best Jewelled Nipple Clamps
Add some elegance to one of your most stimulating erogenous zones! Below are eight charming nipple clamps that are sectioned by their weight, design and type of adjustment. The nipple clamps get heavier as you scroll down.
Single Jewel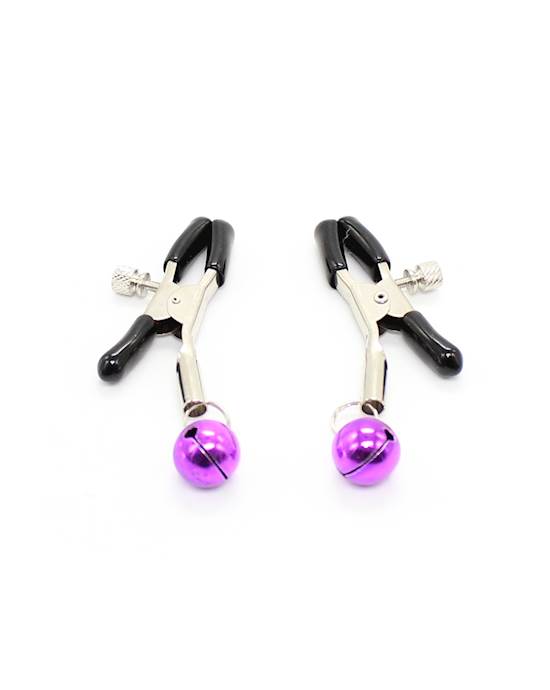 Jingle Nipple Clamps$15.95Shop Now Nipple friendly and stunning. Notice how these camps are designed to loop around the nipple instead of directly pinching. Either of these Non-piercing Crystal or Onyx clamps are great for beginners.
Multiple Jewels
Moving onto multiple jewels, these Sexperiments Nipple Clamps mix different colours for the contemporary clampsters. Whilst, these Adam & Eve Naughty Nipple Clamps makes use of multiple metal beads for a teasing tug.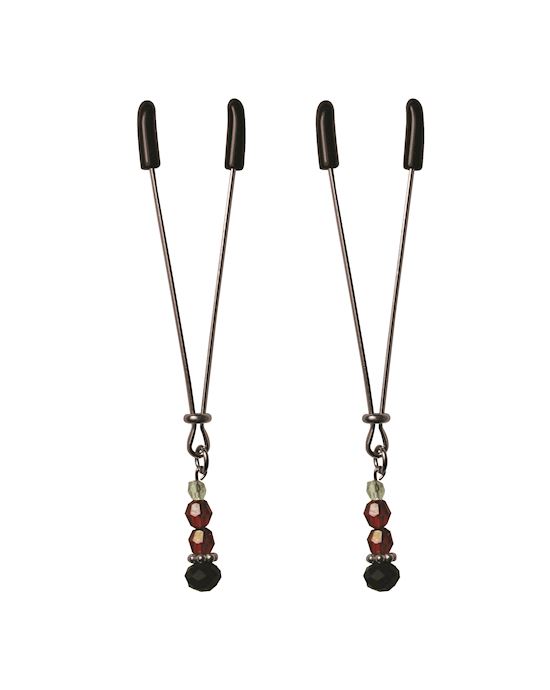 Sexperiments Ruby Nipple Clips$26.95Shop Now
Chained nipple clamps
Nipple clamps with chains that connect them enable you to tug lightly on the chain for stimulation and they look incredible! Taking the jewellery aspect to the max. These nipple clamps dance and dangle with each delightful movement.
Aficionados prefer heavy nipple clamps because of the tugging sensation they provide. Submissives are expected to have their nipples standing to attention. The use of heavy nipple clamps reflect the trust partners have in each other, making for one of the most intimate experiences within nipple play.
Just like lifting heavier weights, these nipple clamps require progression. If heavy nipple clamps are out of your tolerance, checkout our beginners guide!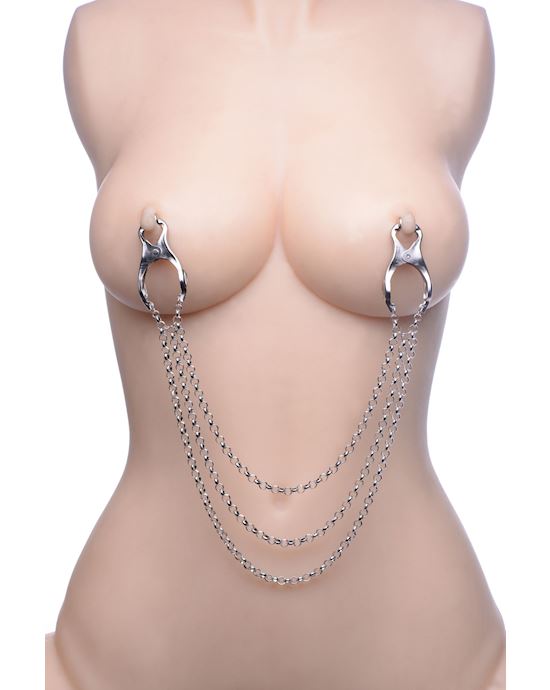 Affix Triple Chain Nipple Clamps$34.95Shop Now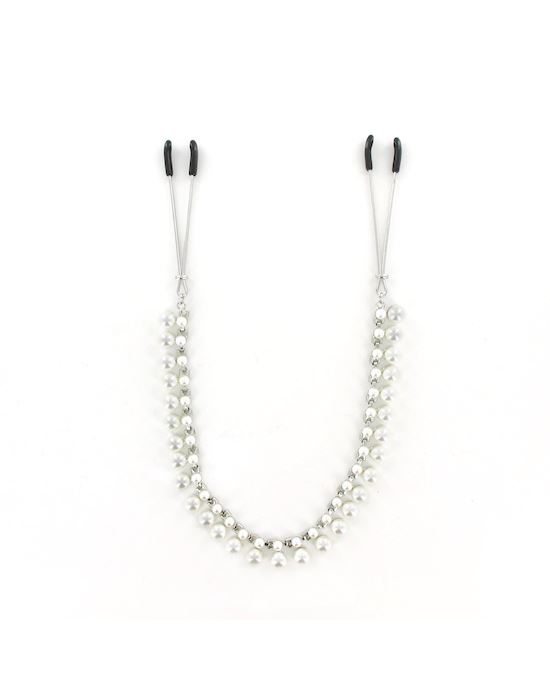 Midnight Pearl Chain Nipple Clips$29.95Shop Now
The best heavy nipple clamps
These Nipple Clamps with Magnetic Weights are perfect for the progressive pincher. Simply add an extra weight to the clamp when you're comfortable. Graduate at the sixth weight to call yourself a nipple clamp master.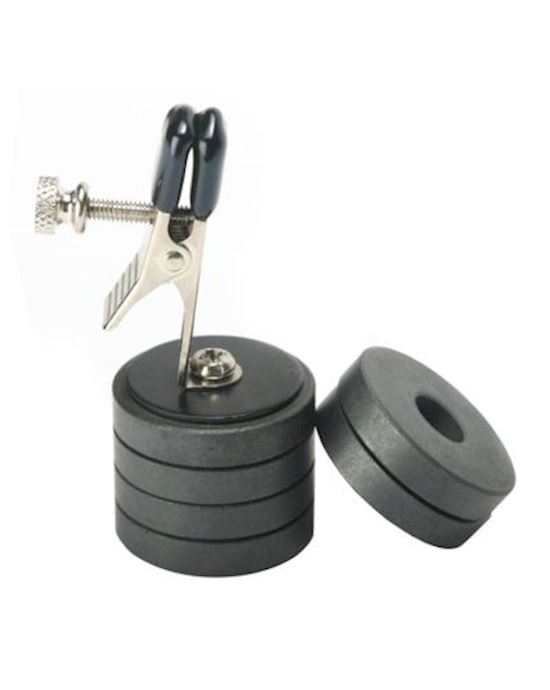 Nipple Clip W Magnet Weights$15.95Shop Now
Bomber nipple clamps with weights
With these Black Bomber Nipple Clamps swinging in front of your partner, they might think they're watching Miley Cyrus's wrecking ball.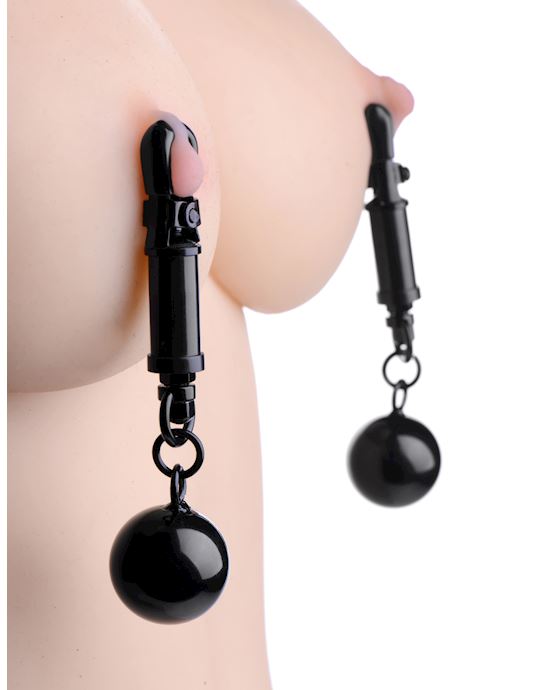 Black Bomber Nipple Clamps With Ball Weights$51.95Shop Now
Ring barrel clamps
Featuring twisting barrels that are loaded with joy, these clamps are an unrelenting fusion of pleasure and pressure. Compared to the rest these Bondage Ring Barrel Clamps aren't too heavy on their own. However, designed with a dangling ring, your bondage options are limitless. Attach independent ropes, chains or maybe you'll never forget your car keys again. Whatever you decide, these clamps give you the freedom to up the weight. Be creative, have fun, but keep it safe!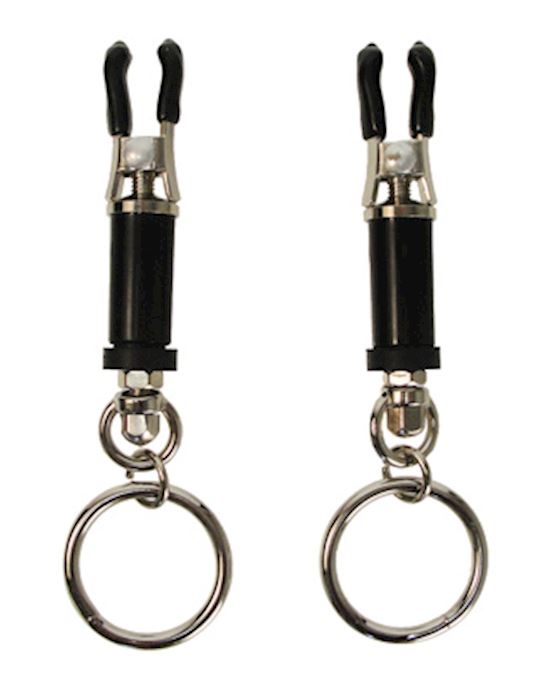 Bondage Ring Barrel Clamps$45.95Shop Now
Tom of Finland nipple clamps
Tom of Finland are famous for their ability to take pleasure to the extreme. Made of heavy duty metal, these Barrel Nipple Clamps are unapologetic for the weight they bear, pulling on your pleasure points and heart strings.Using these nipple clamps on any submissive will make for a deeply emotional experience.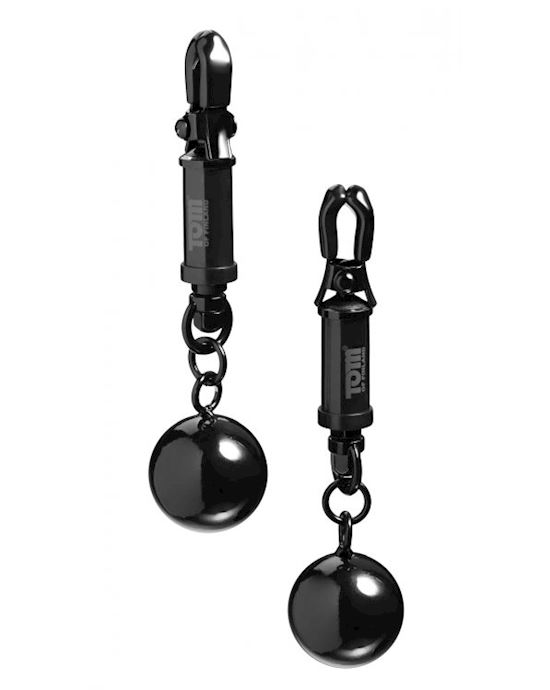 Tom Of Finland Barrel Nipple Clamps$71.95Shop Now
Tips for using nipple clamps
As with any pleasure pain items, make sure you are using them with someone you trust!
Sexual communication is key to a pleasurable and intimate nipple clamp experience, make sure to identify a safe word with your partner to quickly put a stop to any undesirable discomfort!
Always adjust nipple clamps to meet your pain tolerance. Be honest with yourself and never use nipple clamps for too long. To be safe, 15 minutes should be the max amount of time for one clamping session, permanent nerve ending damage is a real thing!
Before applying any nipple clamps, stimulate the nipples first. The usual stroking, rubbing, caressing, or sucking will do the trick!
Nipple clamps should be placed closest to the skin, just in front of the areola. If you have nipple piercings already in place, feel free to work around them but make sure the nipple clamp is still firmly in place.
Don't leave nipple clamps on for too long, if you see any discolouration of the nipple, tingling, take them off immediately. To play it safe, beginners leave them on for ten minutes max.
Ready to experiment with nipple play? textShop nipple clamps and toys and check out Adulttoymegastore's full range of bondage products and add something new to your collection today!
Learn more about bondage play:
Expand your bondage collection and try something new with these articles written by our BDSM experts:
Editor's note:
This article was originally published on 18 June 2018 and was updated on 8 October 2021 for relevance and comprehensiveness. The information in this article has been fact checked and reviewed for accuracy by Adulttoymegastore's team of content specialists and sexual wellness experts, including Sex Educator Emma Hewitt.
Content disclaimer:
Adulttoymegastore does not provide medical advice, diagnosis, or treatment for illness. Any information published on this website, either by Adulttoymegastore or its authors, is not intended to be a substitute for medical advice, and you should not take any action before consulting with a medical professional.