Why All Men Should Try Tenga Egg Male Masturbation Sex Toys
Why All Men Should Try Tenga Egg Sex Toys
Tenga Eggs are Male Masturbator Sex Toys for men who like to experience unique, pleasurable sensations on a budget. Tenga Eggs don't even look like sex toys on the outside, but open them up for stretchy, life-like sensations to make masturbation 100x better!
The Tenga Egg is a cool pocket-sized masturbation sex toy for men lined with undulating internal textures that create intense sensation as you stroke. Stretching up to 12 inches in length, the soft sleeve can pleasure all – not to mention there's a huge range of different textures to choose from!
What is a Tenga Egg?
The Tenga egg is a thin piece of malleable rubber-like plastic that is designed to enhance masturbation. It is dome-shaped just like an egg. It is made by a popular UK-based company, Tenga, which is known for its unique variety of convenient sex toys. The egg, which comes in a variety of sexy styles, can be purchased singly or in a pack.
How do you use a Tenga Egg?
Contained in a protective egg-shaped case with a sachet of lube included, simply empty the lube into the hollow and slip inside to engulf yourself in the egg from shaft to tip.
To prevent damage to the sex toy, pinch the tip of your TENGA Egg before you place it on the penis as you would when applying a condom. This Japanese sex toy is made from delicate material and designed for a single use, but with careful use, cleaning and plenty of lube, it should be good for multiple uses.
Use with water based lubricants, never use with silicone-based lubricants, as the material can react and break down.
The Tenga Egg Series is designed solely for one-time disposable use, and is an affordable option to a Fleshlight and other similar male masturbation sex toys.
What different Tenga Egg types are available?
The Tenga sex toy brand offers more than 15 different Egg designs. Here is a simple guide to help you figure out which Tenga Egg is the best option for you.
Cool Tenga Egg
The Cool Tenga Egg comes with a package of menthol-infused lube to give your penis a cool kick in the pants.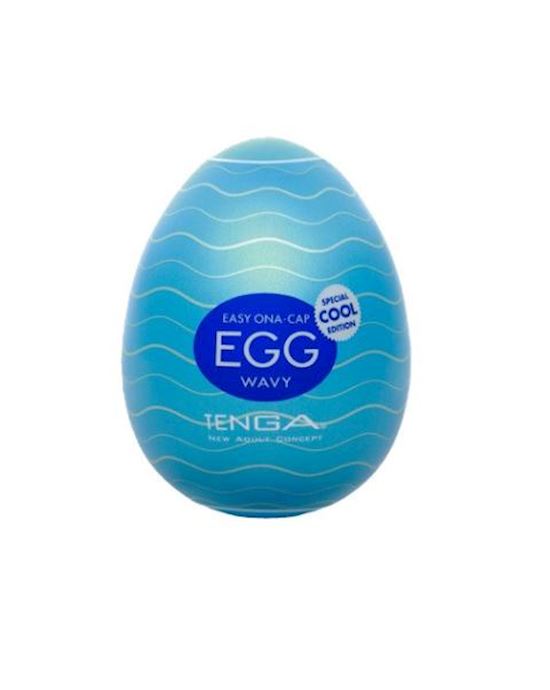 Cool Egg Wavy$11.98Shop Now
Cloudy Tenga Egg
Cloudy is the thickest Egg in the series, and it has some resistance which creates a feeling just like soft vaginal walls do.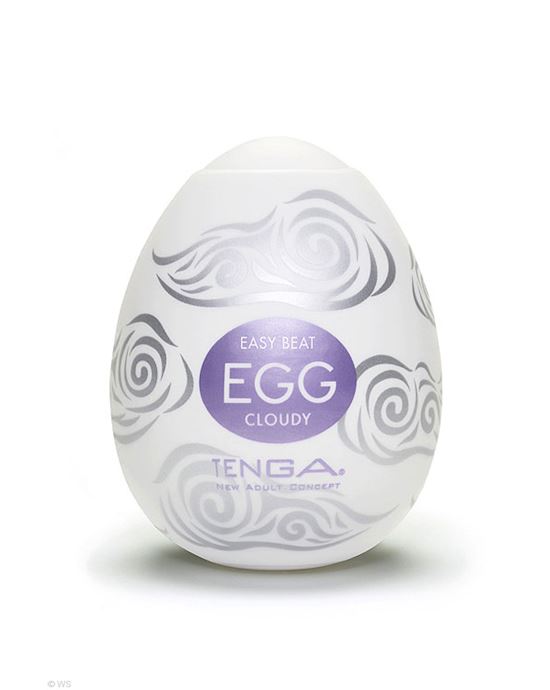 Egg Cloudy$11.98Shop Now
Crater Tenga Egg
Crater has a crown-like detail on the inside to make your dick feel like a king, and indentations along the walls which basically adhere to your shaft and provide a gentle tug.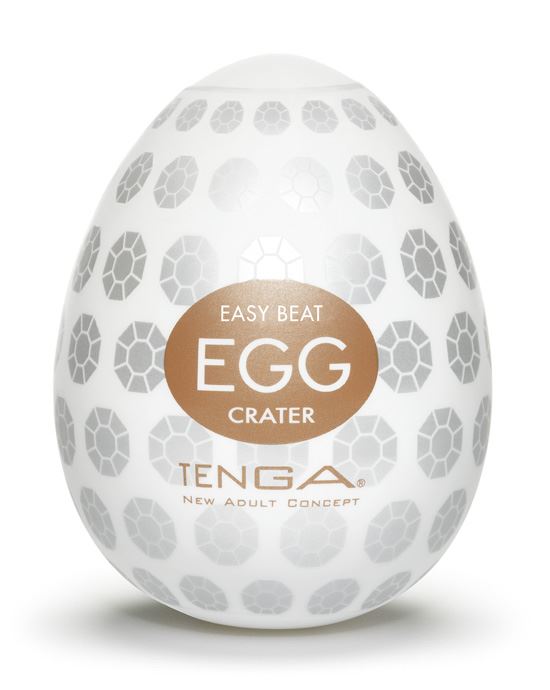 Tenga Egg Crater 1 Piece$11.98Shop Now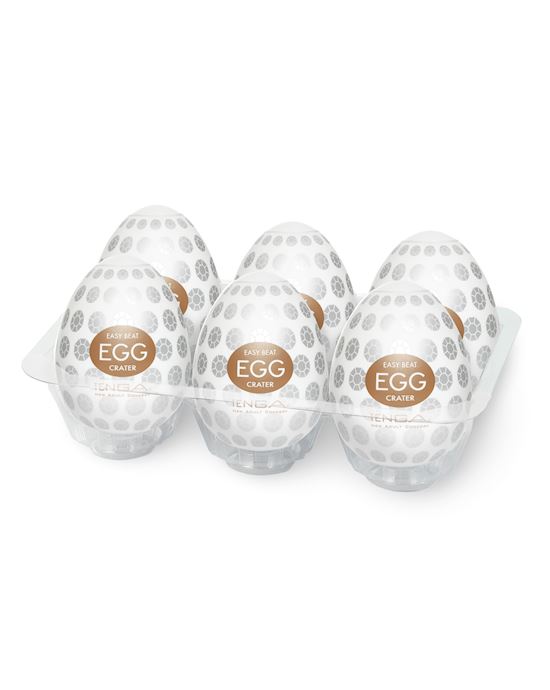 Tenga Egg Crater 6 Pieces$90.98Shop Now
Dance Tenga Egg
Dance has colourful art on the outside of the egg and the mold of a man dancing on the walls, both of which are in honor of Keith Haring and designed to help you get your rocks off in style.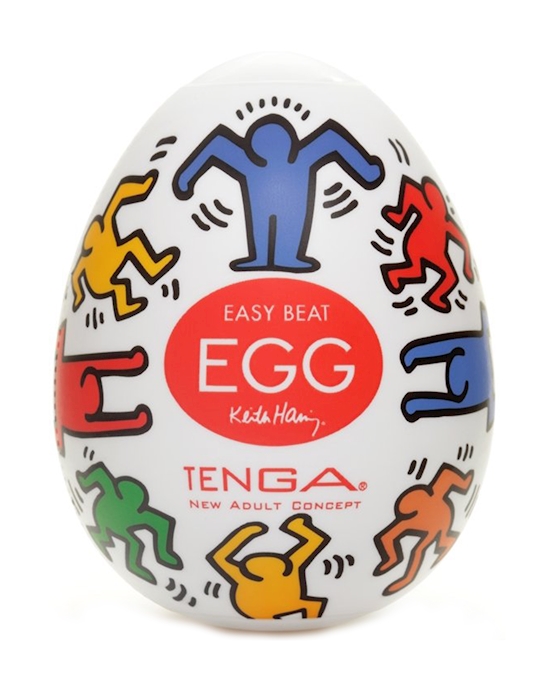 Tenga Keith Haring Egg Dance$16.98Shop Now
Lovers Tenga Egg
Lovers offers a package of lube which creates a slight warming sensation designed to enhance couples play. Crack open the egg to reveal its soft internal sleeve, peppered with embossed hearts to deliver intense stimulation when stretched over your shaft.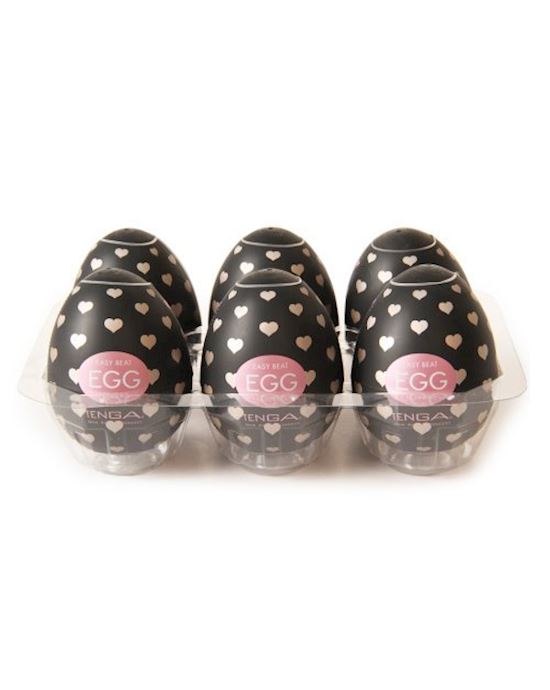 Egg Lovers 6 Pack$48.98Shop Now
Misty Tenga Egg
Misty features a bunch of little nubs which, after a while, blend into a single sensation and feel like a vibrator.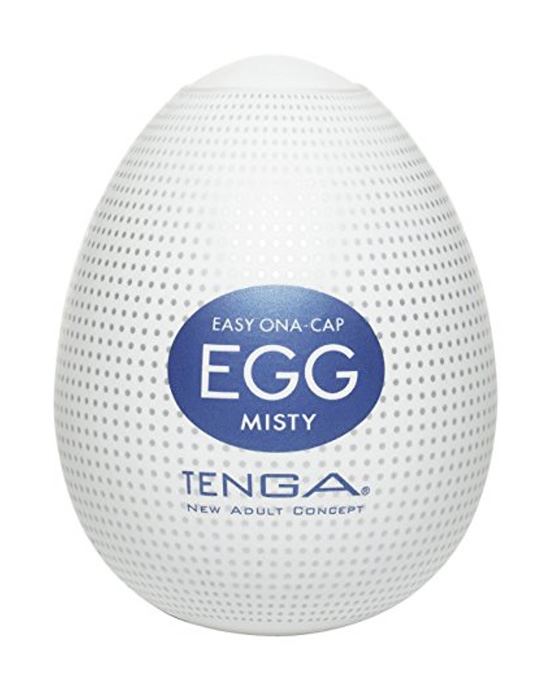 Egg Misty$11.98Shop Now
Party Tenga Egg
Party is another Keith Haring Tribute Egg, this one uses overlapping molds shaped like men partying to create a one-of-a-kind feeling and a unique design.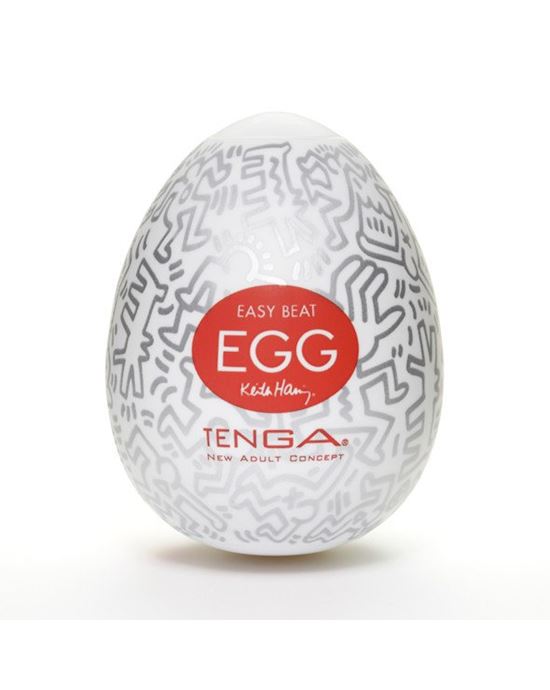 Keith Haring Party Egg$10.98Shop Now
Shiny Tenga Egg
Shiny has a sun-like shape on the top and "rays" cascading down the inside walls to give users what they call "a gleaming smile." This Egg is extra thick, creating even more intense sensations.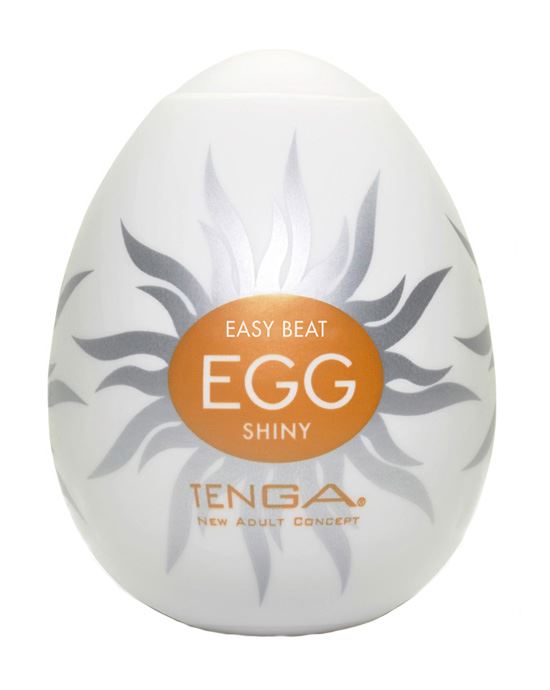 Egg Shiny$10.98Shop Now
Silky Tenga Egg
Silky has a circular ribbon twisting all the way from the top to the bottom, which is why we suggest using this one with some fancy wrist action.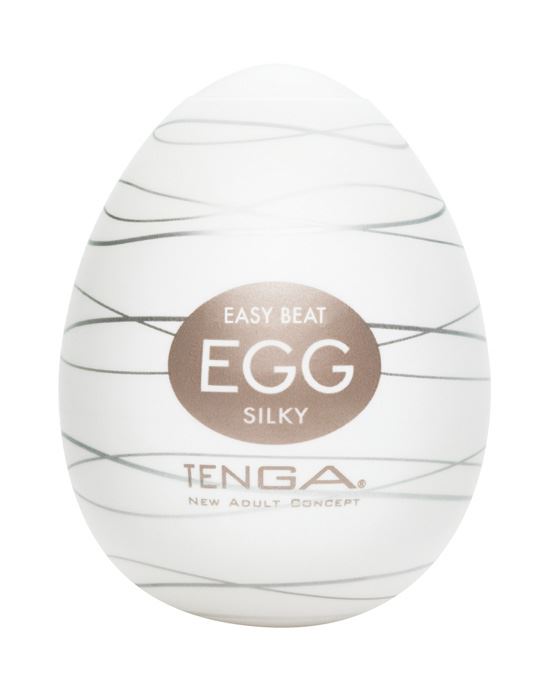 Egg Silky$11.98Shop Now
Street Tenga Egg
Street is the third and final Keith Haring Egg, this one's molds look like a dude skateboarding, which can feel kind of nice if you're into that sort of thing.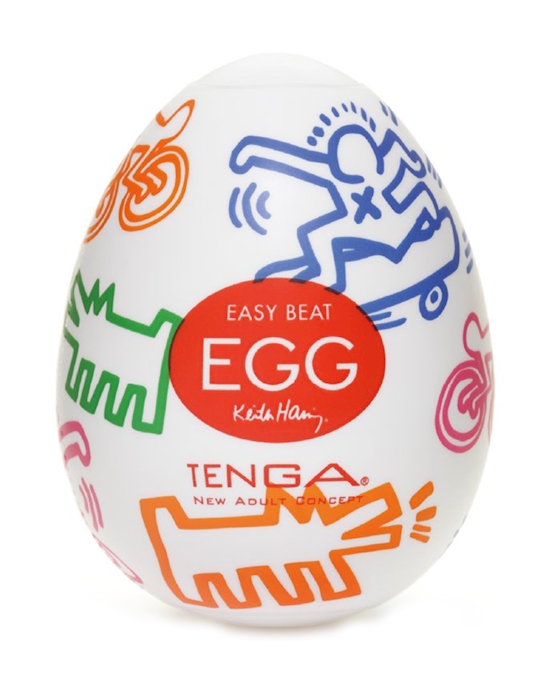 Tenga Keith Haring Egg Street$15.98Shop Now
Thunder Tenga Egg
Thunder is a firm, vertical and strong design. Feel the peaks and troughs of thunderous sensations as you stroke up and down, or twist around the head for the full effect of these large, defined ribs.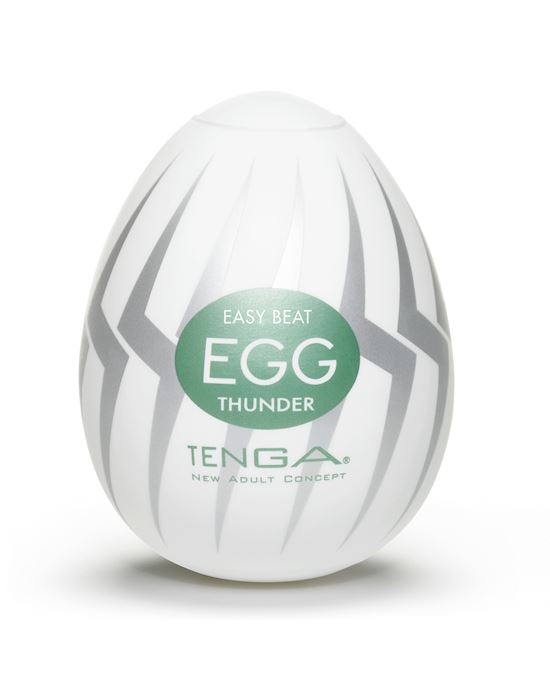 Egg Thunder$16.98Shop Now
Twister Tenga Egg
Twister does all the work for you using a series of twisted ribbons that go from the dome to the opening, so combine it with additional wrist motions at your own risk…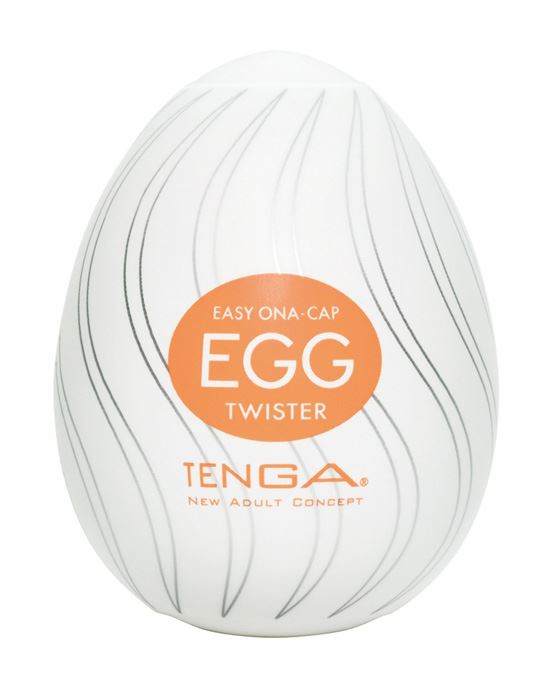 Egg Twister$11.98Shop Now
Wavy Tenga Egg
Wavy is similar to the natural contours felt in the vagina or anus, making it a customer favourite in the entire lineup.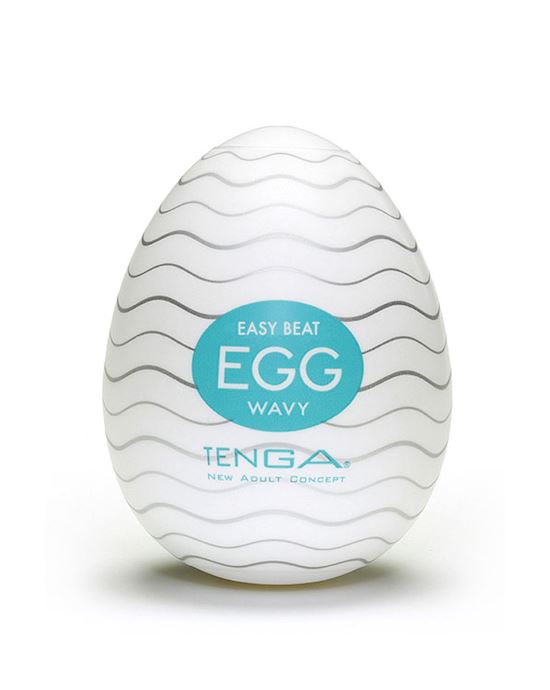 Egg Wavy$11.98Shop Now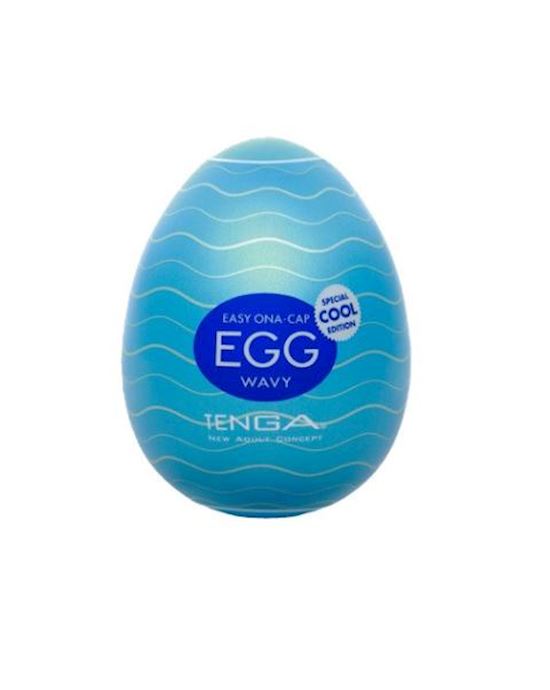 Cool Egg Wavy$11.98Shop Now
Customer reviews of Tenga Eggs
Rated 4.6/5 stars
"Really great and discreet. My partner loved this surprise at his doorstep. The waves give an amazing feel."
"Feels really good. Nice product. Would definitely buy again."
"I brought this as for my partner, it was a huge hit. The look on his face was amazing he said the ripples inside were incredible. Added another dimension to our lovemaking. It's a winner and we will be buying more - highly recommend this."
Check out the entire range of TENGA EGG SEX TOYS here.
RELATED ARTICLES: