Anal Training Guide for Beginners [2021 Edition]
Anal Training is a MUST before trying anal sex or experimenting with anal toys. Here's everything you need to know about Anal Training!
So, you're interested in anal play but maybe you're unsure how best to go about it, or perhaps you're slightly frightened of the pain that might come with it, whether it will be messy, or what's involved with getting prepared. If you answered yes to any of the above, this anal training guide is for you!
We'll answer all the questions you may have about preparing your body for anal play through anal training, anal training kits and products, lubrication, and the do's and don'ts of anal training to ensure you're playing safe.
Ready to get started? Watch the video below by sex educator, Emma Hewitt, to learn how to use an anal training kit, and read on to find out more.
Is anal training necessary?
You're probably wondering whether anal training really necessary. I mean, surely you can just dive on in and get right to it?
While that's certainly possible, it doesn't mean it will necessarily be pleasant! In my opinion, anyone who hasn't tried anal play before should definitely go through some kind of basic anal training, especially when you're intending to have anal sex, or use a variety of anal toys..
Anus muscles are super tight and need to get used to being stretched to enjoy any kind of anal play. The word "training" can often be taken in a negative light, but anal training is still a pleasurable process, you just start off by using smaller sex toys or a finger, and work your way up to larger sizes slowly.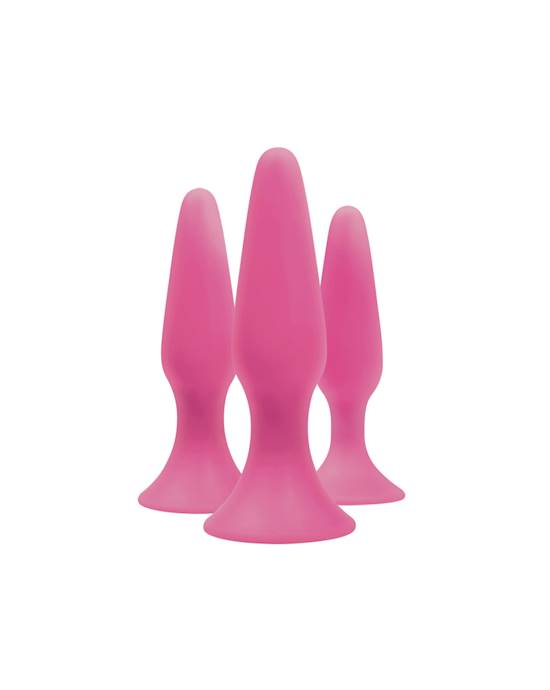 Sliders 3 Piece Trainer Kit$53.98Shop Now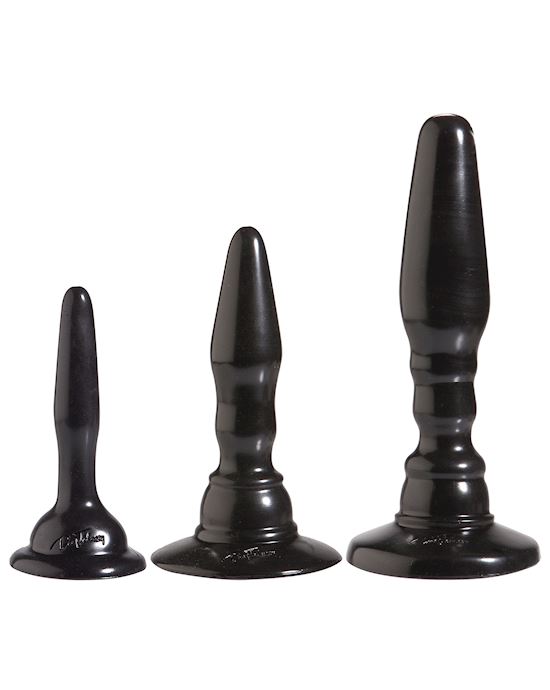 Wendy Williams Anal Trainer Kit$34.98Shop Now
What tools do I need for anal training?
Anal training can be done with or without sex toys, it's up to you! Some couples prefer to use their fingers and penis as their training tool, however a lot of people prefer to use specific anal toys. The best toy for the job is multiple sized butt plugs. You can get sets of between 2-5 different sized plugs which are designed specifically designed for anal training. Of course, you can also purchase singular plugs in different sizes if you prefer.
I recommend going for plugs that are tapered, meaning they have a narrow tip that slowly flares out to a larger size. This will help ease insertion. It's also a good idea to go for butt plugs with straight sides as it will help you get use to a more fuller feeling so when you do go to have anal sex there won't be any surprises.
It's also a good idea to make sure the plug has a large base as it makes it easier to control. If you aren't overly hyped on butt plugs, you can also opt for graduating anal beads or an anal vibrator – just make sure it's on the smaller side.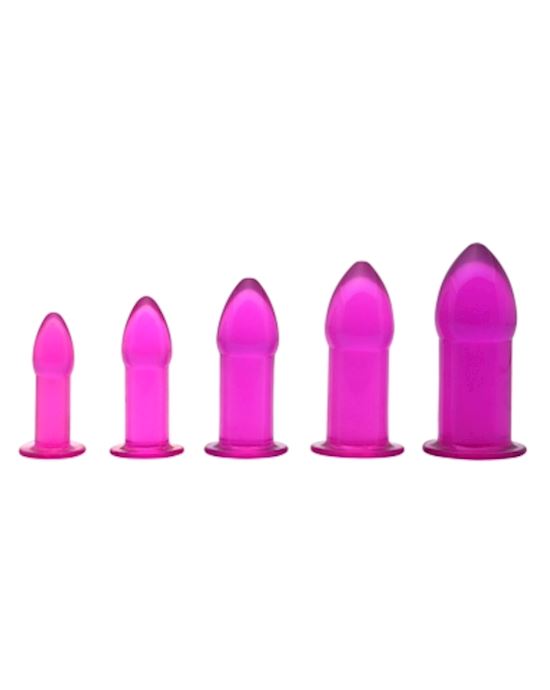 5 Piece Anal Trainer Set Purple$97.98Shop Now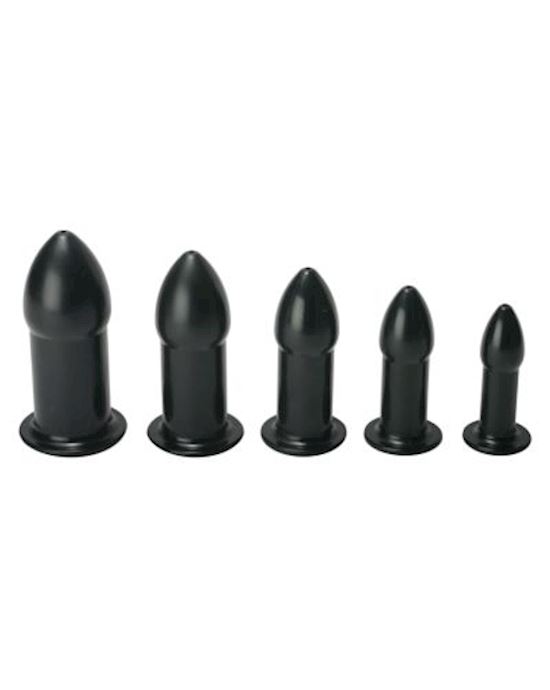 Ease-in Anal Dilator Kit$74.98Shop Now
Do I need to use lubricant?
YES. With any type of anal play lubricant is a must, especially when you are just starting out. But there is a couple of things you need to keep in mind when choosing an anal lube.
Most anal lubricants are silicone based, with only a handful being water-based. As silicone lubricant is thicker and lasts longer it is usually preferred for anal play. The downside is that you can't use silicone lubricant with silicone sex toys, as it will cause a reaction between the two, damaging the toy. It also can't be used with latex condoms.
However, there is water-based anal lubricant available, which may not be as thick and long lasting but are compatible with all sex toys and condoms. You may just have to reapply it more frequently. There are also a number of desensitizing anal lubes out there that have additional ingredients that numb the area, to ease pain and discomfort.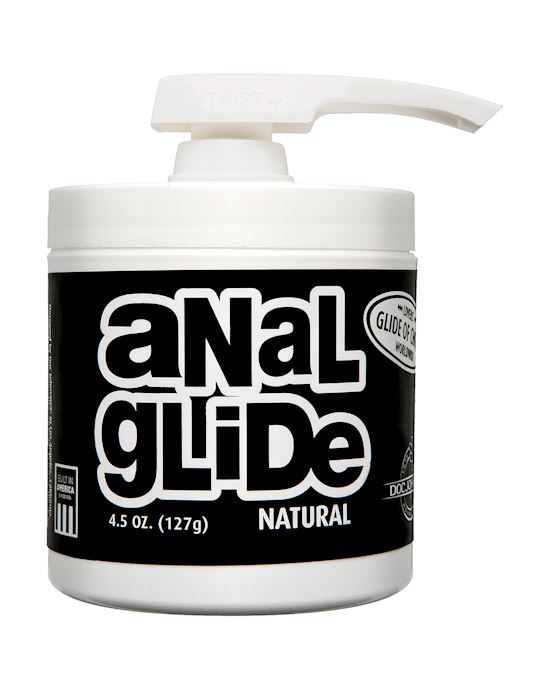 Anal Lube Natural$20.98Shop Now
How do you anal train?
Once you have your tools and lubricant sorted out, then the training can begin!
Start with your narrowest toy (a diameter between 1" – 1.5" is good for beginners) and if using your fingers, start with your pinkie and most importantly make sure you are relaxed! Lube up the object and slowly insert it into the anus. Emphasis on the slow. This isn't the time to be thrusting!
The aim at this point is to stretch the muscles so as soon as you begin to feel comfortable (this won't happen overnight) you can gradually move up in size to a toy with a larger diameter or your index finger. This is why the anal training kits are so handy as it is all there for you ready to go. Once you have reached your desired size, swap it for a realistic dildo or have a go at anal sex!
The first time you insert something into your anus, no matter how slow you go or how relaxed you are, it's going to hurt at least a little bit. If you feel pain when inserting your first toy, stop pushing. You can either pull it back out a little, or leave it there.
This will still be stretching the anus and if you want just wait till the pain subsides and try again. However, if there is still resistance, don't keep pushing as you may have the wrong angle which could cause a lot of discomfort and potential bleeding.
Safety tip: Anything you insert into your anus should have a flared base or way of retrieving the object to prevent it from slipping too far into the rectum. Read our anal toy safety guide for more info.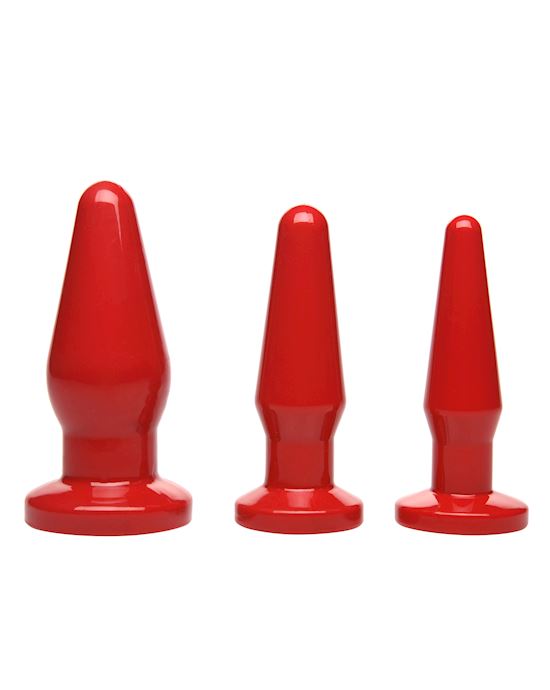 Red Anal Plugs 3 Piece Kit$46.98Shop Now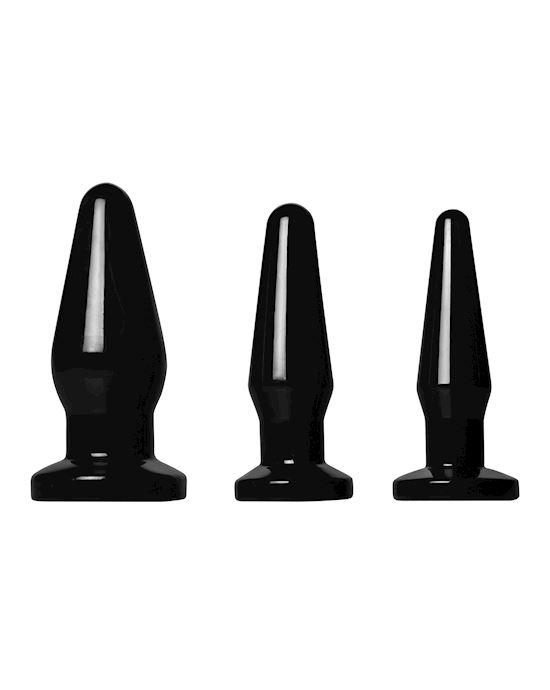 Black Anal Plug Small$19.98Shop Now
Keep it clean
Remember to clean your anal toys thoroughly immediately after use. Read our guide on how to clean your sex toys and you can purchase sex toy cleaner here.
Are you ready to start anal training?
Now that you know how to anal train correctly, it's time to purchase a kit if you haven't already! Check out our range of Anal Training Kits here, and don't forget the lube.
RELATED ARTICLES:
Editor's note: This article was originally published on 13 April 2018 and was updated on 1 July 2021 for relevance and comprehensiveness. The information in this article has been fact checked and reviewed for accuracy by Adulttoymegastore's team of content specialists and sexual wellness experts, including Sex Educator Emma Hewitt.
Content disclaimer: Adulttoymegastore does not provide medical advice, diagnosis, or treatment for illness. Any information published on this website, either by Adulttoymegastore of its authors, is not intended to be a substitute for medical advice, and you should not take any action before consulting with a medical professional.